Car News
2011 Ford Fusion - New Car Review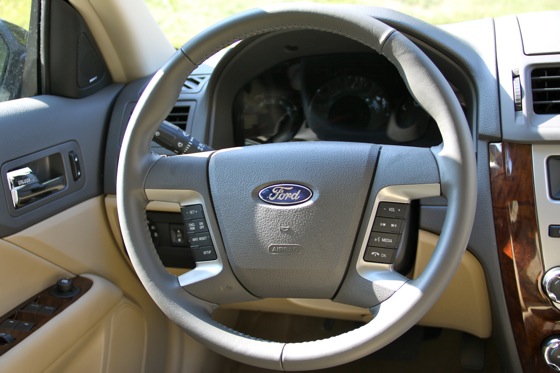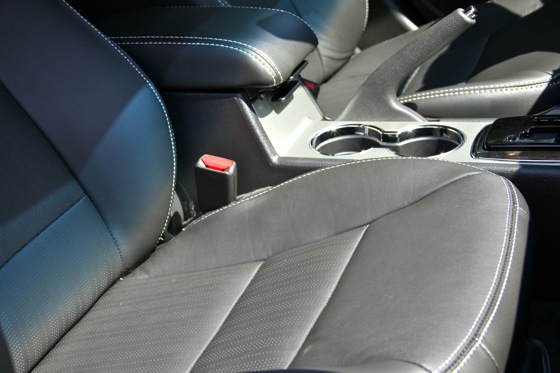 Small Changes Make a Difference
Making the transition from back marker to front runner is no easy task, but Ford has done it. Credit the Fusion and class-leading technology. When game-changing vehicles like the Flex, 2011 Fiesta and 2011 Explorer were little more than rough sketches, the Fusion was on the street, slowly convincing new car buyers that Ford now meant style, value and quality. In the few years since the Fusion's introduction, it has won numerous awards and was America's best-selling domestic car in 2009. Even though it received a mild makeover for 2010, the 2011 Ford Fusion adds standard safety and convenience features to further sweeten the deal.
Comfortable seating for five is a common trait of mid-size sedans, so anyone shopping in this segment will no doubt notice that the Fusion is a little smaller than competitors like the Honda Accord. That actually works in the Fusion's favor: it's a little more nimble, while still offering plenty of interior space. The Fusion also has a distinct exterior – its 2010 refresh gives the car a contemporary look, whereas other sedans seem a little stodgy by comparison.
Since most cars of this stripe will serve as the primary commuter or family vehicle, safety is key, along with affordability. The Toyota Camry LE can be a bit bland, yet its success is telling. Many sedan shoppers simply want the greatest value and rely more on reputation than actual performance. If the heart says Acura or BMW, but the wallet says Ford, the 2011 Fusion is the best of both worlds.
A driver's-eye view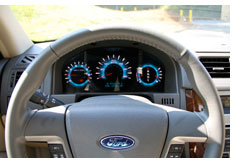 While the Fusion's exterior gives the car a slightly upscale look, the interior is straightforward and functional. The seats are comfortable and there's plenty of passenger space front and back. Dash controls are well laid out and there's an abundance of soft-touch materials. However, the interior design lacks any sort of real flair. The Sport model's glowing blue gauges, and chrome-edged clock and gear selector, stand out as highlights. A new Luxury package gives a richer look and feel.
Blind spot mirrors are now standard on all Fusions that don't have the electronic blind spot warning system (BLIS). The optional eight-inch touchscreen navigation system is easy to operate and Ford's Sync system (allowing voice control of phone and audio player) is excellent as usual. HD radio is a new addition for 2011.
A beholder's-eye view
There's no trick to getting a competent, well-equipped mid-size sedan for a moderate price. Honda and Toyota have been offering them for decades. The 2011 Fusion is competent and reasonably priced, but it also has an extra element of style that the others lack. The pulled-back headlights, road-hugging stance and attractive wheels give the car an almost European appearance. Even the mid-level SE trim has 17-inch wheels, fog lights and twin exhaust tips. The Sport model is the most distinctive: it gets 18-inch wheels, a more aggressive front end, a rear spoiler and a body kit that enhances the car's low, wide look.The 2011 Fusion is competent and reasonably priced, but also has an extra element of style that others lack.
The multi-faceted mid-size sedan
Although the Fusion acts primarily like an affordable sport sedan, there are enough engine and powertrain choices for it to be seen as a mid-size economy car. The base engine is a 2.5-liter, four-cylinder that makes 175 horsepower. It's not much to get excited about, but it provides adequate power while delivering a combined EPA estimate of 26 mpg (33 mpg on the highway).
SE and SEL models can be ordered with a 3.0-liter V6. This is the engine most buyers will opt for. With 240 hp, acceleration is brisk enough to tackle short freeway on-ramps and even provide a little fun too. Those looking for a true sport sedan should check out the Sport, with its 263-hp, 3.5-liter V6. This model's tighter suspension really transforms the Fusion into a great-handling car that's rewarding to drive. The 2011 Fusion is also available with all-wheel drive on Sport and SEL V6 models. Or the hybrid version is good for 41 and 36 mpg, city and highway.
There are plenty of tech features on offer. Audiophiles will want the 12-speaker Sony system. The extra bass and superior sound separation over the basic offering make it worthwhile. Sirius Travel Link – with up-to-date weather and traffic on the navigation screen – is a useful option for those who commute or travel extensively. A rear-facing parking camera is also available.
MyKey is now standard. Remarkably easy to use, it allows an owner to program certain driving limitations. For example, a parent can use it to limit top speed as well as set audible reminders at certain speed intervals. Maximum audio volume can also be controlled. For parents with teen drivers in the house, this one feature should move the Fusion to the top of their shopping list.
Prime numbers
The 2011 Fusion has such a wide range of models and options that a bargain shopper could pay less than $20,000 for a modestly equipped base model, while a Sport version with a few options can top $30,000. More than $30,000 for a mid-size sedan might seem rather steep, but that is right in line with key competitors from Chevrolet, Honda and Toyota.
The mid-priced models represent the greatest value. An SEL around $24,000 will still have the remarkable MyKey system, heated leather seats and dual-zone climate control.
Spoiled for choice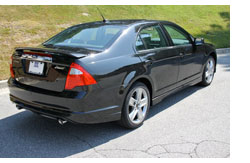 Fusion competitors include the Chevrolet Malibu, Honda Accord, Mazda6 and Toyota Camry. They're perfectly fine cars although the Accord and Camry seem to hold their value especially well. Ford takes the familiar formula used by those and other family sedans, and adds a few extra touches that make its 2011 Fusion better in many ways. It has extra tech features (like HD radio, MyKey and Travel Link) and offers a spirited sport model that's far more than just blacked-out trim and big wheels. Plus, the Fusion looks like a more expensive European sport sedan.
It's hard to find a bad mid-size sedan. Even the largely overlooked Mitsubishi Galant is worth considering. But ultimately, the Ford Fusion is truly a standout in a crowded, competitive segment.

In recent years, Ford has spent considerable time and effort building cars that are not merely good enough, but compelling in some way. Class-leading communications and technology features, interesting design, and top-notch performance are now hallmarks of the new, more focused Ford. The 2011 Fusion is one place where all that effort comes together in what is nothing less than a terrific mid-size sedan.