Car News
2011 Ford Super Duty - New Car Review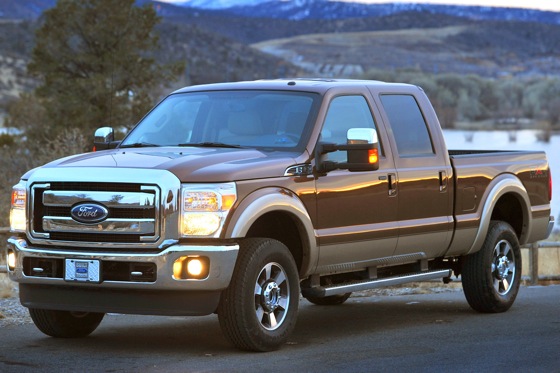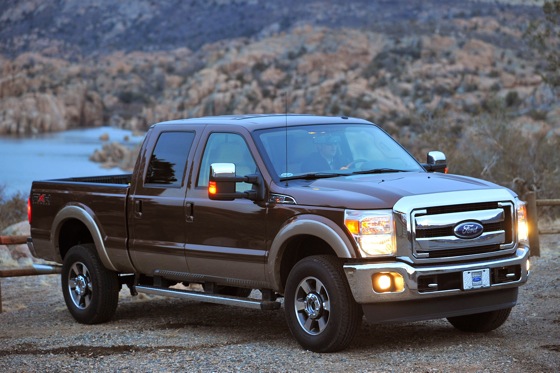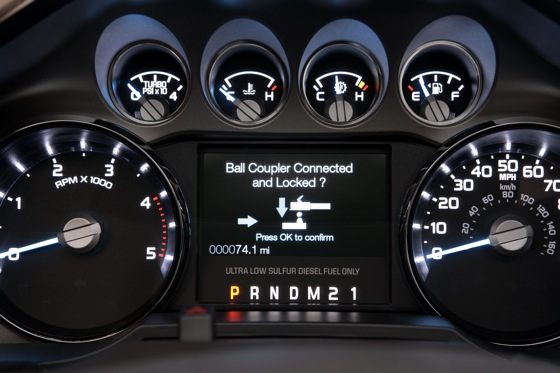 A Big Truck Under The Microscope
Ford's trucks, from the F-150 to the F-550, are the best-selling pickups in America. Close to four million have found buyers in the past 12 years. Before bringing its fifth-generation Super Duty commercial truck to market, Ford engineers handed over the keys to oil field workers, fleet operators and construction workers, guys who clock their days in swamps, using pickups in extreme conditions. Ford wanted to create a buzz, to validate this rig's toughness.
A clever marketing ploy for a bevy of buyers who use their rides exactly like this, but there are truck-loads of others who want to carry two-to-six riders in an upscale cab with car-like amenities, haul a horse or tug a camper. Or maybe they need a mobile office in far-flung places. Whatever the requirement, the most important point is this: there are major improvements since the last remake three years ago.
Power and performance is increased with two new engines and a new transmission. Payload and towing capabilities are greater. Plus both engines get better fuel economy and "green" fuel capability. Off-road equipment upgrades bring ease and safety in the wilds. Additionally, there are computer technologies and advanced telematic tools worthy of a fighter jet.
Priced from $28,020 to $62,375, many buyers have already voted. Early sales for the new model were up 58 percent over last year's: the Super Duty captured more than half of the heavy-duty segment.
Pickup joint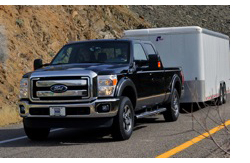 The door handles are designed for gloved hands. Running boards and grab handles facilitate the entry into a full-sized interior, with ample room for five or six, depending on seat/center console choices. Lumbar-supported seats are snug and sculpted to hold their occupants through corners. Interior hardware and materials are impressive, except for the visual and tactile quality of the mouse fur-like headliner.
A locking center console is part of the ample storage space, with a 12-volt socket, room for laptop computers and a false bottom. Rear riders get additional power, ventilation and under-seat lockable stowage. Cup holders abound, from small to big-gulp volumes. A new 4.2-inch LCD Productivity Screen gives important info including dedicated checklists and feedback for off-roading and trailering, while the gauges and instrument panel have been modified for greater user-friendliness.
Optional features include Ford's Sync voice-controlled technology that enables Bluetooth cell phone functions, as well as MP3 player connectivity and navigation. Ford's clever Work Solutions option provides internet access via an in-dash computer, using the navigation screen as a display, and links to a wireless printer. Set up with Microsoft Office, it can interface with a desktop computer back at the office or home.
Nip and truck
An immense new grille meets a power-dome hood capped with a gigantic Blue Oval logo. The headlamps have grown too. All versions spring from a collection of design cues, styled after Ford semis and other long-haul trucks, with a signature drop-down belt line and mammoth mirrors. There are three trim levels (base, XL, and XLT), two special-edition trims (Lariat and King Ranch) and three cab configurations (Regular Cab, Super Cab and Crew Cab). Fifty percent of buyers choose XLT Crew Cab models with all-wheel drive (rather than rear-wheel drive) and 80 percent select the 6.75-foot short bed (an eight-foot box is also available). Ford's "dually" (two-wheeled rear axle) gets new rounded rear fenders and cargo box tweaks that add vertical ribbing structures.
When duty calls
Ford describes the 2011 Super Duty as the launch of a powertrain wrapped in a new truck. An all-new Ford-designed and engineered diesel engine throbs at the center, as some 60 percent are ordered with diesels. The 6.7-liter V8 Power Stroke (a $7,835 option) pumps 390 horsepower and a stunning 735 pound-feet of torque.
Also new, the standard 6.2-liter V8 gas engine develops 385 hp and 405 lb-ft of torque, up from the old 5.4-liter V8's 300 hp and 365 lb-ft. It is 15 percent more efficient than last year's version and E85 flex-fuel capable. The turbodiesel achieves an 18 percent improvement and can run on B20 biodiesel. Ford reports a range of 20 mpg to 26 mpg with gasoline and diesel (in a diesel evaluation, we achieved 29.8 mpg over an 80-mile fuel economy challenge).
To complement a new gooseneck trailer preparation, maximum towing capacity is now up to 26,400 pounds. Payload stretches to 6,520 pounds.
Riding the rig
Although massive outside and in, the new truck drives smaller, with adjustable pedals and steering wheel. The ride is refined yet controlled. In an otherwise quiet cabin, the new diesel engine gives only a hint of noise under hard throttle. Both engines have ample power throughout the rev range and are matched to a new, heavy-duty six-speed automatic transmission that can be used in four ways. Set and forget; manual selection (via a shift knob on the stalk); locking in a top gear when towing or carrying a heavy payload; using the tow/haul mode to downshift automatically whenever the brake pedal is tapped – ideal for steep terrain and other situations where greater speed control is required. The manual transmission has been discontinued.
Four-wheel-drive versions get an "off-road mode" that adds a traction-enhancing electronic locking rear axle. Hill Descent Control is a first in this segment and performs flawlessly. One minor complaint is the lack of tow hooks at the rear.
Tough competition
Ford has amped up its Super Duty, but competitors have upgraded their models too. The 2010 Dodge Ram was freshened with a more aggressive look and roomy interior, along with tweaks to the ride quality. It also continues to offer a manual transmission. Dodge offers two special-edition versions, the premium Laramie and the tougher 4WD Power Wagon.
GM's 2011 Chevrolet Silverado and GMC Sierra trucks also come with a number of upgrades and new technologies. Plus, GM claims bragging rights with the highest towing and payload among the Detroit three. Also new is a GMC Denali version of the Sierra Heavy Duty that brings features such as a new Duramax 6.6-liter turbodiesel, an Allison 1000 six-speed transmission, increased front axle rating and improved ride comfort.
With the 2011 Super Duty, Ford has raised the bar once again, thanks to a package of power, performance and fuel economy – along with innovations such as Work Solutions, Tool Link and new electronic feedback systems for off-roading and trailering. Available in a wide variety of configurations, the Super Duty is a fine choice for consumers who use a commercial truck to work or play.