Car News
2011 Ford Taurus - New Car Review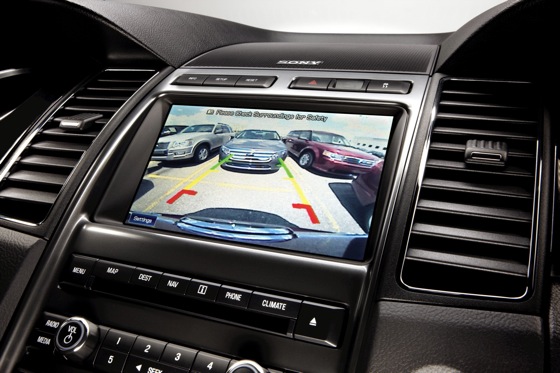 The Bull Fights Back
To develop the original Taurus, Ford purchased dozens of competitors' cars – from the Chevrolet Celebrity to the BMW 5 Series – and had its engineers tear them to pieces. The result was the impressive 1986 Taurus, whose futuristic styling, upscale interior and attention to detail revolutionized the mid-size sedan segment, and saved Ford from bankruptcy, selling more than 200,000 in its first year.
Time, however, has not been kind to the Taurus. Although Ford tried to save it with a 2000 re-design, the automaker was more focused on trucks, seemingly sealing the Taurus' fate as a perennial rental car. Faced with declining sales, cancellation was a virtual certainty. But there's been a turnaround.
Completely redesigned in 2010, this once tame family sedan has transformed into an exciting segment leader. Although the engine and transmission remain, the new Taurus sports entirely new, more aggressive exterior styling, and a much more appealing interior with a raft of new technologies not expected in a Ford. There's even a dramatic high-performance SHO version.
Forget any past notions of the Ford Taurus. The rental car we used to know is long gone.
So much more than leather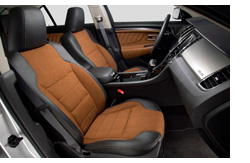 One of the biggest changes Ford has made is in size. At 202.9 inches long, the Taurus moves up a bracket to compete with cars like the Hyundai Genesis and Toyota Avalon, leaving mid-size sedans like the Toyota Camry and Nissan Altima to its smaller stablemate, the Fusion. Nowhere are its increased dimensions more obvious than the interior.
The cabin's futuristic layout gives a cockpit-like feel. Front seats are luxury-car comfortable with a vast range of travel. People of many shapes and sizes can easily find a satisfactory driving position, with well-placed and clearly marked controls in easy reach. Power-adjustable pedals are also available, for even more convenience. And while the rear quarters don't quite offer the legroom necessary to keep taller adults comfortable on long trips, they might forgive the limited space after spending some time on the plush bench.
Despite the comfortable interior, there is some question about its quality. Also carried over are digital screens for the odometer and radio, whose readouts seem to be beamed directly from the mid-90s. Ford also persists in using an array of cheaper-feeling plastics, especially for the steering wheel controls.
Bland styling succeeded by beefy presence
Family sedans aren't known for their exciting exteriors, but the new Taurus has something to say about that.
A high window line and slab-sided doors give the car plenty of presence. Trendy high-intensity corner lights and a well-sculpted front end give way to Ford's characteristic corporate three-bar grille. Around the back, small brake lights accent a large rear end, with a distinctive chrome strip running between them.
The running of the bull
The biggest surprise of the new Taurus comes when the starter button is pushed. Yes, a starter button. In a Taurus. Just to the right of the steering wheel. And it's not the only piece of new equipment here.
The Taurus offers Bluetooth, keyless access (allowing the key to be left in a pocket or purse when getting inside and starting the car), blind spot alert, cross-traffic alert (a big help when backing out of a parking space and visibility is limited), and an available reversing camera with a display set into the rear-view mirror. There's even a system called MyKey, which allows drivers to program a key that limits stereo volume and vehicle speed whenever the kids ask to borrow the car.
The new Taurus is clearly an entirely different animal than its predecessors.Getting past the technological surprises and easing on to the road, the new Taurus is clearly an entirely different animal than its predecessors. The standard 263-horsepower 3.5-liter V6 – rated at 18 mpg city and an impressive 28 mpg on the highway – is well matched to the smooth six-speed automatic, with steering wheel-mounted paddle shifters available for those interested in wringing out a little extra performance. Front-wheel drive is standard, but Ford also offers all-wheel drive.
Steering is light and the wheel turns easily, but handling is surprisingly direct, with little drama, even in quicker turns. Despite this surprisingly sporty trait, the suspension soaks up bumps. It doesn't quite feel like gliding on air, but the Taurus rides like a premium car.
That aforementioned performance version is the Taurus SHO, with a turbocharged 365 hp, a firmer suspension, sportier styling and standard all-wheel drive. It will run from a standstill to 60 mph in less than six seconds, about the same as a BMW 535. Ford expects the SHO to account for 10 to 15 percent of Taurus sales.
Standing out from the herd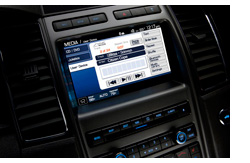 The Taurus offers a many permutations of trim levels, drivetrains and option packages. The least expensive is the SE, which starts at $26,000 and has front-wheel drive. It packs just the basics: power windows and locks, a CD player, and a considerable number of safety features like curtain side airbags and an anti-skid system.
While reasonably priced, the SE's disadvantage is that it doesn't have much of the technology available on more upscale trim levels like the SEL and luxury-oriented Limited, both of which offer all-wheel drive.
SEL models start just under $28,000 and feature automatic climate control and satellite radio, as well as an optional in-dash six-disc CD changer, Bluetooth, and an iPod adapter as part of Ford's Sync excellent voice-controlled navigation/information/entertainment system.
The Limited has luxury-car appointments such as leather seating, Sync and 19-inch alloy wheels, and starts at $31,000. Options include much of the range's technology, like blind spot warning and cross-traffic alert.
Prices compare favorably to a similarly equipped Toyota Avalon, whose XL, XLS and Limited trims roughly mirror those of the Taurus, but run $1,000 to $3,000 more.
The Hyundai Genesis is rear-drive only, which might be good for some, but may not go down well with snow-belters. But with a starting price of $33,000 that buys a 290-hp 3.8-liter V6 (18/27 mpg, city/highway) and a generous helping of standard equipment, it would be rash not to check one out.
The high-performance, all-wheel-drive-only Taurus SHO starts at nearly $38,000 and has many of the same luxury features as the Limited, as well as that more powerful engine. The SHO also offers harder-core upgrades such as larger brakes and more responsive steering.
During its heyday, the Taurus sold more than 400,000 per year. With the new model, Ford plans just a fraction of that – around 50,000 to 75,000 annually. But what the Taurus has lost in volume, it's gained in other ways, from neat new technology and a smooth ride to distinctive styling.
No longer a mid-size sedan, the Taurus must now stand out against a new group of vehicles. Though the large sedan segment is less populated than the frenzied class below it, Ford's remarkable effort here displays the automaker's intent to compete on every level. With the all-new Taurus, Ford isn't just competing, it's winning.