Car News
2011 Honda CR-Z - New Car Review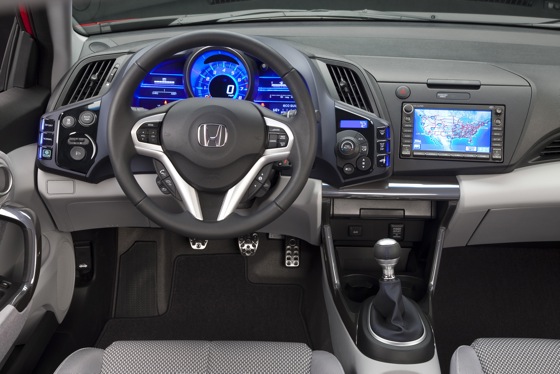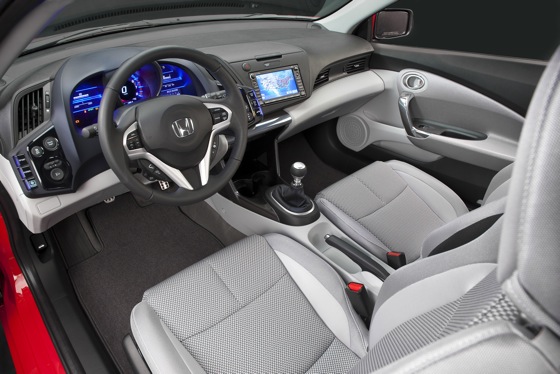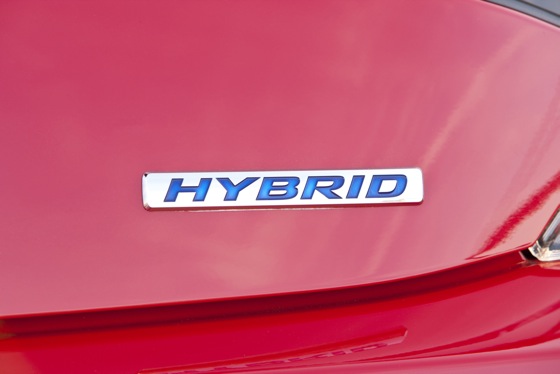 Honda makes CRX II – The Sequel
The CR-Z is Honda's modern remake of its 1980s CRX, a popular car the last time gas mileage was a major concern and with a cult following now. The CRX was a flyweight sport hatch that achieved excellent fuel economy while keeping drivers from terminal boredom – a leading cause of crashes during an earlier era of downsized cars and a 55-mph speed limit... Well, it could have been.
The question now is whether today's fuel-conscious drivers are ready to embrace a racy two-seater hatchback like they did a generation ago. Honda's market research says they are, with a forecast 22-percent increase in hybrid sales and a 21-percent increase in sales of small specialty cars over the next five years. As a small specialty car with a hybrid electric drivetrain, the CR-Z seems made to order.
A price range of $20,000 to $24,000 should aid its cause by being accessible to customers looking for an affordable first new car. While the original car's petite dimensions and supermodel-esque heft contributed to a modest appetite and spritely performance, they did not inspire confidence in drivers intimidated by the rising tide of SUVs facing them circa 1990. Tougher government crash requirements spelled the end of the CRX in 1991.
Today's CR-Z features lavish use of high-strength steel and air bags, upgrades that boost the car's mass, making it more like an unexpectedly heavy athlete who is dense with muscle despite compact dimensions. Honda's challenge will be to convince consumers that such a small car really is much safer than yesteryear's model.
High style, low comfort
Honda's stylists penned a zoomy cabin with the feel of a futuristic dream car, complete with metallic surfaces created through a new plating process. It lends a rich appearance to surfaces that could otherwise look like the chrome-plated plastic parts in children's model kits.
As we've seen in other recent Hondas, the speedometer changes the color of its illumination based on gentle or aggressive driving. That large, prominent display contains an analog rev counter that wraps around a digital speed display, which is flanked in turn by displays of various video game-style information about the hybrid system's status and the driver's efficiency.
This promise is let down by the cheapness of the seats. Just like those in the Fit and Insight, cost and weight carried the day over petty considerations such as comfort and adjustability. An unsurprising decision but still disappointing, because no upgraded seat with, say, a lumbar adjuster, is available even as an option.
Also absent is a roof-mounted grab handle for the passenger. This is a sport coupe, right? One might hope for some spirited driving, which would cause the passenger to reach for the (absent) handle. And no, the grab handle on the door doesn't cut it.
Don't I know you from somewhere?
The CR-Z's design successfully conveys an impression of motion and verve.The CR-Z's doorstop design descends directly from its CRX forebear, in a slightly larger size that makes concessions to modern pedestrian impact protection requirements in Europe. The resulting front end is slightly less tidy, while some additional business at the rear could be considered more characterful than the CRX's cleaner lines. In all, the design successfully conveys an impression of motion and verve, surely achieving all of Honda's goals for it.
Under the skin, the structure is 45 percent high-strength steel, and abundant braces and gussets contribute to a structure that is much stronger and protective than its size would suggest. Honda predicts the CR-Z will earn four stars on the government's tougher new crash test standards, but that remains to be seen.
The CR-Z EX is equipped with xenon high-intensity discharge headlights, which could be considered an unnecessary luxury item, except for the fact that the standard incandescent low beams on other Hondas like the Fit and Insight have proved so useless as to be almost a hazard, making the availability of better lights an absolute must in this case.
Quick enough? Green enough?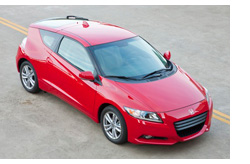 As the original Insight (which, like the CR-Z, was a compact two-seat teardrop) and the Lexus GS 450h have shown, the hybrid market is just as tough to crack as anything else. Honda's aim for the CR-Z is to break into the mainstream with a sporty hybrid that shows the value of light weight and compact size when fun driving is the goal.
Abetting this scheme is the company's hybrid-electric drivetrain, a less complicated, lower-cost arrangement than the kind used in cars like the Toyota Prius and Ford Fusion Hybrid. Honda's philosophy is to use the electric motor as a low-speed band-aid for the gasoline engine's lack of power at lower revs, while letting the latter do its thing when it is humming near redline.
This layout gives the CR-Z a gas-powered character, which might seem uncharacteristic for a hybrid, but is an absolute necessity for any sporty car hoping to capture an enthusiast's imagination. Honda tunes the sound of its four-cylinder engines better than anyone – this ability serves the CR-Z well, letting the driver savor the authentic blare of a racy engine at work, even as the batteries are also pouring power to the road.
Low-end torque contributed by the electric motor makes the CR-Z even easier to drive, with a smooth clutch action and a slick six-speed manual transmission that illustrate Honda's ability to integrate these components into a seamless unit. This transmission is the key to the CR-Z's enthusiast credibility, but Honda expects buyers to choose the automatic CVT transmission by a 3:1 ratio. Oh well, their loss.
The CR-Z is certainly an inoffensive partner in automatic guise, but it's no driver's car. As we've observed with the six-cylinder Ford Mustang over the years, it is these bigger-selling "decaffeinated" versions that make possible the sporty editions loved by gearheads.
Hot-hatch hybrid two-seaters, population: CR-Z
The CR-Z enjoys the advantage of contending in a sparsely populated segment. The question is whether anyone wants such vehicles. Fickle shoppers have certainly ignored commendable cars in the past.
A real challenge for the CR-Z, as it has been for past high(er) performance hybrids, is that while fuel economy may be good for the performance segment, it isn't amazing when put up against green-focused models. The CR-Z is rated at 35 mpg city and 39 highway for the automatic and an almost lackluster 31 mpg city and 37 highway for the manual, a situation that could leave some shoppers scratching their heads and sharpening their pencils as they compare the mileage figures of non-hybrid alternatives. The CR-Z looks like a sure hit among Honda partisans and middle-aged CRX fans, but its message may be too confusing for mainstream buyers.
The CR-Z is an affordable, efficient, easy-to-park commuter in its most popular automatic transmission form, but can provide real fun for enthusiasts who shift for themselves. It is better equipped to deal with contemporary life and enjoys far more cabin space than the old CRX, factors that consumers will appreciate only if they investigate the car. History shows that it is the exceptional sequel that exceeds the original.