Car News
2011 Hyundai Equus - New Car Review
Remember when Target was the go-to source for frugal fashion, instead of just another purveyor of the same Chinese junk sold everywhere else? Of course, the exclusivity from a high price gives some products their cachet, but Target helped consumers realize that if they could get nice products for a reasonable price, it didn't matter whose name was on the label. It even got its own ironic, cod-French mispronunciation – "Tar-jay" – in recognition of the store's lack of prestige among habitual Fifth Avenue and Rodeo Drive shoppers.
The thing is, there aren't that many Fifth Avenue and Rodeo Drive shoppers, compared to how many there are of the rest of us. And we like nice things too. Not many of us can afford the flagship sedans from fashionable brands like Lexus, Mercedes-Benz and BMW, but what if there was a discount equivalent?
How about a car that is fully the equivalent to a Mercedes-Benz S550 in everything but prestige? With all the comfort, power and techno-gadgetry found in Stuttgart's finest premium sedan for a price that is 60 cents on the dollar?
You might expect the lower-priced car to have some noticeable shortcomings in comparison to the pedigreed original. And you would be right. In back-to-back testing with a Mercedes-Benz S-Class, the 2011 Hyundai Equus is distinctly lacking in the rich leather cabin aroma that subliminally reminds the driver of the opulent, otherworldly ambience. Maybe if you stuffed into its door pockets the $30,000 saved by buying the Equus, you could enjoy the smell of cash instead. But that's it. In every other respect, the Equus is a full-blooded, no-excuses competitor with the Mercedes-Benz S550.
Luxury liner notes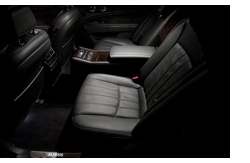 The Equus tested here is in the Ultimate trim level. This includes an executive back seat with a right-hand-side section that reclines and has a power footrest. Where the middle seat would usually be is a console containing a refrigerator; there is a dedicated entertainment system using an eight-inch display that flips up from the back of the front-seat console. Both the driver's seat and the right rear seat feature a massage function in addition to the heating and cooling of all four seats. Power-operated privacy shades for the doors and rear window shield those occupants from paparazzi or other unwanted attention.
An in-dash navigation system uses a central controller, much like BMW's iDrive, but this one works better. The 17-speaker Lexicon stereo is unimpeachable and integration for smartphones is good, though the current state of technology does not permit displaying movies from a phone onto the video system just yet.
Mane-stream styling
Taking a page from the Lexus playbook, Hyundai's stylists hewed closely to the design of the previous-generation Mercedes S-Class. In this segment, it's better for newcomers to be too conservative than too aggressive. Just ask Infiniti. So the sheetmetal is handsome but dull. Finished in a suitably unremarkable shade of Mercedes-trademark silver, it will disappear in the country club's parking lot faster than a ball sliced into the rough. Also, Hyundai has decided to go with a generic look for the grille and its Pegasus-inspired emblem.
In the saddle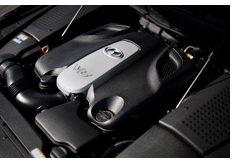 When carmakers claim to match established leaders in terms of features and content, it is commonplace for those features to be "check-off" items only. Yes, they are present, but they are so inferior in the execution as to be pointless. For example, seat heaters that cover too small an area and have only one insufficient temperature level.
Hyundai used to cut these kinds of corners, on trivial things like seat warmers and critical items like engines. No more. The Equus is equipped lavishly, and tweaked and tuned thoroughly so that its hardware works as advertised. The 385-horsepower 4.6-liter V8 engine is as smooth and quiet as any. This world-class power comes at the usual cost, however. EPA gas mileage is 16 mpg in the city and 24 on the highway. These are probably realistic numbers most of the time, but a week of suburban driving in winter weather could well average out at 13 mpg.
Hyundai's engineers eschewed electric power steering for the typically superior feel of hydraulic assistance, though its pump is electrically powered rather than being driven by a belt on the engine, so there is no loss of fuel efficiency. With the "Sport" button on the console depressed, the Equus provides the precise response to input expected from a modern flagship sedan, while still cushioning the jolt from expansion joints in the road.
Unlike some of the established players, Hyundai has retained a traditional shifter that actually slides into discrete gear positions rather than using a goofy turn signal-type switch or joystick shifter to frustrate and annoy drivers. This is one instance where "proven" isn't a euphemism for "obsolete."
The Equus doesn't have a gimmicky, slow, hard-to-use self-parking system. Instead, the car deploys cameras front and rear that make the job of parking by the driver much easier. It's a better solution.
Other high-value targets
Few buyers are going to cross-shop a Hyundai Equus against the obvious German über-competitors based on specs and equipment. But people who are shopping in the $60,000 range for lesser-class vehicles – such as the Infiniti M, Acura RL, Cadillac DTS and a Lexus or two – could be drawn to this car. Also, a good many who have their eyes on a late-model used Mercedes-Benz S-Class, BMW 7 Series or Audi A8 may well be swayed by Hyundai's new-car financing and gigantic warranty in contrast to the likely expense of owning a three-year-old premium sedan.
The $65,400 Equus Signature model includes everything on the Ultimate except the executive back seat, and it carries five people rather than the Ultimate's four. Loaded with all this unbelievable equipment, and without the $20,000-worth of options that typically run the bottom line of competitive cars to more than $100,000, the Signature lists for just $58,000.
That is unquestionably a lot of money to spend on a car wearing a Hyundai badge, though the negative connotations of the name are drying up, along with the company's warranty claims. Had the Equus had the low sales volume that Volkswagen's similar Phaeton did, it might have been smart to wait a year and pick up a leftover at a big discount. But Hyundai Motor America's president, John Krafcik, reports that the Equus is selling at double the company's predictions, so there aren't going to be any such bargains.
One if by land, two if by Ro-Ro*. It is too late for a Revere-ian warning. The Koreans aren't coming – they're here. Mercedes-Benz and company should notice that Hyundai is quartering its troops in their homes and putting grimy boots on the bar in their neighborhood pub. The rest of us could work on a funny "Tar-jay"-style mispronunciation of Hyundai's name. If it wasn't so difficult to pronounce already.
* Roll-On, Roll-Off: a car-carrying ship.