Car News
2011 Hyundai Sonata 2.0T: Who Needs a V6 Anyway? - New Car Review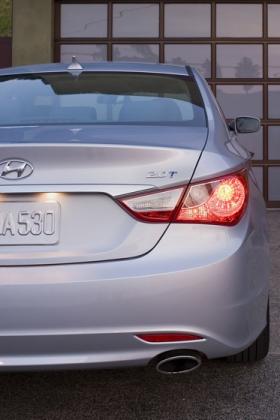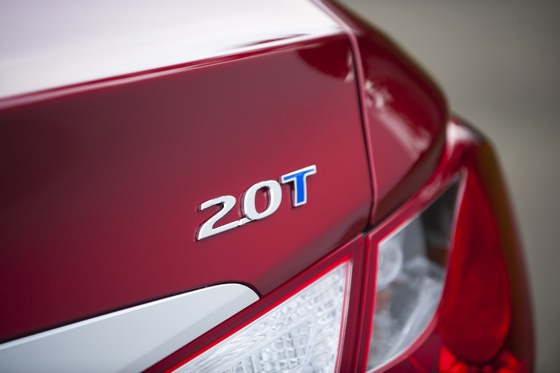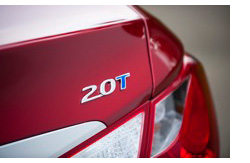 If Hyundai is to be believed, the V6 engine is dead – for the mid-size family sedan segment, at least. Although Toyota offers a V6 for the Camry and Honda does likewise for the Accord, Hyundai has taken a different path for the range-topping version of its Sonata. The turbocharged path.
It's a good idea. A turbocharger compresses air, sending more of it into the cylinder (along with direct-injected gasoline, in this case) to form a mixture that, when ignited, creates more power. For instance, a naturally aspirated 2.0-liter engine – meaning no turbo or anything similar – will typically produce around 150 horsepower. The Sonata 2.0T has 274 hp. On regular gasoline.
More power surely means more thirst. Yes and no. At times when the car is traipsing around town or inching forward in highway traffic jams, the turbo remains dormant, so consumption is like any other modern, fuel-efficient 2.0-liter four. In the same situations with a V6, all those cylinders would still be firing.
Only when that extra urge is required – like a steep incline, passing other cars or merging onto a free-flowing highway – does the turbo kick in. Hyundai claims 22 mpg in the city and 33 on the highway, which compares well to its 2.4-liter naturally aspirated counterpart's 22/35 (with 198 hp). And that's a minimum of a couple of miles per gallon better than any V6-powered rival. An Eco mode sets the engine and transmission up for a seven-percent improvement in normal fuel consumption. It's not that difficult to average 41.4 mpg in real-life driving. Yet the engine's power output also looks good against the Camry V6's 268 hp and the Accord V6's 271 hp. The term "best of both worlds" springs to mind.
This mid-size sedan continent of the car world is not known for its driver-focused offerings. And even with a turbo, the Sonata doesn't stray far from the "try to please everyone" brief. So the steering is on the lighter side, especially at dead center. Then it gets heavier the more it's turned, but there's still no real feel. And because it has front-wheel drive, if a corner is taken too fast the nose will wash out wide, although in a safe and predictable manner. At which point the standard electronic stability control will interject and keep everything on the right line and pointing the right way.
When the appropriate moment arises, it is fun to use the steering wheel-mounted paddle shifters of the six-speed automatic transmission. Each gear change, whether left to the system or prompted by the driver, is completed rapidly and almost imperceptibly. What's more, the brakes are excellent – a good initial bite without being grabby and plenty of feel throughout. Ride quality (from a slightly sportier suspension than the 2.4) also manages to walk that fine line between comfort and control. The driving position seems a tad high, even at the seat's lowest setting, but at least visibility is good.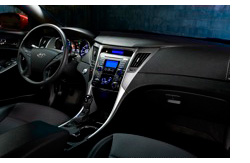 As with other Sonatas (all made in Alabama, incidentally), four adults may enjoy relatively generous passenger space in a tranquil cabin, with only the occasional cheap plastic surface to shatter the illusion that they are in something considerably more expensive. The 2.0T SE starts at $24,865, the swankier Limited from $27,675. The cheapest 2011 Accord V6 starts at $27,080. The 2011 Camry equivalent starts at $24,890 (all prices include destination charges).
Standard equipment includes keyless entry, Bluetooth and an iPod socket. Hyundai's residual values are becoming stronger almost by the day and the Sonata range has just received a full five stars in the National Highway Traffic Safety Administration's tougher new crash tests. For anyone interested in this kind of vehicle, the Sonata 2.0T is a shoe-in for the short list.