Car News
2011 Infiniti QX56 - New Car Review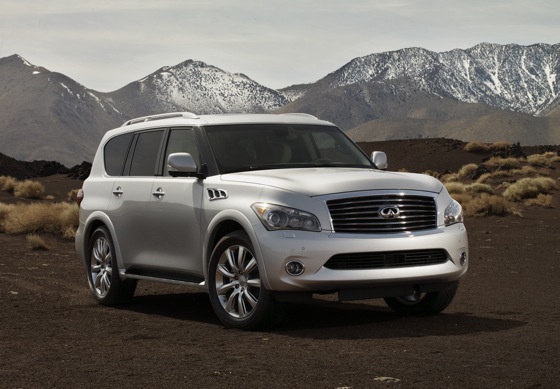 Big and Rich
A sluggish economy might be considered the wrong time to introduce a luxurious and relatively thirsty full-size SUV like the 2011 Infiniti QX56. But based on its sales so far, nothing could be further from the truth. What the company describes as an "immense, modern expression of emotion" has taken the segment by storm, snapped up by those who are shopping for towing capability – or just shopping for shopping capability.
This latest generation consolidates its standing as a premium vehicle, with cabin materials of finer quality than the previous generation, plus gadgets aplenty. It also moves away from its truck-based roots (the Nissan Armada) to a platform made specifically for an all-wheel-drive SUV.
Room with an Around View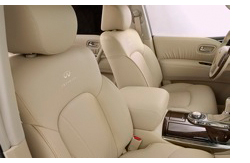 The clearest evidence of this consolidation is inside. This new model has an integrated luxury of something befitting more than its price. While the front seats cannot be described as "captain's chairs," captains of industry will certainly fit, with a flattish surface perfect for both well-endowed wallets and backsides. The front seats are also heated and ventilated, allowing occupants to warm up in Telluride or chill out in Tucson.
With seating for up to eight, the new Q can also come with a second-row center console, effectively limiting accommodation to a driver and six close friends. Access to the first and second rows are aided by a running board and generous vehicle height. Once seated, a passenger's hip point is roughly in line with the roof of an adjacent Scion xB. The second-row bucket seats feature a flip-and-fold feature for accessing the third row. Back there is flattish seating for three with both legroom and headroom just adequate for people under five-six. With the third row in its upright position (the split bench raises and lowers electrically), cargo volume is reduced from almost 50 cubic feet to just over 16.
The general layout of the controls makes good ergonomic sense, except for the side mirror adjusters. These are on the lower left side of the dash, visible from behind the wheel only if the driver is no more than five feet tall and suffers from a stoop to the left. But once an owner has located them, this becomes less of an issue.
Despite a yen/dollar exchange rate working to Infiniti's disadvantage, it didn't stop the company from loading the QX56 with more tech (helped by its available Technology Package) than an Apple store. Beyond the upscale Bose audio system, the dash is blessed with electro-luminescent gauges, an eight-inch color touch-screen display, hard drive-based navigation, lane guidance, voice recognition for audio, nav and vehicle information systems, XM NavTraffic with real-time traffic info, and an Around View monitor with front and rear sonar (an excellent parking aid).
More pachyderm than pack rat
Despite its imposing proportions, the Infiniti carries its considerable weight relatively well, with an almost athletic look to its overstuffed ambience. Major sheetmetal modifications were not deemed necessary; significant changes were made only at the front. And while the new grille and headlight treatment integrate more effectively than of its predecessor, the end result may still be found awkward by some.
The xenon headlights look and work great, but the stylistic filler mounted above them is less well executed. The grille is no more or less successful than those of other big-buck SUVs; it isn't visible from behind the steering wheel anyway.
In profile, the QX56 is dominated by its wheel/tire combination. With the optional Deluxe Touring Package, that means 22-inch alloys (20-inchers are standard) clad with 275/50 rubber.
Push and pull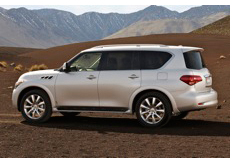 With 400 horsepower emanating from an all-new 5.6-liter V8, the QX56 is all about a relaxed feel. That power is transmitted through an electronically controlled seven-speed auto and available all-wheel drive. Despite the almost 6,000 pounds (with driver and one passenger) it has to propel, the engine goes about its in-town or outbound business with a healthy disregard for the physics involved in moving three tons, yet still achieves an EPA highway rating of 20 mpg.
An equally positive impression is conveyed by the all-independent suspension. Pock-marked concrete becomes little more than a pavement pimple. Even with an overall height of 76 inches (just four inches short of its overall width), body lean is kept to an acceptable minimum via the optional Hydraulic Body Motion Control. And the turning radius makes this big vehicle surprisingly maneuverable.
Of course, an SUV should provide optimal performance throughout the year. For that, the available All-Mode drive system steps up. Leave it in 'Auto' and it does all the work, detecting slippage and directing power to the appropriate axle automatically. Or the driver may select 4Hi, 4Lo, "Snow" and "Tow" modes. With a towing capacity of 8,500 pounds, a 25-foot Airstream trailer is one of the better justifications for Infiniti's Q-ship.
An integral part of enjoying the powertrain is fuel capacity. With an EPA of 14 mpg in the city, 20 mpg on the highway and a 26-gallon tank, that works out to a range of 390 miles (assuming 15 mpg in mixed driving); call it 350 with reserve. Expect less when boulder-hopping. With the adventure tour growing in popularity, a larger gas tank would provide more psychological comfort during those long hauls through the wilderness.
Peer group pressure
The vehicle that really combines luxury and build quality with off-road talent is the Lexus LX 570. It can also seat eight. A 2011 model starts at $78,555.
A 2011 Audi Q7 can accommodate seven. It wouldn't be the first choice for off-roaders and, with a 333-hp V6, it does not have the same kind of muscle as a QX56. But at $59,450 and with sleeker looks, some buyers might be interested.
Seven can also be transported in luxury by a 2011 Mercedes-Benz GL550 while towing up to 7,500 pounds. The three-pointed star has its own cachet, which comes in handy at resale time. But coming up with $84,450 for a version with the same kind of power as the QX56 may be a problem in the first place.
The 2011 Cadillac Escalade is showing its age, but can match the QX56 for space, power and capability. It starts at $63,160. The 2011 Lincoln Navigator (from $57,570) can also seat eight, but only comes with 310 hp and is similarly superannuated.
After considering the competition, the QX56 seems a comparative bargain. It starts at $57,850 for a rear-drive model, $60,950 for all-wheel drive. A well-equipped version – with all-wheel drive, Theater, Technology and Deluxe Touring packages – will go for just over $72,000. There could be some room for negotiation, since there isn't the same kind of brand equity in the QX56 enjoyed by its rivals. But it's a fresh vehicle and, as mentioned above, examples are moving from showrooms as quickly as they get there.
The 2011 Infiniti QX56 delivers a luxurious, all-season capability to a well-heeled clientele. Those buyers might wish for more lateral support in the seating, or more elegant sheetmetal, but there's little argument with the end result. If uncertainty over future fuel prices – and therefore the vehicle's value on the used market – is a concern, opt to lease; in most competitive leases the resale onus is on the manufacturer.