Car News
2011 Jaguar XJ - New Car Review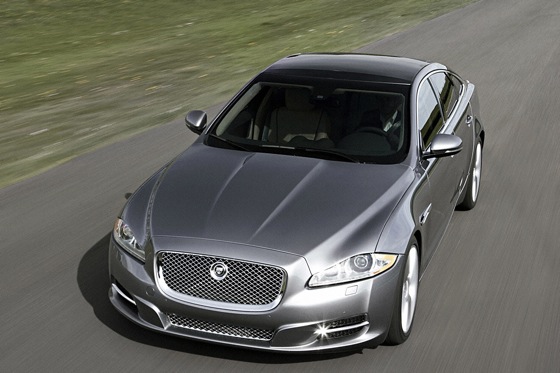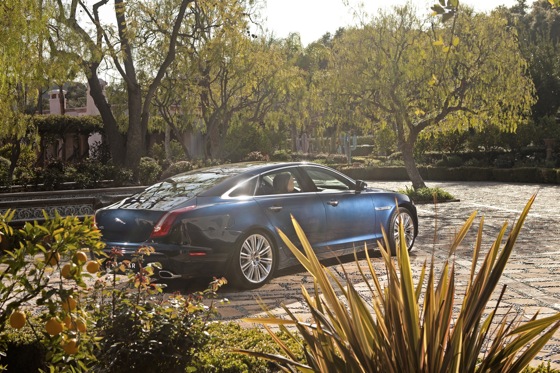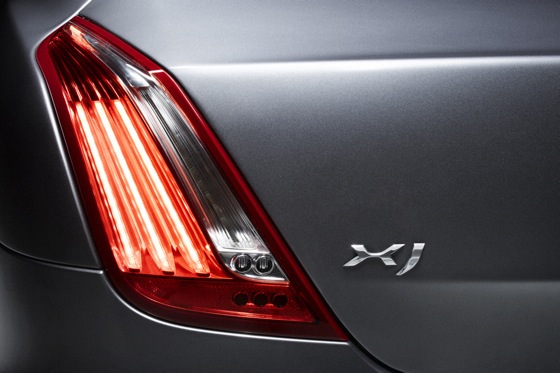 Rejuvenated Flagship Leaps From AARP to A-List
Over the last four decades, since its initial debut in 1968, the image of the Jaguar XJ has gradually diminished from trendy, fashionable, sporty luxury sedan to elegant but outmoded transport for dowagers. A slavish adherence to tradition – with styling considered evolutionary by Jaguar fanatics, but deemed far too subtle by everyone else – has contributed significantly to this perception.
Lackadaisical performance and handling (compared with hard-edged, mega-horsepower German competitors) have also affected the big Jag adversely. Most consumers, and even some auto industry insiders, would be surprised to learn that production of the old (in every sense of the term) XJ ceased a year ago. It was hardly missed.
One look at the 2011 XJ shows that Jaguar (under new owners, Tata Motors) aims to reverse the aging process with a sleek, tradition-breaking exterior and a high-tech, high-fashion interior. Beneath the bonnet (as the Brits refer to the hood) lurk even more surprises – especially for unwary drivers of cars bearing a three-pointed star or blue-and-white propeller logo.
The company refers to it as: "making Jaguar Jaguar again." What that means to anyone born after 1970 is a car that can hang with the German marques on a twisting stretch of road, but have a less domineering attitude regarding comfort when trundling about town.
These days, luring buyers to top-end luxury sedans reaches beyond bragging rights of performance and comfort excesses to those regarding state-of-the-art manufacturing and sustainability. Jaguar rises to the occasion with an aluminum and alloy body structure (400 pounds lighter than an S-Class) that uses over 50 percent recycled material and is built with aerospace-quality bonding, as opposed to welding.
Stately home for the 21st century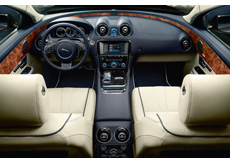 Yards of leather (more than on any previous XJ), highlighted by chrome and piano-black wood trim, provide contemporary yet inviting interior accommodations. Even more welcoming is the "Jaguar handshake" that greets the driver as the rotary knob transmission gear selector rises from the center console.
Also coming to life is the 12.3-inch high-definition virtual instrument panel, along with an eight-inch touchscreen panel for navigation, audio controls and other vehicle information. The virtual speedometer, tachometer, fuel and temperature gauges could easily be mistaken for actual instruments, until a spotlight effect highlights important information, such as the current speed or engine revs. Or the tachometer fades away temporarily to display a menu when changing radio stations or present a "low fuel" warning. Heated and cooled 20-way power front seats, plus heated rear seats, are standard. Performance-oriented drivers will appreciate the beefy leather steering wheel and supportive seats.
The shock of the new exterior
There is no mistaking the 2011 XJ for any of the past renditions, although the graceful sweep of the roofline was inspired by the original XJ. If anything, the front bears a family resemblance to the XF, but is sculpted more aggressively, with mesh grille inserts and a strip of LED lights underlining the cat's eye-like xenon headlamps. Muscular fender arches and lower sills speak of performance, while the curvature of the roof (which features a panoramic glass panel) adds elegance and makes the car look longer than it is. As the body sweeps up and around to the rear, things get controversial, especially the bold LED tail lamps that begin along the top edge of the trunk lid, then angle down and inward. It's all definitely un-Jaguar-like, and possibly a bit Johnny-come-lately for some. But moving down the road, the XJ is distinctively eye-catching and fluidly handsome.
Upwardly mobile
The performance and handling of the new XJ is light years ahead of the old car. The standard drivetrain consists of a 5.0-liter, 385-horsepower V8 with an adaptive six-speed automatic transmission putting power to the rear wheels. Jaguar quotes a zero-to-60 mph sprint taking 5.4 seconds – three-tenths quicker than a comparable Mercedes-Benz S-ClassPerformance and handling of the new XJ is light years ahead of the old car; zero-to-60 mph takes just 5.4 seconds..
It feels much quicker, especially after twisting the rotary drive switch to its Dynamic setting. This causes the drivetrain to rev higher in each gear. Paddle shifters can be used for even quicker gear changes, with downshifts accompanied by computer-controlled throttle blips between the ratios. This mode also adds a sporty growl to the exhaust, making the car seem even faster.
To actually go faster, although the base V8 is more than adequate, opt for the Supercharged model that, as the name implies, adds an Eaton supercharger to produce 470 hp and knock zero-to-60 mph times down to 4.9 seconds. A limited production Supersport model combines bespoke paint and interior appointments with a 510-hp supercharged version.
Air suspension and automatic dampers continually adapt firmness and comfort according to road conditions and driver input. The result is a controlled level of ride comfort that eliminates the lean or wallow of older XJs. When pushed aggressively on tight canyon roads, the XJ responds and handles like a much smaller car. Powerful, sure-stopping brakes adapted from the XK add to confidence and comfort during speedy maneuvering. Whether driven hard or leisurely, the XJ never loses its composure.
Sterling value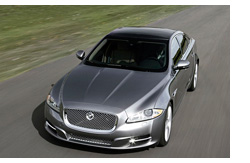 Pricing starts at $72,500, which is nearly $10,000 less than a BMW 7-Series and almost $20,000 cheaper than a Mercedes-Benz S-Class. A huge gap, considering the levels of luxury and performance are very comparable. Jaguar quotes the residual value on a 36-month lease to be 54 percent, the same as a Lexus LS460. Residual values for a Mercedes are 46 percent and the BMW is 45 percent. Thinking Audi A8? Think 42 percent.
Jaguar predicts that almost half its customers will order the longer XJL, which still stands up well at a base price of $79,500. Standard equipment on all models includes the user-friendly touchscreen navigation and HVAC controls, a rear-view camera, blind spot warning, intelligent high beams that come on automatically according to road conditions, hydrophobic (water-repellant) glass and other details such as HD radio and a garage door opener. Plus a choice of 19- or 20-inch wheels.
Quality issues are the only concern. Offsetting that is Jaguar's Platinum Coverage five-year/50,000-mile warranty that includes no-cost replacement and maintenance including oil and oil filters, wiper blades, brake pads and discs, and more.
Anyone who has driven an old XJ, or any Jaguar for that matter, has to come away impressed with this model. Not only do the XJ and XJL compare favorably with the equipment and performance of Mercedes-Benz, BMW, Audi and Lexus, but the pricier Supercharged and Supersport could also be viable alternatives to the Porsche Panamera, Maserati Quattroporte and Aston Martin Rapide. At that level, personality and cachet enter into the decision, but these two are in the ballpark. For well under $100,000, the XJ and XJL stand tall with their own blend of styling, performance and luxury.