Car News
2011 Jeep Grand Cherokee - New Car Review
With 4,000,000 Grand Cherokees sold, if Jeep didn't invent the premium SUV class, it certainly has made an impact. Now there's an all-new generation for 2011. It offers more content yet costs less than the outgoing GC. Its eye-catching styling exhibits the cleanest fit and finish of any Jeep to ever come down an assembly line, and the interior – where high-quality, soft-touch materials form an appealing layout – is equally impressive. There is more room for people and packages, while its home-level technology brings up-to-the-minute infotainment features.
Under the hood, Chrysler's new 3.6-liter V6 improves on the fuel economy of its predecessor (by 11 percent) and gives a range of up to 500 miles on one tankful. An added benefit is its flex-fuel capability, running on gasoline or any ethanol blend up to 85 percent (E85). The 5.7-liter V8 option has its own plus points. It makes more power than the one it replaces and features a multiple displacement system. Under light loads, the engine will operate on just four cylinders. There is also sufficient torque to tow up to 7,400 pounds (in a properly equipped model), whereas the V6 version can only pull 3,500.
Like past GCs, this one comes in rear-drive or all-wheel-drive guise. Trim levels are Laredo, Limited and a new upscale iteration: Overland.
The inner sanctum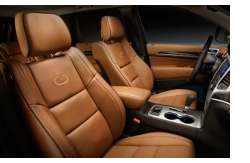 Getting in and out is an improvement over older models, thanks to wider door openings. The body is only slighter larger in each direction, but there's a markedly roomier feel to the interior. Rear passengers now have four more inches of leg room and cargo capacity is increased to 35.1 cubic feet with rear seats up, 68.7 when folded.
Seat comfort is another area where the new GC beats the old. The seats are also heated, with ventilated fronts and four-way power lumbar controls. This generation majors on luxury, with plenty of real wood and leather around the cabin, plus a heated steering wheel and a power tilt/telescoping steering column (depending on the trim level). The center console houses a power outlet and an iPod docking station. Illuminated cup holders are a nice touch, and aircraft-inspired LED lighting highlights map pockets, door grab handles and foot wells.
There's also an impressive array of electronic niceties: Sirius services like Backseat TV, Traffic and Travel Link (for real-time traffic updates, fuel prices, movie times, sports scores, etc.), Flo TV, and Uconnect web/navigation/phone that turns a GC into a wi-fi "hot spot."
The 2011 Grand Cherokee is an Insurance Institute for Highway Safety (IIHS) "Top Safety Pick." Its extensive list of safety equipment includes a generous quota of airbags,electronic stability control and roll mitigation, while Blind Spot Monitoring and Rear Cross Path detection are also available.
New frame, new skin
An all-new, stiffer body with superior aerodynamics than the previous GC means better fuel economy, a quieter cabin and a smoother ride. Chromed roof rails are standard throughout, while body-colored mirrors and door handles are standard on the Laredo. Limited and Laredo get 17-inch wheels as standard, although the Limited may be ordered with the same 20-inchers fitted to the Overland.
A power liftgate, with Jeep's flipper-glass window, is optional on the Limited, standard on the Overland. It integrates larger taillamps, along with a quartet of reversing lights. The body-colored rear spoiler enhances looks and helps with fuel economy. A single tailpipe details the back of the V6 model; chromed dual exhaust tips distinguish V8-equipped versions.
CommandView is another new feature. Its dual-pane glass roof extends from the windshield to the rear. The front panel may be opened, while the fixed rear comes with a sun shade. This is optional on the Laredo and standard on Limiteds and Overlands. Alternatively, a traditional sun roof is available on all models.
How it moves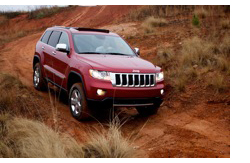 In most situations, the steering is responsive and the brakes reassuring. But having to propel over two tons, the V6 feels under-qualified. It delivers 290 horsepower and 260 pound-feet of torque – more suited to maintaining momentum than pulling away. The V8, with 360 hp and 390 lb-ft of torque, is noticeably punchier. Both engines are matched to a five-speed automatic transmission (with a manual shift option).
On-road work is only half the story. When the going gets dirty, Selec-Terrain gets going. This new system is often found in more expensive SUVs. It allows drivers to choose between five settings, appropriate to whatever surface is being negotiated: Sand/Mud, Snow, Rock, Auto (adapts to any on- or off-road situation) and Sport (for more snappy on-road responses).
And there's even more off-road gadgetry. Hill Descent Control is activated with just a button-push and allows variable speeds in both forward and reverse gears. Hill Start Assist holds the vehicle on an incline during that tense second between taking a foot off the brake and putting it on the accelerator. These two systems, along with standard Trailer Sway Control, are particularly helpful in towing situations. The only complaint is the level of noise from the components that control wheel slip, traction and braking.
Regarding driven wheel options, Quadra-Trac I is a full-time system, but does not include the low-range gearing found in Quadra-Trac II. Quadra-Drive II is for the tough stuff and uses an electronic limited-slip differential that can direct engine power to either axle or – in more severe conditions – any specific wheel. This system incorporates Jeep's Quadra-Lift air suspension with selectable ride heights: low (for easier passenger entry and exit) to off-road high for nearly 11 inches of ground clearance, plus an 'aero' mode that lowers ride height for less drag and more stability at highway speeds.
Higher value, lower price
The base rear-drive Laredo starts at $30,995; all-wheel-drive versions go from $32,995. A rear-drive Limited costs from $37,495; $39,995 for the all-wheel-drive version.The rear-drive Overland begins at $39,495, with all-wheel-drive models starting at $42,995. Jeep has added content to the value of $2,000 to $5,000 and is pricing 2011 Grand Cherokees below most of the outgoing equivalents. All prices include destination.
Thirst-wise, the V6 can achieve 16 mpg (city) and 23 mpg (highway) when powering just the rear wheels. When turning all four, only highway consumption suffers, and that's only by one mile per gallon. The V8 returns 14 and 20 (city/highway) in rear-drive guise; 13 and 19 (city/highway) in all-wheel-drive form.
SUV vs. SUV
Check out the new Ford Explorer, repositioned as a crossover utility vehicle (CUV) for 2011. While price, packaging and towing capacities are similar, the Explorer lacks the GC's off-road chops. No such problem with Land Rover's LR4. Land Rover developed the Terrain Response system and other 4WD functions found in this new GC. The LR4 was updated for 2010 and pricing is close to Overland models. Toyota's 4Runner was made more rugged for 2010 – plenty of back-country capability, but a truck-like ride.
On sale now, the 2011 Jeep Grand Cherokee is truly new and premium. If the less potent but more fuel-efficient V6 will do, then this is a great buy.
Exterior photos by Hunter Ford