Car News
2011 Kia Optima - New Car Review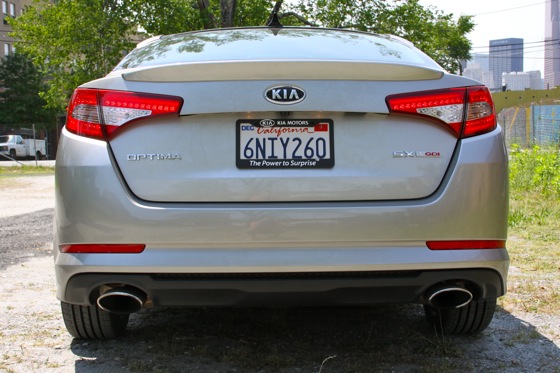 Every automaker has one car that essentially defines them. For Kia, it's the Optima. In the past, Optima owners bragged about how little they paid compared to their Camry-driving neighbors. But the 2011 Kia Optima will spark conversations of a different kind. Suddenly, words like fun, sporty and even elegant will creep into the discussion. This is the first Optima many buyers will choose because it's the car they really want, not because it's merely the one they can afford.
Like the Honda Accord, Toyota Camry and Chevrolet Malibu, the 2011 Kia Optima is a mid-size sedan with seating for five. But unlike those popular sedans, Kia still has some work to do in the field of public perception. The company has even admitted that, in the past, many focus group shoppers picked Kia vehicles when the badges were removed. But once the test subjects were told the brand, some of them revised their rankings. If that sentiment still lingers, the 2011 Optima should dispel it.
Locked and loaded
A tilt-and-telescoping steering wheel, USB and auxiliary jack, power windows, remote door locks and electrically adjustable side mirrors are included on even the base model. The mid-priced EX has an auto-dimming rear-view mirror, dual-zone climate control, leather seats, a power driver's seat, push-button start and cruise control. Many cars have these features in one form or another, but with other brands, push-button start and leather is often limited to expensive option packages.
Kia has left room for some pretty high-end options too, such as a panoramic sunroof, heated and cooled front seats, heated rear seats, heated steering wheel and a power passenger seat; these are all included in the premium package.
The cabin is nicely laid out and filled with high-quality materials. Buttons and switches are well placed and work with an almost German precision. Even the steering wheel is comfortable – it's just the right thickness, with contouring that still feels nice after hours of driving. The center stack – which houses the optional navigation screen, climate and radio controls – is angled slightly to the left, for a more driver-focused impression. The sparse use of metallic trim around the shifter, gauges and several controls add an elegance not found even in cars like the Honda Accord or Toyota Camry.
However, there are a few ergonomic quirks. The center console design and shift lever placement force the front seat heating and cooling switches to the right side of the shift lever; it's a bit awkward trying to access them from the driver's seat when the transmission is in Drive. Also, the rear seat is spacious enough, but the swoopy rear window that looks so good from the outside makes headroom a little tight for anyone over six feet tall.
Chic, not cheap
Styled at Kia's design studios in Germany and southern California, a long, low, wide stance and raked rear window makes the new Optima seem more like a chic French car than an affordable Korean family sedan. Dual chrome exhaust tips, a single chrome strip running above the windows, and the wide pulled-back fog lights impart a classy yet athletic look.
Almost sporty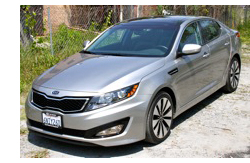 Behind the wheel, the most striking quality is how quiet the car is. Even on the highway at 70 mph or above, the interior remains remarkably serene. The suspension communicates an underlying tautness, but the ride is also smooth. Toyota owners may not find it smooth enough; rough roads make their presence felt. But the somewhat firm suspension feels deliberate, along the lines of BMW. The pay-off here is that the Optima can be entertaining when driven a little harder than usual.
For 2011, the Optima loses its optional V6 and is now offered with two four-cylinder engines. A 200-horsepower 2.4-liter unit powers the base LX all the way up to the nicely equipped EX. A 274-hp turbocharged 2.0-liter engine (that's more power than the outgoing V6 model) propels the sporty SX model and is optional in the EX. Combined with a six-speed manual transmission, an Optima with the 2.4 is estimated to get 24 miles per gallon in the city and 35 on the highway. The turbocharged version is offered only with a six-speed automatic transmission and it gets 22 mpg city/34 highway.
Neither engine feels underpowered or sounds labored. The six-speed automatic transmission helps keep the revs down on the highway, yet there's always enough torque, especially with the turbo version.
Smart money
Kia has always been about value and this new, classier Optima still follows the formula. With more features, better quality and a more entertaining driving experience, one could argue there's even greater value, no matter how much the new model costs.
A base LX with a manual transmission will start at around $19,500, but don't expect to find many like this at the local Kia dealer. Most buyers (and therefore most dealers) will be interested in the nicely equipped mid-level EX. This version is about $23,000, which means a loaded EX with navigation and leather should cost a little less than $27,000. The turbocharged SX with plenty of extras will still come in under $30,000. What remains to be seen is how the Optima will improve Kia's reputation and the impact it has on resale value. Another plus: Kia offers a five-year/100,000-mile powertrain warranty.
Not so tough competition
Kia would like the 2011 Optima to run head-to-head with long-time best sellers like the Toyota Camry and Honda Accord. It's good enough to stand next to those cars, but it's unlikely that risk-averse Honda or Toyota customers will be willing to switch. On the other hand, anyone interested in sporty sedans like the Mazda6, Nissan Altima and maybe even the Chevrolet Malibu will appreciate the Optima's modern interior, compelling features, and well balanced ride and handling in addition to its modest price.
The 2011 Optima also competes well with safety features. All versions include seat-mounted side airbags, head curtain airbags, stability control, traction control and height-adjustable front seat belts.

This is more than just the best car Kia has ever built, it's one of the best mid-size sedans in America. Its look and stance communicate power and luxury more in line with Acura or Lexus than Honda or Toyota. The lack of a V6 will turn some shoppers away, but there's no functional disadvantage with either of the Optima's four-cylinder engines. Anyone shopping for a mid-size sedan owes it to him or herself to at least drive the 2011 Optima before making their final decision; it's truly a remarkable car that will leave the neighbors assuming you paid much more than the highly reasonable price.