Car News
2011 Lexus IS Convertible - New Car Review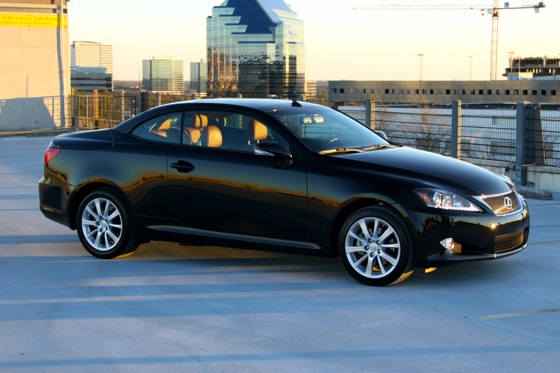 On paper, the 2011 Lexus IS-C has the stuff to go head-to-head with other sporty luxury convertibles like the BMW 3 Series and Infiniti G37. It has a punchy V6 engine, six-speed shiftable automatic transmission, rear-wheel drive, a nicely appointed cabin, seating for four and a power folding hard top. But the Lexus IS- C is more – and at the same time – less than the sum of these parts.
The well-deserved reputation Lexus has for comfort and safety above all else may not be high praise to some. On the other hand, competent cornering and brisk acceleration do not equal a car that feels harsh. But anyone looking for a tightly wound, ultra-agile sports machine will be disappointed. A BMW 3 Series is certainly better handling, but many find its ride too firm for everyday commuting or a leisurely Sunday drive.
The IS 250 C also returns impressive fuel economy for a performance-oriented coupe/convertible: 21 mpg city, 30 mpg highway and 24 mpg combined.
As expected, this open-top Lexus comes standard with plenty of safety features like anti-lock disc brakes, stability and traction control, front seat side airbags, front seat knee airbags, front and rear side curtain airbags, pop-up rollover bars and the Lexus Safety Connect emergency communication system. The adaptive cruise control option also features Lexus' Pre-Collision System, which can tighten the front seat belts and activate brake assist immediately if the system senses an imminent crash.
Nice and neat inside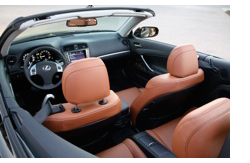 Although pleasant enough, the interior doesn't communicate the same opulence as other Lexus vehicles. The clean and tidy look comes across more like a focused work area instead, where everything a driver needs is close at hand. The materials are of a high quality and all switches have a tactile precision.
Front seats are not super soft, but perfectly contoured and supportive, just in case that remote canyon road beckons. Standard equipment includes leather; dual-zone climate control; 10-way power front seats; tilt-and-telescoping steering wheel; steering wheel-mounted cruise, audio and transmission controls. Rear seats are useable, but are best for the kids.
An eight-speaker, 195-watt, six-CD audio system with XM radio, Bluetooth and USB input is also standard. A navigation system and the Mark Levinson audio package is optional. It also includes useful features like a rear parking camera plus XM NavTraffic and weather updates. However, this one package adds about $4,000 to the total.
Nice-looking outside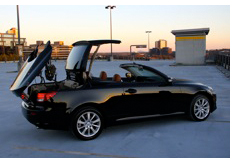 There's only so much that can be done with a folding hard top convertible. The roof has to go somewhere and that means a large, high rear end. Still, the IS-C lacks a real visual edge. Both the Infiniti G37 and BMW 3 Series convertibles have a familiar look, but somehow take it a step beyond the Lexus by adding more masculine, slightly aggressive exteriors.
However, the IS looks appropriately upscale with the top up or down. The power folding top does its job quickly and quietly (fastest in class, actually), and the only drawback is a serious lack of rear trunk space when the roof is down. Optional LED daytime running lights are a new addition for 2011 and really solidify an already premium image.
Driving experience: nice
The IS comes with two engine options. The 3.5-liter V6 makes 306 horsepower. It's a remarkably smooth engine that provides more than enough power for any situation. There's even a little bit of an exhaust note, unusual for Lexus. Our test vehicle came with the smaller engine option, a 2.5 liter V6 with 204 horsepower and surprisingly good fuel economy.
A six-speed automatic is the sole transmission available in the larger V6, but shifts are perfectly timed. Or the driver can get involved via steering wheel-mounted paddle shifters. Zero to 60 mph is achieved in just under six seconds. A manual option is available in the IS250.
With the top up, the cabin is as quiet and as shake-free as any fixed-roof coupe. Even with the top down, the IS-C has little structural flex and there are no rattles or squeaks.
Nice price, considering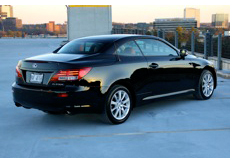 Base price is a little over $45,000 for the larger-engine model, and just over $37,000 for the IS250. Option packages are expensive; the luxury package – at $3,000 – includes heated and cooled front seats, rain-sensing wipers, self-dimming side mirrors and high-intensity discharge (HID) headlights. Add one or two of these packages and the IS 350 C suddenly becomes a $50,000 car. However, in terms of value, the price can look pretty compelling compared to a similarly equipped BMW 335i. Dollar for dollar, the Infiniti G37 is a more direct competitor.
Other niceties
BMW's 3 Series Convertible delivers more focused performance and better handling. Infiniti's G37 convertible is also sharper than the Lexus, but still keeps comfort in the mix and, like the IS 350, is better value. Volvo's C70 is the least expensive of this quartet, but doesn't feel quite as luxurious and isn't as rewarding to drive hard.
Equal parts luxury coupe and engaging, sporty convertible, the 2011 Lexus IS-C is perfect for those who want a performance convertible, but don't want to ride rough. It's the compromise between a sporty attitude and luxury feel that makes this car appealing on so many levels.