review
2011 Lincoln MKT - New Car Review

























Technically the 2011 Lincoln MKT is a luxury crossover vehicle, but functionally it feels like a big luxurious station wagon. That might sound like put down but it's not. In the 1950s and 60s, a station wagon was often the top of the line car for a given model. Wagons like the Mercury Colony Park, Pontiac Grand Safari and Chrysler Newport were loaded with comfort and style. There's something about the MKT's elegant interior combined with its utilitarian nature that brings to mind those old wagons.
More Car, Less SUV
Mechanically, the MKT is similar to the Ford Flex, but the two cars look and feel different. In fact, the MKT seems different than pretty much any other vehicle on the road. Certainly there are other luxury crossovers out there like the BMW X5, Lexus RX and Acura MDX, but those act more like a typical SUV. The MKT comes off more like a car.
From behind the wheel, the MKT feels like it sits higher than a sedan but lower than an SUV. The elevated height gives you a feeling of control, like you really know what's going on around you but it's not so high that it feels trucky.
Fashion and Function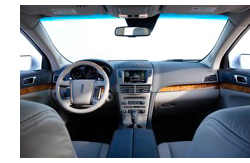 Lincoln's MKT combines the best attributes of a minivan, SUV and luxury sedan, it even has a third row of seating. Not many adults will want to spend time in the MKT's third row, but it's more than roomy enough even for bigger kids. The front seats are comfortable for long trips, and there's plenty of legroom in the second row. Buyers can opt for a bench in the second row, which adds an extra seating position. The bench seat provides room for seven people while choosing the second row bucket seats mean seating for just six.
Despite all that utility, the interior is remarkably elegant, with lots of chrome trim, real wood and high-quality leather. There's a hint of old world sophistication inside, but thanks to features like Sync and a color touchscreen for audio and climate controls, it's also thoroughly modern. The MKT also comes nicely equipped with lots of standard features like keyless entry and push button start, rear parking sensors, a power liftgate, rear parking camera, 12-way power leather seats that are also heated and ventilated, heated second-row seats, tilt-and-telescoping steering column, adjustable pedals, driver memory settings and triple zone automatic climate control. You also get a 10-speaker sound system with a 10-gigabyte hard drive and Ford's voice activated Sync system.
A large glass roof, 14-speaker surround sound, adaptive cruise control and rear seat entertainment are on the options list.
Power and Performance
On the road, the MKT feels like a large luxury sedan. The ride is soft without being floaty, and for such a large vehicle, there's actually a little bit of spring in the MKT's step. The steering is quick and body roll is well controlled; it's not like anyone's going to pick the MKT for a run at the slalom, but there's a hint of agility here that makes the MKT seem tight and well sorted. As expected given the Lincoln's luxury trappings, the MKT's cabin remains quiet even at highway speed.
Two engines are offered, a 3.7-liter V6 that makes 268 hp and a twin-turbo, 3.5-liter turbocharged "EcoBoost" V6 that's good for 355 hp. The 3.7-liter engine is more than powerful enough although it can drone a bit under heavy acceleration. The EcoBoost engine feels notably quicker, and there's always plenty of power on tap no matter how fast or slow you're traveling. The turbo means the engine doesn't have to work as hard and therefore the EcoBoost version of the MKT is a little quieter. For 2012, the Lincoln MKT EcoBoost get a price reduction, so there's even more incentive to opt for the more powerful engine.
And there's not a big penalty when it comes to fuel economy, a front wheel drive MKT with the non-turbo V6 gets 23 miles per gallon in combined driving while the more powerful EcoBoost drops that number by just two miles per gallon 21. Lincoln also offers all-wheel drive on the MKT, and no matter which engine you get, a smooth shifting six-speed automatic transmission sends power to the wheels.
The Lincoln MKT offers a lot of luxury and the price reflects that. Base price for a front wheel drive MKT with the 3.7-liter V6 is about $45,000. That's roughly what you'll pay for a loaded Ford Flex, so the MKT is not unreasonably priced. A 2011 Acura MDX costs a little less and a BMW X5 is a few thousand dollars more, but the MKT includes a lot of extra features that don't cost extra. On paper, the 2011 Lincoln MKT is another luxury crossover vehicle, but in the real world it acts more like a luxurious station wagon with a modern twist.