Car News
2011 Mazda Mazdaspeed3 - New Car Review
Mazda Builds a Hallelujah Hatch

The "cooking" Mazda3 has garnered many fans since its launch in 2004, especially in five-door form. Mazda took a tried and true recipe (front-wheel drive; three, four or five doors; decent interior volume matched to a compact footprint), and graced it with a tight body structure, compliant yet composed suspension, and enough upscale ambience to get the attention of those who might rarely consider a Mazda.
The Mazdaspeed3 variant provides the range with a performance halo. Its turbocharged four-cylinder engine, handling modifications appropriate to higher horsepower and cosmetic changes are aimed at 20-something buyers, while its overall value is impressive.
Sweet and low on the inside
Discussion of the cabin's ergonomics must begin with the Mazdaspeed3's exterior. Its relatively low overall height makes getting into the vehicle challenging for many, especially if they're taller, chunkier or mobility impaired (elderly parents or elderly owners). There's no need to be a yoga master, but the Mazda3 hatch doesn't share the upright dimensions of the Scion xB or VW Golf.
Once inside, however, there is comfortable seating for four (with manual height adjustment for the driver), along with a typically marginal spot in the rear seat center for a fifth. Although the seats don't provide the same cocoon-like lateral support of the first-generation Mazdaspeed3, legroom and shoulder room are adequate within the compact category, while the low roof has a seemingly minimal impact on headroom.
That expansive feel is enhanced by the flexibility from five doors and split/folding rear seats. There's around 17 cubic feet of storage with the rear seats up, and significantly more – for the mountain bike or snowboards – with them folded.
Our test vehicle did not have Mazda's available navigation, but enjoyed an AM/FM/CD unit with MP3 capability and six speakers; built-in information display; provision for Bluetooth hands-free phone/audio, and two 12-volt power outlets. This equipment is in addition to tilt and telescopic steering, power windows and locks, plus electroluminescent gauges.
Grille is All Smiles
With its aggressive freshening for the 2010 model year, Mazda took the subtle shapes of its original sheetmetal and morphed them into something that plays well with younger audiences. The most pronounced element is the car's "mouth." It makes the car especially sensitive to color. Light-shaded hues bring the grille into stark relief, while grays and black mute that impression significantly. Even so, the functionality of the prominent hood scoop is a good move and the car's overall proportions in profile or three-quarter view remain attractive.
Putting the "speed" into Mazdaspeed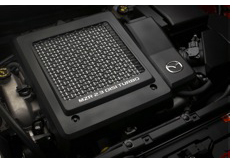 The Mazdaspeed3 is one of the best performance values this side of a Lotus Elise. Its turbocharged engine does not represent the pinnacle of overall refinement, but the combination of prodigious power (263 horsepower at 5,500 rpm) and muscular torque (280 pound-feet at 3,000 rpm) create an intoxicating, addictive mix.
In a comparison test conducted by Car and Driver magazine, which pitted the Mazdaspeed3 against VW's freshened GTI, the Mazda rocketed from standstill to 60 mph in under six seconds, tripped the lights in the quarter-mile at 100 mph, and would have gone well past an indicated top speed of 151 mph if not for aerodynamic drag (see earlier comments on that wide mouth).
This vehicle's "motor" skills are further enhanced by one well-connected six-speed manual transmission (one of the best among front-drive imports) and sport-tuned suspension. And while grip is prodigious, keep in mind when negotiating broken pavement or debris-laden thoroughfares that 225/40-18 tires are standard specification. Not only is the ride biased toward "rough" in such conditions, its tire/wheel combination – like that of many high-performance cars – proves to be sensitive to sharp objects. An expensive trait if and/or when the tires need replacing.
Alternatives that rock
Competition is more or less limited to the VW five-door GTI and Subaru Impreza WRX. The five-door 2011 VW GTI starts at $24,290 and offers a measure of additional refinement, but only 200 hp from its turbocharged four-cylinder engine. Even so, the GTI has become a firm favorite for those who like their hatches on the hot side.
Same number of cylinders, but in a different arrangement, the turbocharged, 265-hp 2011 Subaru Impreza WRX brings standard all-wheel drive to the table (a feature that would not go amiss in the Mazdaspeed3). The WRX has a well-deserved reputation for sportiness and there's a strong feeling of community between owners. It's the kind of car that can get people involved at an emotional level. But even the most basic model starts at $25,495.
Those with patience might be able to wait and see how the 2012 Ford Focus ST pans out – that could be an interesting alternative.
For a combination of practical and combustible, the Mazdaspeed3's recipe is tough to beat. At a suggested retail price of $24,520 with Sirius satellite radio ($430) and shipping ($750), the Mazdaspeed3 is one heckuva deal. Nothing will provide the thrills and chills at $25,000 better than the Mazdaspeed3. And in a 500-mile round trip, we came away impressed by its composure over smooth surfaces.
In the $400-a-month club (with 20 percent down and 60 monthly payments) the Mazdaspeed3 represents a compelling opportunity. An EPA rating of 18 mpg (city)/25 mpg (highway) won't impress anyone outside of the RX-8 owners group, but given the Mazdaspeed3's hooligan nature, speeding tickets could impact more than the gasoline bill. While it would have been nice if the sheetmetal went about its mission with a tad more reserve, it becomes invisible once behind the wheel, and most of the traffic will only see the rear hatch and exhaust tips anyway.