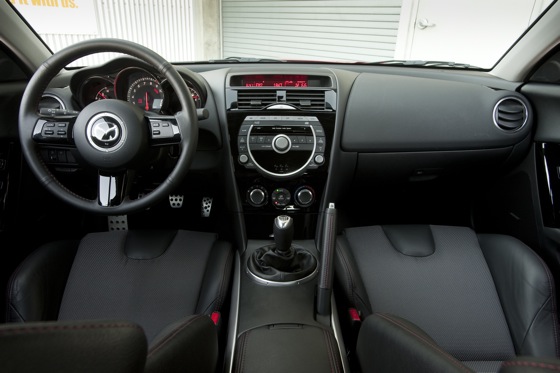 I'll start with an admission: I'm not Patrick Dempsey. You know, 'McDreamy' on Grey's Anatomy, and a part-time driver behind the wheel of Mazda's racing RX-8. Dempsey piloted Mazda's LeMans-winning rotary in France this summer, commemorating the carmaker's overall win twenty years after its 1991 victory. In common with Dempsey, we do have an RX-8 equipped with the Grand Touring package and graphics commemorating that same win.
The win, the first and to date only overall victory at the 24 Hours by an Asian manufacturer, was big news in the day and remains a point of pride for a company still very steeped in its racing traditions. Given the depth of that competitive commitment, we wonder why you commemorate a LeMans win with graphics and not, perhaps, an entirely new model. Regrettably, the RX-8 gets instead a quickie tape treatment (a one-off tape treatment, it turns out) followed by a goodbye party; production of the RX-8 for the U.S. market has ended.
To be sure, Mazda's rotary run of some forty years was a good one, creating a legion of Mazda fans from Day One. This most recent iteration of a rotary-powered sports car, however, didn't generate the passion we had come to associate with its predecessor, the RX-7. The RX-8 chassis, a unit body supported by an all-independent suspension and featuring unique 4-door architecture, is perhaps too quirky to cultivate mass affection. And the RX-8's rotary powertrain has proven too peaky for the demands of a torque-oriented consumer base. Now in its tenth year of production, with only a mild refresh in 2009, the RX-8 is being retired - and we want one last shot.
Mazda's rotary rocket isn't perfect. Its signature element provides 232 horsepower, comparable to a mid-displacement V6 at the time of the RX-8 launch and well short of what Chevy, Ford and Hyundai are offering in their V6 engines today. Happily, the 6-speed manual is a short-throw affair with an engagement to die for; if all manual boxes were this good, everyone would drive one. And while the ride is composed and comfortable within the guise of a daily commute, a lot has transpired in the ten model years in which the RX-8 has been marketed. Mazda wins races every weekend, but most of today's RX-8 pilots are looking for a cell tower more often than a podium.
Getting into or out of the RX-8 is almost sedan-like. Both roof and floor are low, but not ridiculously so, and a reasonable door width aids in the process. The magic show is provided by the rear doors which open suicide-style, giving easy access to the rear seats for a coat, groceries or - get this - a couple of rear seat passengers. You won't want to go far in the rear buckets, but for the lunch hour or a quick errand this is the one smallish sports car capable of carrying four.
On the road, with a low cowl and good visibility, the RX-8 is reminiscent of an early 911, if, of course, Porsche's sportster had been fitted with a front-mounted rotary. The steering wheel has an amazingly direct connection with the front end, while your backside seems directly connected to the car's rear end. It's all very honest, and more immediate than those sensations offered by Hyundai's Genesis Coupe, which feels a bit boat-like in comparison. And when you compare the seating and visibility of the RX-8 to Nissan's 370Z, there is no comparison; driving the Z is like sitting in a tunnel. The sensations come faster, but given your utter lack of visibility you're never quite certain of their direction.
We're not sure how many new RX-8s remain in dealer inventory, but would tell you this: If, in looking back, you had wished you had purchased the last Corvair, Shelby, air-cooled 911 or Ferrari's Dino, the RX-8 might just be your ticket to automotive immortality. Of course, at 15 miles per gallon, it comes at a price.