Car News
2011 Mediocrity Sedan - New Car Review
Perfectly Ordinary
Do you want to blend in? Fly below the radar? Achieve the ordinary? If so, look no further than the all-new 2011 Mediocrity Sedan. The midsize Mediocrity is traditional in every sense, with no special features or unique options to help distinguish it from the competition.
More of the same
The Mediocrity vigorously avoids controversy by sticking to the familiar bland styling that you've seen so many times before. It adopts commonplace cues from other midsize sedans, and plays it safe with no dramatic creases or other notable design features. It has everything you'd expect, and nothing that you don't: just a hood, trunk, doors, windows and tires.
At least you won't have to worry about being overwhelmed with choices. You can have the Mediocrity in any color you want as long as it's Medium Crumb or Stale Biscuit, two slightly different shades of beige. Which might make it tough to spot in crowded parking lots.
Inside the box
Mediocrity also eschews the unconventional inside with routine styling, generic controls and average materials. Head and shoulder room are unexceptional, and tall people will want to avoid spending much time in the back seat because leg room is merely tolerable.
Two interior colors are available: Brown Gravel or Chimney Soot. These dark hues are perfect for hiding coffee stains, which is good because base trim level Mediocrity sedans do without luxuries like cupholders. The Mediocrity Sedan is an acceptable alternative to public transportation. If you want those you'll have to upgrade to the Convenience Package. Or you can step up to the Power Package to enjoy premium features like air conditioning.
Cargo space is typical for this class. The trunk is just big enough for the usual things, but the seats don't fold down to make room for oversized items.
Playing it safe
All Mediocrity sedans come equipped with the required safety equipment, including individual seat belts for all passengers. The brakes are adequate for most situations, but they take just a bit too long to halt the car during panic stops. Which is unfortunate because the Mediocrity scored merely average in crash tests.
Run of the mill
The Mediocrity's conventional two-wheel drive setup contributes to dull handling and numb steering. Its standard four-cylinder engine produces just enough power to maintain average speeds, but lacks the oomph needed for passing. The standard four-speed automatic transmission provides a passable driving experience, but it doesn't have the smoothness and refinement found in modern transmissions with additional gears.
Familiar territory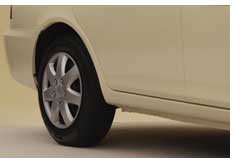 The 2011 Mediocrity Sedan can best be summed up as basic transportation. It is a no frills, no thrills way to get from point A to point B. It serves as an acceptable alternative to public transportation.
In fact, the Mediocrity may well be the ideal car for someone in the witness protection program, whose life depends on blending in. But if you're tired of ordinary, enjoy driving, or want something with style, our advice is to steer far clear of the Mediocrity and look for a vehicle that offers more excitement.