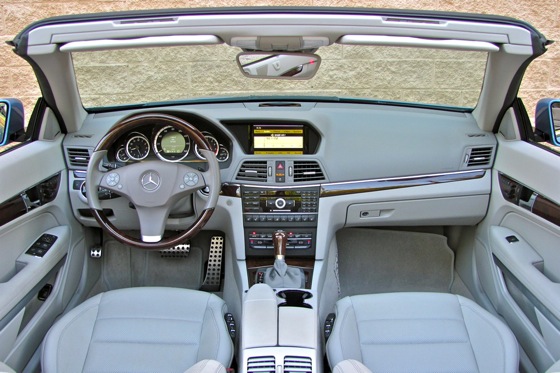 Einspritzmotor. Roughly translated, it means "fuel injection" and it's the source of the "E" in Mercedes-Benz E-Class. The company has had a mid-size premium sedan in its portfolio since the 1930s, but the naming convention used at present crystallized in 1993. The current generation of E-Class came out in 2010 and the Cabriolet is the latest addition.
Back in the early and middle years of the 20th century, Mercedes-Benz used to build open-top cars for various dignitaries, including the Pope. This cabriolet remains true to its heritage by making occupants feel like celebrities. It brings an ambience of the glamorous French Riviera to Des Moines, Bel Air, and even Paris, Texas.
The 2011 E-Class Cabriolet offers a serene ride, good space for rear passengers, plus a collection of aerodynamic and comfort aids for an unruffled top-down drive, even at higher speeds or in chilly weather. It comes in two variations: E350 (with a V6 engine) and E550 (with a V8).
Mercedes' choice of creating a traditional soft top is somewhat unusual, as many competitors have moved to a folding hard top instead. But the E-Class Cabriolet utilizes triple-layer fabric that looks and feels sturdy and also minimizes wind noise. The benefit of a soft top is that it leaves more space in the trunk when it's down. Many hard top convertibles force drivers to choose between trunk space or top-down driving. The E-Class Cabriolet lets you enjoy both.
Pricing for the E-Class Cabriolet starts at about $58,000 for the V6 E350. The V8 E550 starts at about $8,000 more, and prices can soar above $80,000 when fully optioned.
Extremely comfortable, rather distracting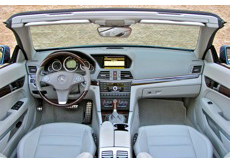 Despite being an open-top car, this is a true four-seater. Rear passengers enjoy adequate space, comfortable seats and an array of audio speakers. The premium package includes heated and cooled front seats as well as a neck-warming feature called Airscarf that makes top-down driving in chillier temperatures more tolerable. The front seats are supportive, with plenty of range for adjustment and comfort, but the available cooling function struggles to compete with the heat radiating down on a hot summer day.
Mercedes' Comand system is the only interface for operating functions such as Bluetooth, navigation, traffic data and entertainment. It uses a joystick for operating, but the system still requires too much attention to use safely while driving. Small writing on buttons throughout the cabin also pulls the driver's eyes away from the road, although voice commands are available for some functions.
We also noticed that the display for the dual-zone climate control can be difficult to read in direct sunlight, something that may prove frustrating while motoring with the top down. Typical of most soft-top convertibles, rear visibility is limited with the top up, and it's almost entirely eliminated when the rear headrests are upright.
Angled elegance
The last E-Class cabrio (circa 1995) had a stylish exterior featuring graceful curves. The new one sports the sharp angles found throughout the E-Class line, but we still find the result appealing.
The rear and side views are especially elegant. A line arcs around the rear wheel and then reaches straight back, meeting large, squared-off tail lamps with bright LEDs. Mercedes-Benz has done a good job of restraining the size of the wedge-like rear end, which has to house the soft top with room for luggage. Hard top convertibles tend to suffer here, with swollen back ends necessary to hold the roof sections and related machinery.
The power to cruise
This is a car that really shines as a relaxed top-down cruiser. It has the power needed to go fast (especially with the beefy V8), but seems more at ease on serene drives. The steering is accurate, but it offers little road feel and doesn't return automatically to center after rounding corners at slower speeds. This means the E-Class Cabriolet is probably not the ideal car for carving canyon roads, but there are plenty of two-seat roadsters for that.
The 268-horsepower V6 is easily up to the task of pushing this two-ton vehicle. It's a smooth, willing engine that works well with the standard seven-speed automatic transmission. The E550's 382-hp V8 means blazing acceleration along with a rumble only eight cylinders can produce. Even so, it's more of a solid cruiser than a high-performance machine. Both models have a "Sport" button to sharpen the responses of the steering, transmission and throttle.
EPA ratings of 15/22 mpg are the penalty for V8 indulgence (17/25 for the V6), but buyers who can afford the extra muscle may not care about thirst.
There's an Attention Assist system that emits an audible warning as well as a flashing coffee cup sign if it detects the driver becoming drowsy. But of the comprehensive range of technology available, Distronic Plus cruise control is one of the most impressive and convenient. It uses radar to gauge the distance to the vehicle in front, allowing the driver to set the cruise control and then ignore both the accelerator and brake pedals.
The system maintains a safe gap, even bringing the car gently to a complete stop with a safety margin of 10 feet. A tap on the gas pedal or pressing the "Resume" function on the control stalk sets up another round of foot-free follow-the-leader. While it may be nerve-wracking at first to trust a car to brake for itself, this feature definitely reduces driver fatigue in stop-and-go traffic.
High-end society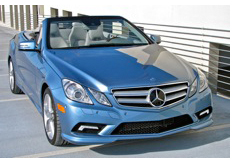 Buying a soft-top used to mean a noisy highway ride, poor insulation from hot and cold weather, plus leaks in heavy rain and automatic car washes. Hard-top convertibles came along to solve those ills, but Mercedes-Benz has improved the cloth top to such a degree that the choice now comes down to style preference.
Those who prefer soft tops might consider Audi's S5 Cabriolet and Jaguar's XK Convertible. The S5 Cabriolet's base price is right in line with the E350's, yet its standard supercharged engine has more power, and its interior is a step above in terms of style, materials and controls. At $90,000 to start, the Jaguar XK Convertible is $10,000 more than a loaded E550 Cabriolet; the XK draws at least as many admiring stares and offers a sportier drive, although its tiny rear seats are good for little more than grocery bags.
Hard-top alternatives include BMW's 3-Series Convertibles (328i and 335i), Infiniti's G37 Convertible, the Lexus IS 350C and the Volvo C70. The 3 Series starts at $45,000 and combines luxury and sport in equal amounts, though it falls behind the Benz in its number of high-tech options and laid-back comfort. The $44,350 Infiniti G37's purpose is speed; its taut ride, loud engine and tiny rear seats make it a far less rounded machine than the E-Class Cabriolet.
Regarding the Lexus, skip the underpowered IS 250 C ($40,000) – the extra $5,000 for the IS 350 C is more than worth the improved drivability. Volvo's C70, starting at $39,950, offers an elegant interior, but front-wheel drive and a limited number of features make it feel less like a luxury convertible and more like a comfortable two-door sedan.
The Mercedes-Benz E350 Cabriolet's V6 engine is probably truer to the car's character and its lower starting price means more money to spend on the options that distinguish it from the competition. For those less concerned with price and fuel economy, the E550 Cabriolet's V8 refinement and power are remarkable. Both cars offer attention-getting style in droves, underpinned by German engineering.
Like many cars of this ilk, the E-Class Cabriolet would benefit from a blind spot warning system. For the convertible lover not troubled by a few interior shortcomings or a steep price, the 2011 E-Class Cabriolet offers a refined driving experience, a host of technologies and unmistakable Mercedes-Benz cachet.