Car News
2011 Model Improvements Make You Wish You Had a Mustang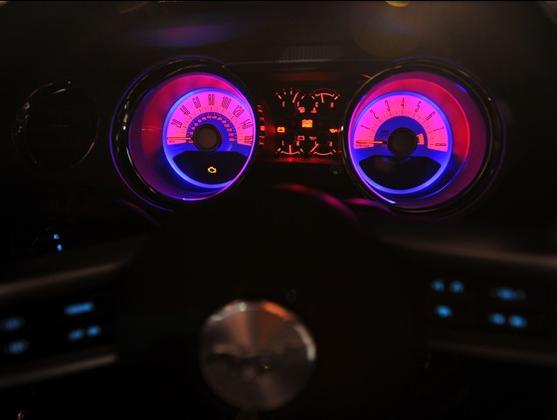 Just last year, Ford made huge design improvements on its iconic Mustang, but for 2011, its worked on substantial changes from the inside out with excellent results.
Coming to Ford dealerships before the end of May, the 2011 Ford Mustang GT will come with a 412 hp, 5.0-liter V-8 engine, the first since 1995, and the all-new V-6 model increases its horsepower to 305 and its highway mileage to 31 mpg. This, by the way, beats the Honda Accord V-6 coupe, its most cross-shopped competitor, by 6 miles. And it costs five-grand less than an Accord.
Since the Mustang went through a major exterior model change last year, the changes under the hood just one year later are a welcome and unexpected improvement. The secret ingredient is Ford's new engine technology with variable valve timing called TI-VCT, which (without getting into too much detail) has two clutches which alternates three of the six gears while the others are disengaged. This is how the car gets its class-leading mileage ratings while still hitting the top of the charts on horsepower.
The new V-6 engine shows a marked improvement and the V-8 is a torque-laden kick to drive. There's also a soft-top convertible and a V-6 performance package available later this summer with improvements in suspension, braking and axle ratio.
Driving attributes in the V-6 were greatly improved with an increase of 95 horsepower from last year's model and the 6-speed transmission creates a seamless shifting experience on the automatic version. But performance junkies – and those who want the best possible mileage – should opt for the six-speed standard manual.
The V-8 5.0-liter (which includes the return of the rear 5.0 badge for bragging rights), literally growls with each press of the gas pedal and the new electric assist steering is surprisingly responsive on twisting, winding roads. The short-throw shifting on the manual version of both models is a Mustang owner preference as is the retro interior with the classic big, circular gauges.
As for who buys Mustangs, Ford says that there are over 9 million owners on the road today. According to Amy Marentic, Ford's Car Marketing Manager, they are truly everyman or woman. "Our customers range from a 16-year old high school sophomore, to a 40 year old manager, to a 60 year old retiree. Mustang's are bought as a first car, a third car, a race car and even a NASCAR pace car," she said.
With the V-6 starting at less than $23,000 (and the V-8 at $30,495) this much-improved filly is attainable, fun and fast and announces its arrival with a satisfying, audible growl to back up what's under the hood.
Photos courtesy Ford Motor Company