Car News
2011 Nissan Juke - New Car Review
An Amusing Crossover with Looks to Match
The folks at Nissan will tell you that their new Juke is a small crossover aimed at 18 to 34-year-old males who read Maxim, "eat, drink, sleep, and live sports," love to play Xbox, and live predominantly in cities. We wonder if the hyper-masculine set will really ditch their Z-car dreams or Xterra realities and take the wheel of this small, bullfrog-faced crossover.
To "juke," as any football player will tell you, is "to fake out of position." Indeed, this small crossover caught us off-guard: it may look cute, but it drives tough. Its small four cylinder whips up quick acceleration while earning 32 mpg on the highway. Overall, the Juke's athleticism is a far cry from the mild-mannered Versa and Cube on which it's based.
The Juke's styling polarizes in a way no Nissan small car has done in years. It has four doors but upon first glance looks like a coupe due to a sloping roofline and rear door handles hidden in the pillars. Inside are seatbelts for five occupants protected by six airbags. Hatchback convenience plus a 60/40 fold down rear seatback mean a flat load floor good for 35.9 cubic feet of maximum cargo space.
The Juke comes in three trim levels: S, SV, and SL. Pricing for the S begins at $18,960 and includes iPod connectivity with steering wheel audio controls, speed-sensitive steering, 17-inch aluminum wheels with performance tires, a remote keyless entry system, cruise control, Bluetooth, and 4-wheel disc brakes with ABS. Stepping up to the SV and SL adds items like XM satellite radio, climate control, a moonroof, leather seats, navigation, and a subwoofer. A CVT automatic transmission is standard in the S and optional in the SV and SL; a six-speed manual is standard in the latter two models.
Motorcycle Style Enters the Cockpit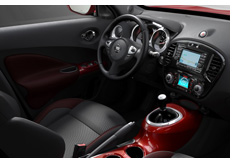 Between the Juke's front seats sits a cool interpretation of a motorcycle's gas tank. The metallic console is offered in multiple colors, has two cup holders recessed into it, and has a tall shifter sprouting from the front. It's the centerpiece of an interesting interior that's nearly as unconventional as the Juke's exterior. A floating hood over the instrumentation follows the two-wheeler theme.
Luckily Nissan didn't ditch function for form. The I-CON system, standard on the SV and SL, is a clever interface; it uses six buttons and two rotary knobs to control the climate system and three vehicle performance modes. Pressing the "climate" button devotes the controls and display to cabin comfort, while pressing "D-mode" morphs the same panel into control central for econ, normal, or sport drive settings.
The front seats are all-day comfortable while remaining supportive during aggressive cornering. A sloping roofline means it's easy to hit your head while climbing into the rear. Once inside, however, adequate room for two in back means decent comfort on most trips.
In the Eye of the Beholder…
Whether it reminds you of a reptile, a 1960s Citroen, or nothing you've ever seen before, the Juke's exterior is fascinating. Those who like the Juke might find it refreshingly different; those who don't might call it bizarre. A design this attention-getting – with running lights and blinkers standing high above the fenders in a plastic pod, round headlights recessed into the bumper, sweeping fender flares front and rear, and Z-style boomerang taillamps – gets noticed everywhere, by everyone. Kudos to Nissan for approving such unique styling.
The Juke sports an athletic stance. Nissan says they were aiming for the lower body of an SUV mixed with the canopy of a sports car. Standard 17-inch wheels are pushed far to each corner and the vehicle's midsection is tapered as if cinched by a belt. The Juke's tall windshield and falling roofline seem to have been inspired by the Nissan GT-R; as on that sports coupe, the treatment results in a look that's alert and aggressive.
Brisk but Buzzy
The Juke lives up to its name on the road. It ducks, dodges, and squirts through traffic with ease. Nissan did a good job of tuning the steering and suspension; the Juke is light on its feet and loves to be thrown into corners where it exhibits little body roll.The Juke is light on its feet and loves to be thrown into corners where it exhibits little body roll.
The penalty for the aggressive chassis tuning (and perhaps the Versa/Cube underpinnings) is road noise. Especially at higher speeds, rough surfaces can be heard inside the cabin. While not unbearable, it's louder and coarser than some of the Juke's competitors. Ride comfort is good, though, especially considering the handling and high levels of grip.
The Juke's 1.6-liter, direct-injected and turbocharged four cylinder is a very responsive engine, delivering 188 horsepower and 177 lb-ft. torque. Especially with the manual transmission, it moves the Juke with authority even at low engine speeds.
Lots of power through the front wheels, however, usually means torque steer (sharp tugs on the steering wheel) under hard acceleration. Thankfully, Nissan offers an all-wheel drive (AWD) system that reduces – but does not eliminate – this tendency. AWD adds only 64 pounds to the Juke and includes something called "torque-vectoring," which basically makes this front-heavy vehicle surprisingly balanced when accelerating through curves.
Alas, AWD comes only with Nissan's "Xtronic" CVT (continuously variable transmission) automatic. The positive: it's a remarkably good CVT in either Sport or manual mode (where the driver can tap the shift lever up or down between six different "gears"). But left to its own devices in "Normal" or "Eco", the CVT's droning and surging isn't keeping with the Juke's sporting mission.
The Juke's "D-Mode," however, fits nicely with the car's personality and is a feature typically found only in pricier vehicles. It allows the driver to tailor responses (steering, throttle, and transmission) between sport, normal, and economy modes. The "Sport" button stiffens the steering, enhances acceleration, and makes the CVT behave. "Normal" is less inspired but nets higher mpg. "Econ," feels econo-car dull but does squeeze more from each gallon.
A Stylish, Satisfying Alternative to Hatches, Coupes, and Crossovers
When it hits dealerships in October, the Juke will likely draw attention from buyers considering small vehicles with extroverted style.
For roughly $21,000 in mid-level SV trim – which includes a moonroof, satellite radio, the option of a manual transmission, and the unique I-CON drive controller – the Juke is an impressive value. It feels and drives like a car that costs more. Many have made comparisons to the $23,000 MINI Cooper S, and the Juke's interior has a level of fit and finish befitting the $23,000 VW Tiguan and the $25,000 Volvo C30. Like the Juke, these competitors have powerful turbocharged engines, but none offers as many standard features for the price.
If price is more a priority than power, the Suzuki SX4 and Scion tC are worthy competitors with lower starting prices than the Juke. The restyled 2011 Scion tC looks just as aggressive as the Juke though in a more conventional way. Suzuki's SX4 hatchback is funky and upright like the Juke, offers AWD for even less money, and its five-door hatch layout plus high roof offer great utility. Some have complained about the SX4's control location and seat comfort, however. Neither the Suzuki nor the Scion offers turbocharged power.
The Nissan Juke is refreshing departure from predictable style at a compelling price. It also happens to be a blast to drive, easy on fuel if driven gently, and surprisingly large inside given the tidy exterior dimensions. On the downside, as a result of its CVT automatic and occasional torque steer, the Juke's powertrain could either annoy or startle drivers.
Cars that color outside traditional styling lines this dramatically seem to either flop or fly. Here's hoping the Juke succeeds because it's a truly enjoyable, well-engineered vehicle. Despite Nissan's aggressive marketing toward young males, we wouldn't be surprised if a number of Juke buyers are women and middle aged folks – the types who flocked to first generation Scions due to their combination of utility, value, and style.