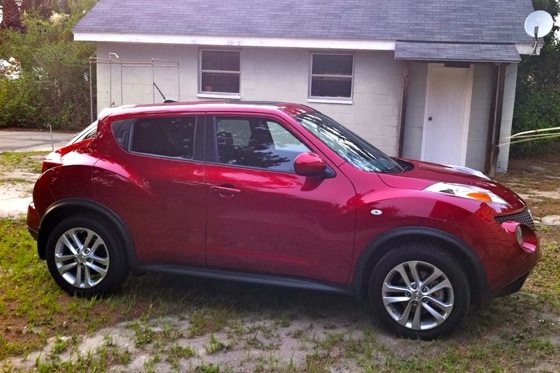 I make the trek from Atlanta to Tybee Island, just outside Savannah on the Georgia shore, several times a year. I have grandparents, extended relatives, friends and, most important, a family beach house there, so I've familiarized myself with the four-hour road trip down I-75 and I-16, from city to coast.
This summer, I had the chance to drive the 2011 Nissan Juke down for an annual family vacation. I picked up passengers in Athens, Ga., allowing me to experience the crossover on long, sometimes windy, mostly sleepy country roads (we took State Route 15 to I-16) on the way to Tybee, as well as the traditional interstates on the way back to Atlanta.
The Juke featured many more luxury items than I expected for a crossover at its price point (as tested at $22,880), with a full navigation system, push start, satellite radio, Bluetooth and numerous extracurricular controls, including a torque screen, gas mileage tracking over multiple trips and eco driving alerts. It had a smooth and comfortable ride, and it hauled a lot of stuff - three adults, two sets of golf clubs, one suitcase, two duffle bags, a yoga mat, snacks, a beach hat, a dog's bed and one four-and-a-half pound dog named Grady. Throughout the trip, all of the Juke's passengers enjoyed experimenting with its features, even if my parents had a hard time figuring out the push start.
However, many of the luxury controls were ultimately underwhelming, and the Juke lacked the space and interior softness most desired in a road trip vehicle. The Bluetooth allowed you to talk through your phone, but it couldn't stream music. The eco driving alerts seemed to appear randomly, or at least in a pattern than we didn't understand. The hard plastic interiors consistently rattled down the bumpy patches of I-16, and the vehicle had considerably less storage space than most sedans, including our long-term Jetta TDI, Olga. To accommodate all of our luggage, the back seat had to be folded down, and passenger legroom was compromised.
Additionally, arm rests and sufficient storage space for small items - phones, iPods, snacks and drinks - were curiously missing from the Juke, reducing its viability as a road trip vehicle.
The Juke earned average fuel economy for a vehicle its size - about 24 miles per gallon both ways - but it never quite reached the low end of its proposed range (27 city/32 highway MPG). The vehicle was fun to zip around the beach, but fitting five adults for even quick trips between houses was a squeeze.