Car News
2011 Toyota Sienna - New Car Review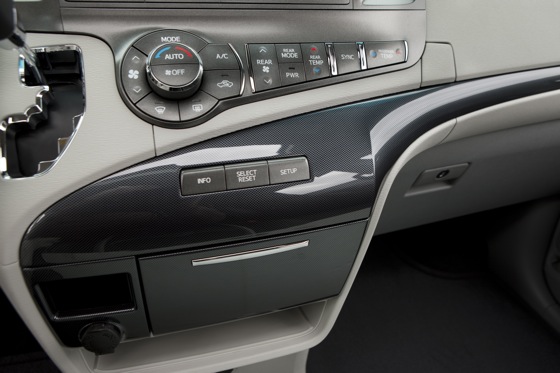 The Painless Minivan
Building great minivans has become so competitive that both Chevrolet and Ford decided to drop out of the game recently. But Toyota has had plenty of practice and gained a lot of expertise through making the Sienna. The all-new 2011 Sienna combines style and practicality; Toyota has even managed to inject a little attitude along with substantial value. The Sienna's update is necessary because it still faces plenty of worthy competitors, including the Dodge Grand Caravan, Honda Odyssey, Kia Sedona, Mazda5, Nissan Quest and VW Routan.
Safety is crucial. Minivans are used primarily for transporting people, so side curtain airbags for all three rows of seating are must-haves. The same goes for a rear parking camera and stability control. An ability to use space effectively is important, with seating for six a prerequisite. Family-friendly features like multiple cup holders, entertainment systems, power sliding side doors and tons of storage bins are also key to a van's success. A low price doesn't hurt either. It's not unusual to see a loaded minivan top out at more than $40,000, but the bulk of purchases come from the lower- to mid-priced models. A minivan that represents great value will have many desirable features on even cheaper models.
The upside and downside of inside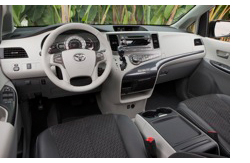 There's a lot to praise inside the Sienna. Even the mid-priced LE version looks stylish and inviting. Each seat is comfortable and the rear seats are easy to reconfigure – they slide forward and back while the third row folds flat into the floor in a 60/40 split. Toyota offers seating for up to eight passengers. In this case, there is a sort of jump seat that fills the gap between the two larger second-row bucket seats. It's easy to install and remove, but no adult is going to be comfortable in the middle position of the second row – it's a kids-only zone. That jump seat, along with second-row seats that fold and slide independently, give the Sienna many combinations for hauling people and cargo, exactly what's required of a minivan.
Frequently used controls are well placed, and small to medium-sized storage bins seem to be everywhere. The moderately priced Sienna LE V6 includes thoughtful features like a reversing camera, 10 cup holders, a tilt-and-telescoping steering wheel, XM radio, three-zone climate control and sunshades for the large side windows. Those shades work well for families with babies who still require a rear-facing safety seat. Options include a rear seat DVD entertainment system, push-button start, XM navigation with traffic updates and even radar-based automatic cruise control (a fairly high-end feature for a family van). Toyota has safety covered as well; three rows of side curtain airbag, traction and stability control are all standard throughout the range.
However, it's hard to reconcile this stylish, useful cabin with some of the interior materials used in the LE, such as the thinly padded vinyl of the door-mounted armrests and the lower-quality plastic on the dash. The Limited model is better in this regard, but it's also the most expensive.
Less boxy, more stylish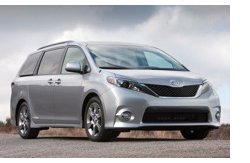 The 2011 Toyota Sienna is the most recently redesigned minivan in the market and therefore the freshest looking. Toyota has toned down the "box on wheels" aspect to the point where the front end actually looks sleek and attractive.
For a minivan with some attitude, check out the Sienna SE. It features clear tail lights, rear roof spoiler, 19-inch alloy wheels and a sportier suspension. The Sienna Limited goes for a classier air with a chrome grille, LED tail lights and turn signals incorporated into the side mirrors.
Motivation stations
Most people will opt for a Sienna with the 3.5-liter V6. It makes 266 horsepower, more than the Dodge Grand Caravan and Honda Odyssey. That extra power provides a noticeable advantage when it comes to merging or passing on the highway. The V6 is also remarkably quiet and refined. Really stomp on the accelerator and there's a controlled growl, yet the engine never sounds harsh or overtaxed. The standard six-speed automatic transmission shifts up and down almost imperceptibly; there's no jerking or hesitation even in stop-and-go traffic. Also, the Sienna is the only minivan currently available with all-wheel drive.
Value-minded shoppers may want to check out the Sienna with a new 2.7-liter, four-cylinder engine. Don't expect a dramatic gain in fuel economy, though. At an EPA-estimated 21 mpg in combined city and highway driving, the four-cylinder Sienna gets just one extra mile per gallon compared with its six-cylinder sibling. The V6 is the better bet.
Handling is adequate – body roll is noticeable, but never feels excessive. The SE's sportier suspension means corners may be taken a little faster and the van stays a little flatter. But be warned, spirited driving may cause pint-sized passengers to take a second look at those Goldfish and fruit snacks they were eating a second ago. The trade-off with the SE is that the highway and around-town ride is not as comfortable as it is in the LE, XLE and Limited versions.
Let's get fiscal
There are five trim levels. The base model, starting at $24,260, comes with the 2.7-liter engine and not a lot in terms of comfort features. The sporty SE is $30,550 and the XLE is about $1,500 more than that. A loaded Limited with options can top $40,000. LE (one up from the base) and SE models make the most sense from a value standpoint – they offer a long list of standard features for about the same price as a nicely equipped Camry. Used Siennas hold their value quite well and their reputation for reliability is excellent.

For the absolute cheapest minivans, check out the Kia Sedona or Mazda5. The Sedona is a particularly good buy, but the Sienna is a better van based on resale value, interior features and exterior styling. The Dodge Grand Caravan has a versatile interior, but feels poorly constructed. The excellent Honda Odyssey is the Sienna's main competitor. The Sienna is slightly less expensive (not including options) and the Sienna does a tiny bit better when it comes to fuel economy. Based on that and the sporty SE model, the Sienna wins the desirability stakes by a nose.
Minivans aren't for everyone, but the all-new Toyota Sienna makes owning one as painless as possible. From the basic $24,000 base model to the sporty SE to the luxurious Limited version, the Sienna offers a lot of variety.