Car News
2011 Toyota Tacoma - New Car Review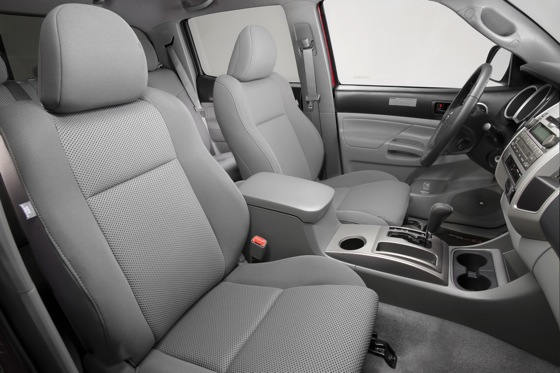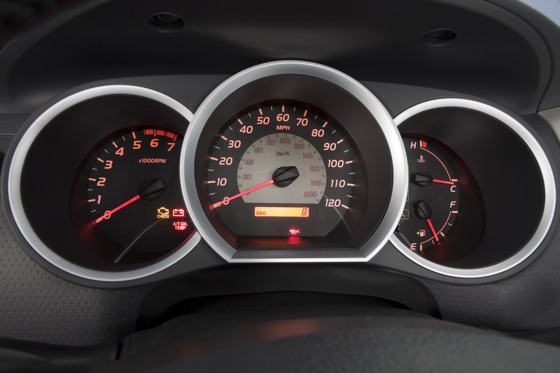 Until the 1960s, the word pickup simply meant a full size Chevy, Ford or Dodge. Even though Datsun was actually the first to import a compact pickup into the US, it was Toyota's simply named Pickup from the 1970s and Nissan's Hardbody from the 1980s that came to define what a compact truck means to Americans. The 80s brought many more small pickups like the Mitsubishi Mighty Max, Chevy Luv, Isuzu P'up and Ford Ranger, but today the Toyota Tacoma dominates the landscape – accounting for about 40 percent of all compact truck sales. And few contenders remain – only the Nissan Frontier can give the current Tacoma a serious fight when it comes to compact pickups.
A seriously capable truck
But like the Frontier, the Toyota Tacoma has grown well beyond what many would consider a compact truck. Sure there is a single regular cab model available, but the bulk of Tacoma sales consist of roomier Access and Double Cab models. The four-door Double Cab Tacoma is especially useful as it can do all the work that's expected of a compact pickup, but can also double as the family car. The Double Cab comes with a 5-foot bed which is one foot shorter than the bed on the regular and Access Cabs, but if you really need the extra hauling capacity and a four-door truck a 6-foot bed is optional.
The Toyota Tacoma is also popular because it's bigger than you'd expect for a "smaller" truck, but not quite as beefy or expensive as a full-size Tundra or Ford F-150. There are two engines offered, a 2.7-liter four-cylinder engine and a 4.0-liter V6. A V6-powered Tacoma Double Cab can tow more than 6,000 lbs, so there's plenty of real truck usefulness in the Tacoma's mid-size package. For 2011 you can now pair the smaller engine with an automatic transmission, which makes it a more practical choice. The Tacoma's V6 feels plenty powerful and acceleration is brisk. However, the V6 can be a little noisy during hard acceleration. Combine a Tacoma V6 with four-wheel drive, and the truck is transformed from a tough-looking grocery getter to a serious off-road champ.
A base Tacoma, with the four-cylinder engine, manual transmission, rear-wheel drive and regular cab, can achieve 21 miles per gallon in the city and 25 mpg on the highway according to EPA estimates. Add the automatic transmission, and the city rating dips to 19 mpg. Opting for four-wheel drive drops things even further, to 18/20 with a manual and 18/21 with an automatic.
The TRD Off-Road package enhances the Tacoma's ability when the pavement ends; it includes features like 16-inch alloy wheels, heavy-duty suspension, locking rear differential and skid plates. There's also TX and TX Pro packages that add features like black alloy wheels and all-terrain tires.
Even without the TRD off-road package, the Tacoma has a very firm ride. It's never harsh or unpleasant, but it is more truck like than even the larger Tundra. The TRD Sport package enhances on-road handling, but again, some comfort is sacrificed. However, the Sport package's 17 inch wheels, hood scoop and sport seats do make the Tacoma look pretty cool.
Car-like interior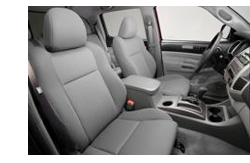 The Tacoma's cabin is remarkably car-like with nice looking materials, attractive colors and nice textures. The Double Cab offers a very roomy interior that feels more spacious than all of its competitors. The base model has the fewest comfort and convenience features but still includes air-conditions, a bedliner, a CD player and audio system with an auxiliary jack and an adjustable steering wheel. Higher trim levels add the expected power features and various SR-5 packages offer features like chrome grille, fog lights, Bluetooth, upgraded JBL stereo and satellite radio.
In the world of compact pickups, the Toyota Tacoma is dominant, and for good reason. It's a competent truck that blends the best of small trucks with a few of the things we like about full-size trucks. The interior is roomy and comfortable especially in Access and Double Cab models. Those shopping for a new compact pickup should have the Tacoma at the top of their list.