Car News
2011 Volkswagen Jetta Sedan - New Car Review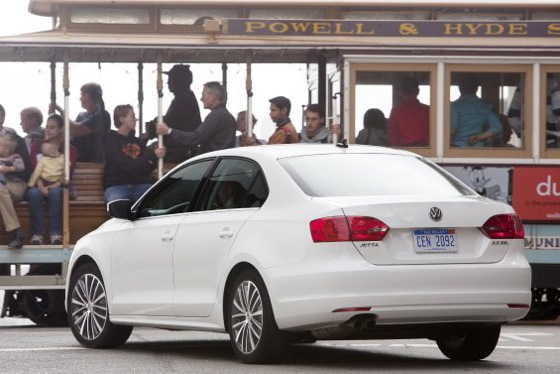 A German Car Inspired by Japan
The original Volkswagen Jetta was introduced over 30 years ago as a sedan version of the Rabbit (aka Golf). VW engineers simply grafted on a trunk to create the Jetta and they have followed the same formula ever since. But no more. The sixth-generation 2011 Jetta is quite different from the Golf. For one thing, it has a longer wheelbase, giving it an all-important extra 2.7 inches of rear passenger legroom.
Class-leading economy class
Volkswagen likes to brag that the 2011 Jetta has more rear legroom than any other car in its segment and comes within a half inch of that offered by the large and luxurious BMW 7 Series. If the Jetta were an airplane, that would equal business class legroom rather than coach. Not a bad deal if you're going to ferry around rear seat passengers.
Despite its new, more demure rear end, the 2011 Jetta still has an enormous trunk, almost matching the Toyota Corolla's segment-leading counterpart. Although it still can't match the cargo carrying capacity of VW's hatchback and wagon variants.
As with the rest of the current VW range, fit, finish and attention to detail in the cabin is excellent. Surprisingly, the Jetta does not offer leather seating. Instead, it has a vinyl leatherette material called V-Tex.
All Jetta models have six airbags and an Intelligent Crash Response System (ICRS) that turns off the fuel pump, activates the hazard lights and unlocks the doors in case of an airbag deployment. Even the base model includes important creature comforts such as air conditioning, power windows and remote keyless door locks.
Jetta streamlined
The new Jetta looks much more svelte than the outgoing model, which seems bulbous by comparison. Despite its attractive features, however, it blends in surprisingly with other cars on the highway.
The most striking design features are the grille and the headlights. The latter have a "swept back" look that merges well with the hood and fender flares. There is also an intriguing flat spoiler/splitter under the front bumper that adds character and, presumably, helps aerodynamics. It does, however, appear vulnerable to clipping those high curbs in parking lots.
Just to confuse things, the SportWagen version of the Jetta remains unchanged from 2010, which means it looks significantly different from the 2011 sedan, at least for a year or two.
Prime movers
The 2011 Jetta offers a choice of four engines. The entry-level S is powered by a 115-horsepower, 2.0-liter, four-cylinder coupled to a five-speed manual transmission.Handling is the usual high Volkswagen standard: it's tight without being too sporty, absorbs bumps and takes corners with minimal body roll. With a base price of $15,995 (plus $770 destination charge) this model is about $2,000 less than its 2010 counterpart. These savings were obtained by using harder plastics, a less costly rear suspension and replacing the rear disc brakes with drum brakes.
VW expects most buyers to opt for the next model up, the SE. It comes with a 2.5-liter, 170-hp, five-cylinder engine and extras such as a pass-through rear seat armrest. It starts at $18,195 with a five-speed manual transmission. The SEL is powered by the same engine, but includes more options, such as a navigation system, 17-inch wheels, and disc brakes front and rear. It starts at $21,395 with the manual transmission. A six-speed automatic transmission is optional in the S, SE and SEL.
The TDI 2.0-liter diesel-powered Jetta will not go on sale until the end of 2010. Pricing will start at $22,995 and top out at around $26,000 with all factory options installed. A high-performance GLI – powered by a turbocharged 2.0-liter engine producing 200 hp, and kitted out with an upgraded suspension and more soft-touch plastics in the cabin – will appear during the first part of 2011. Both the TDI and GLI have a six-speed manual gearbox as standard, but also offer the option of VW's excellent six-speed dual-clutch semi-auto transmission.
Driving the manual SEL model is pleasant enough if you enjoy shifting for yourself. It could do with six speeds; one higher gear would be especially welcome when cruising on the freeway. The 2.5-liter engine provides good mid-range torque for some oomph when passing on two-lane highways without having to change down. If a downshift is required, then at least the throaty engine sound is enjoyable.
The steering is precise – not too heavy, not too light – and the handling is the usual high Volkswagen standard: it's tight without being too sporty, absorbs bumps well and takes corners with minimal body roll.
The SEL with the automatic transmission doesn't seem to give up much in the way of performance. VW's official figures bear this out: they show only three-tenths of a second difference in zero-to-60 mph times between the two transmissions. And the auto's smooth shift action is an added bonus. An optional Sport package is less impressive. The ride quality is a little too harsh, especially on the rough freeway surfaces that are all too common these days.
The optional touchscreen navigation system is easy to operate. Controls are more intuitive than many and the system acts quickly, especially when recalculating a route.
SE and SEL models include a push-button starter located down on the center console, ahead of the gearshift. These models also get Bluetooth and iPod/iPhone connectivity. Another neat feature, more often found on luxury cars, is one-touch up/down operation of all four windows, not just the driver's.
VW dives into the mainstream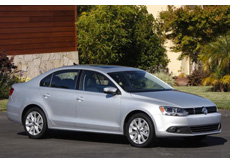 In recent times, Volkswagens have tended to appeal mostly to enthusiasts looking for a German-engineered car with good performance and handling. VW owners have also appreciated a more upscale interior than might be found in the closest competitors. That has also meant a higher sticker price, deterring many potential owners.
Now VW wants to appeal to a broader range of American buyers by bringing its cars more into direct competition with those from manufacturers like Honda and Toyota, in this case, the Civic and Corolla – the two best-sellers in this segment. The company certainly seems to have achieved this with the 2011 Jetta. It offers more interior space and is keenly priced.
However, the Corolla and Civic are not as new as contenders like the Chevrolet Cruze and Mazda3. The Jetta beats these two in terms of roominess, especially in the back, and trunk space is better in the Jetta (but still easily trounced by the voluminous hatchback version of the Mazda3). The Jetta's interior fit and finish is on a par with the Cruze, but not quite up to that in the Mazda3, which is closer in feel to the Golf and Jetta SportWagen.
The 2011 Jetta is a "transparent" sedan. It displays no idiosyncrasies and anyone should immediately feel comfortable driving it. It also means the car does not stand out in a crowd, which is fine with many owners. VW's sometimes sketchy reliability is hopefully a thing of the past and a 36-month/30,000-mile warranty – with all maintenance included – should help to alleviate those concerns.
Enthusiasts will probably be disappointed that the Jetta with a manual transmission and sport package is not as pleasant as the regular model with an automatic. But VW has them covered, as they can check out the Jetta SportWagen or the Golf, which remain the same as they have for the past couple of years; they retain their more traditional "German" character traits.