Car News
2011 Volvo C30 - New Car Review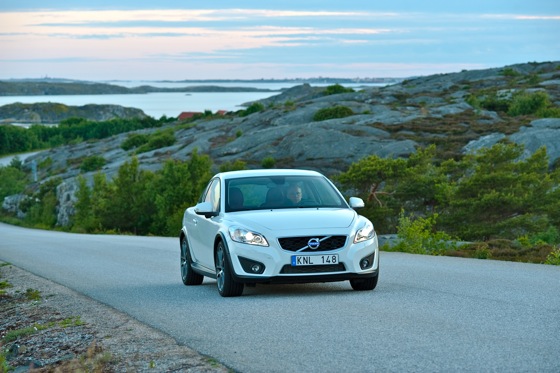 Versatility Meets Sensibility
The 2011 Volvo C30 is not the hottest hatch, the most capacious small wagon, or the safest sedan. But it rates high enough in all three realms to merit strong consideration.
Its five-cylinder engine produces enthusiastic acceleration while returning a respectable 21 mpg in the city, 30 mpg on the highway (29 highway with the manual). Bucking the fastback trend, the flat-topped roof means adequate headroom for six-footers in the sculpted pair of rear buckets and decent legroom too.
Naturally, the C30 stays true to Volvo's reputation for safety. While it hasn't aced every crash test, it has safety options unavailable in much of the competition. What's more, its nose has been re-styled for 2011: an appealing, more individual face replaces a stodgy, corporate look.
Less in more on the inside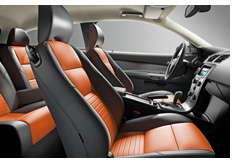 Volvo's "floating" center panel (for radio, phone, heating and air conditioning controls) is spare and elegant, though the telephone keypad's multi-function interface takes some getting used to. Four large knobs control volume, tuning, fan speed and temperature. The interior's simplicity is a welcome change from the style and button overkill found in many cars these days. The navigation system's screen sinks into the dash when not in use, keeping the cockpit clutter-free.
It can feel downright bleak when draped in the T5's standard "off-black" color scheme, though comfort and quality are faultless. Opting for aluminum trim in the T5 (standard with the R-Design trim level) brightens things, as does the "off-black/blonde" option on the base upholstery or optional blonde leather seating surfaces. In all cases, the steering wheel, shifter knob and parking brake handle are swathed in supple leather.
If rear seat passengers must be taken into consideration, the C30 seats them comfortably. Its wheelbase is 2.4 inches longer than a VW GTI and nearly seven more than a Mini Cooper. With the seats in place, the C30's cargo space of 12.9 cubic feet surpasses these two rivals. However, with seats folded down, the C30 has the least total capacity of this set.
Svelte Swede Design
This is arguably the most sophisticated design in a segment whose styling usually skews toward sweet (the Mini) or aggressive (GTI). While it is tempting to call the C30 a hot hatch, its long wheelbase makes it more of a two-door wagon.
The biggest visual punch is packed at the tailgate, where a six-sided glass screen sinks to the bumper, breaking the beltline dramatically and making this small Swede a rolling sculpture. The subtle redesign for 2011 gives the overall look more attitude, but stops short of being loud; the front and rear now seem part of a cohesive, artful whole. The optional R-Design package adds larger wheels and a monochrome treatment.
Performance is stirring, not shaking
The Engine choices couldn't be simpler: one 2.5-liter, turbocharged five with 227 horsepower and 236 pound-feet of torque.Among sporty three-doors, the C30 is a good value. It matches the Mini and GTI in acceleration and handling, but exudes a more elegant persona. It has no discernible turbo lag (the time between pressing the accelerator and the turbo contributing to thrust). Some competitors' turbocharged engines can occasionally be caught sleeping, but the C30's always feels big, torquey and ready to go. However, a not-so-high-tech fuel injection system equals fuel efficiency a couple of ticks lower than rivals. Acceleration is also very good; 60 mph arrives in less than seven seconds.
A six-speed manual transmission comes as standard. The optional automatic, despite having just five forward speeds, is a useful ally for both driver and engine. It has no sport mode but doesn't need one. Shifts are smooth and the engine's generous torque (low end power) means changing gears down often isn't necessary. This automatic transmission is so well calibrated that its manual shift mode will rarely be used.
Corners can be taken without body lean and the C30 is fun to hustle, with plenty of grip from the base 17-inch tires. But it's not as agile as its hot-hatch competition, many of which have shorter wheelbases and livelier steering (this one can be a tad numb). Still, it stays planted and confident while cruising, never needing steering corrections.
A bigger blot on the C30's performance sheet is torque steer. Torque steer is when all the power is fed through the front wheels and steering pulls left and right with maximum acceleration. Also, the R-Design's bigger wheels and low-profile tires make huge bumps and potholes feel even more jarring.
Competition performs well
The Mini Cooper S is one of the truly great front-drive cars, appealing simultaneously to enthusiasts and the style-conscious. With a turbocharged 172 hp on one hand and 26/34 mpg on the other, the appeal becomes even broader. There are plenty of ways to personalize a Mini, but it's probably more wise to keep a rein on options both from an expense and driving purity point of view.
If the Volkswagen GTI didn't invent the whole hot hatch genre, it certainly defined it. As each generation passes, the GTI has matured into a capable cruiser, while this latest iteration, the 2010 VW GTI, has recaptured some of that original vim. GTI's cabin materials are of the highest quality, while the hatchback body style means a good amount of practicality. And those telephone-dial wheels look great. It too has a turbocharged engine, developing 200 hp in this case, yet still returns 21/31 mpg. Its superb dual-clutch DSG transmission only underlines the GTI's "driver's car" pedigree.
In the world of sporty three-doors, the C30 is a good value. It starts at $24,600, in line with the $23,664 three-door VW GTI and the $23,000 Mini Cooper S. It matches their swift acceleration, comes close in handling prowess, but exudes a more elegant persona that never says "boy racer."
It might be advisable to avoid the R-Design model and the accompanying $2,350 premium. Its features don't make the car much more appealing and its stiffened suspension borders on harsh. A wiser choice would be to stick with the base T5 and spring for the $1,800 Preferred Package (power seats, aluminum trim, glass sunroof) and $800 xenon headlights. Audiophiles can opt for a $2,000 multimedia package with navigation.
The C30 sailed through the Insurance Institute of Highway Safety (IIHS) crash test regimen with a top rating. It also earned four out of five stars for the driver in the National Highway Traffic Safety Administration (NHTSA) frontal collision test and five out of five stars in all the administration's remaining tests. In addition to the expected collection of airbags, ABS and stability control, Volvo offers unusual options for the segment like its Blind Spot Information System (BLIS), a rear fog light, and pedestrian protection features.
As a pure performance car, the C30 probably won't steal many sales from the Mini Cooper S or VW GTI – its chassis is competent and secure, rather than athletic. Nor will the C30 win the hearts of larger sedan or five-door hatchback shoppers; long coupe doors plus mediocre cargo volume with seats folded make it a tough choice for small families or those with lots of gear.
The C30 shines is as a highly individual touring coupe. It has breakout style, comfort for four, plenty of power, stable handling and a comprehensive collection of safety features. Its niche appeal adds to its desirability; owners will feel they've purchased something different, since they're not likely to see parking lots littered with similar models. Sporting refreshed styling, the 2011 Volvo C30 is an even more attractive machine for the non-conformist.