Editor's note: You may want to read more of Autotrader's model vs. model comparison car reviews as well as the 2016 Honda CR-V used car review, the 2016 vs. 2017 Honda CR-V review, the 2015 vs. 2016 Toyota RAV4 review and the 2013 Toyota RAV4 used car review.
The Honda CR-V and the Toyota RAV4 from these model years were the two best-selling SUVs in the United States, which means it's going to be pretty easy to find a used one. But before searching on our inventory here on Autotrader, let's take a look at both the used CR-V and the used RAV4 to help you figure out which one might be a better fit for you in general.
2012-2016 Honda CR-V
These model years represent the previous-generation CR-V, which was replaced for 2017. While that new version is more refined and a bit more spacious, you're hardly looking at revolutionary changes from new to used.
There are changes to note between model years, most notably for 2015. These included a stronger and considerably more fuel-efficient engine bolstered by a continuously variable automatic transmission. The 2012-2014 engine was paired to a 5-speed manual transmission. Changes for 2015 also included a slight styling refresh, a few higher-quality interior materials, a new 7-inch optional touchscreen interface, a high-end Touring trim level that included accident avoidance technologies and, finally, a revised center console that replaced the previous large central bin with a more compartmentalized design featuring a fixed armrest.
2013-2016 Toyota RAV4
Unlike the CR-V, a used RAV4 from the above model years belongs to the same generation as a new one. In general you won't be giving up as much by going with a used RAV4 as you would a used CR-V.
There have also been fewer updates made to this RAV4. The most obvious were for 2016 when the styling was tweaked, the Toyota Safety Sense package of accident-avoidance tech became available for certain trim levels (they became standard on all RAV4s for 2017), and a new SE trim level debuted with sharper handling and distinctive styling elements. Another noteworthy update came for 2014 when Toyota upgraded the RAV4's crash structure to improve its performance in the Insurance Institute for Highway Safety's more stringent small-overlap front crash test. In terms of mechanicals and interior functionality, however, the RAV4 has remained unchanged.
Reliability
The RAV4 from these model years was one of the most reliable vehicles on the road, with a minuscule number of customer complaints. The same could be said of the CR-V from 2012 to 2014. However, the 2015 model year suffered from excessive vibrations from the then-new engine and continuously variable transmission. This was a widespread problem that resulted in customer lawsuits. Although you could certainly avoid a 2015 CR-V, Honda did make available a free-of-charge fix to customers, and you should be able to find out if such a fix was performed on a particular vehicle. Some complaints of excessive vibration did carry over to 2016, but to a much lesser degree.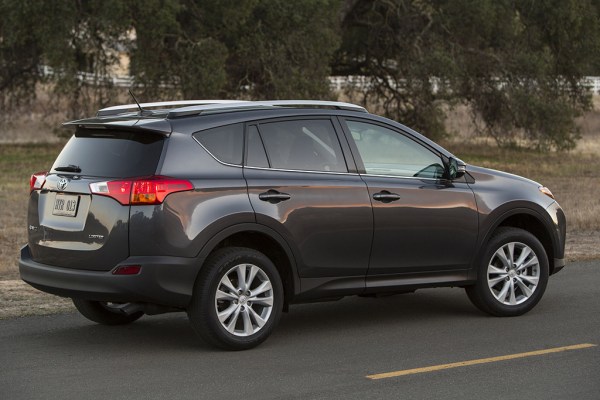 Fuel Economy
Every 2012-2016 Toyota RAV4 is powered by a 2.5-liter 4-cylinder engine that produces 176 horsepower and 172 lb-ft of torque. A 6-speed automatic transmission and front-wheel drive were standard, while all-wheel drive was optional. Fuel economy is 23 miles per gallon in the city and 30 mpg on the highway with front-wheel drive — a strong showing for that time. Opting for all-wheel drive essentially lowers those figures by 1 mpg, while the Limited trim lowers fuel economy in combined driving by 1 mpg further.
The CR-V from these model years is a different story, since it switched engines part-way through its production run. From 2012 to 2014, it was powered by a 2.4-liter 4-cylinder (185 hp, 163 lb-ft of torque) paired to a 5-speed automatic transmission and standard front-wheel drive. All-wheel drive was an option. Fuel economy from these years is essentially identical to the RAV4's.
From 2015 to 2016, the CR-V was powered by a new 2.4-liter 4-cylinder that also produced 185 hp, but crucially, a more robust 181 lb-ft of torque. It came with a continuously variable automatic transmission and the same standard front-drive and optional all-wheel drive. Fuel economy improved dramatically with this new powertrain, returning 27 mpg city/33 mpg hwy with front-wheel-drive. These figures lower by 1 mpg with all-wheel drive. This improvement can equate to as much as $750 in savings over the course of 5 years compared to prior model years and the RAV4. However, this powertrain also caused excessive vibrations (described above), which led Honda to create a solution that slightly lowered fuel economy. As such, the 2016 CR-V has figures of 26 mpg city/32 mpg hwy.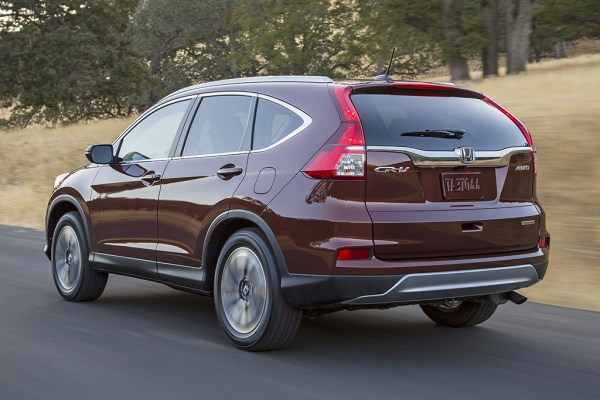 Safety
Given the widespread availability of accident-avoidance tech for 2017 (especially on the RAV4), a used version of these SUVs technically won't be as safe as a new one. Crashworthiness represents less of a difference, however.
From 2013 to halfway through 2015, the RAV4 received a 4-star overall crash rating from the government, along with a 4-star frontal and a 5-star side-crash rating. The overall rating raised to 5 stars midway through 2015 and remained for 2016. The nonprofit Insurance Institute for Highway Safety (IIHS) gave the RAV4 the highest possible rating of Good in its moderate-overlap, side and roof-strength tests, but it got the worst possible rating of Poor in the small-overlap front crash test for 2013 and 2014. This was raised to Good after changes made midway through 2015.
The government gave the CR-V a perfect 5 stars for overall, frontal and side protection in all of the discussed years, except 2015, when the overall and frontal scores lowered to 4 stars (at this point, avoiding the 2015 seems like an increasingly good idea). Similar to the RAV4, the IIHS gave this CR-V top scores of Good in all categories but the small-overlap front crash test, although it got a second-worst Marginal rating. It improved to Good for all 2015 models (which is odd, given the diminished government rating).
Technology
Generally speaking, the RAV4's technology is a bit easier to use, as every version has 6.1-inch touchscreen interface (a high-resolution 7-inch version became optional for 2016) featuring reasonably simple menus and easily pressed icons. By comparison, this CR-V came standard with a serious of audio buttons and a separate high-mounted central display. Simple tasks like changing the radio are pretty easy, but more complicated functions are more difficult. A touchscreen with rudimentary graphics but good ease-of-use was available through 2014 (included with navigation). It was replaced with a more widely available touchscreen for 2015, which could be frustrating to use.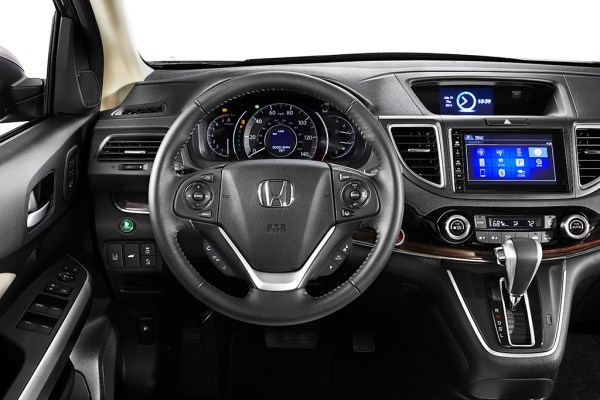 Interior Space and Quality
These Honda CR-V and Toyota RAV4 models were and continue to be the two most spacious compact SUVs on the market. The RAV4 has a tiny cargo-space advantage, but both are effectively enormous given their exterior footprint and have conveniently low load floors, as well. The CR-V has an advantage in terms of storage up front (with either of its center console designs), as the RAV4 has oddly shaped bins and disparately sized separate cupholders.
The CR-V may also have a slight advantage in terms of rear-seat comfort (the RAV4's seat is a bit low), but space in both is excellent for adults and rear-facing child seats. It really doesn't get much better than these two SUVs — even some midsize models don't offer as much space.
In terms of quality, both of these SUVs are disappointing. Everything is put together well enough, but there's an overabundance of hard plastics everywhere you look and touch. The RAV4 has a token bit of padded pleather spread across the dash, and the 2015-2016 CR-V had a few additional padded surfaces, but in general, competitors like the Ford Escape and the Mazda CX-5 have nicer cabins (the new 2017 CR-V is a massive improvement, as well). At least the CR-V wasn't as overtly utilitarian in its interior design. You could also get it with real leather upholstery, whereas even range-topping RAV4 trim levels would only be had with an unconvincing substitute known as SofTex.
Value
With a few exceptions, the Toyota RAV4 and the Honda CR-V from these years were equipped with the same equipment at similar price points. Given current average used-car prices, they should also be available for a similar amount of money today. Essentially, you should figure out which of these two SUVs you like better and know that their value is essentially equal (apart from some of the fuel economy and reliability issues surrounding the 2015 CR-V).
Autotrader's Advice
With the exception of certain model years, the CR-V and the RAV4 from these model years are so similar on paper that you could probably make a coin flip to determine which is better for you from a functional, objective perspective. Their size, fuel economy and value are virtually identical for most model years. Subjectively, however, we always preferred the CR-V's interior design and more involving driving experience, and we think its upper trim levels look and feel more in keeping with their elevated price tags. On the other hand, the RAV4 has changed less over the years, and so it should be easier to find one that's just right.
Find a Used Honda CR-V for sale