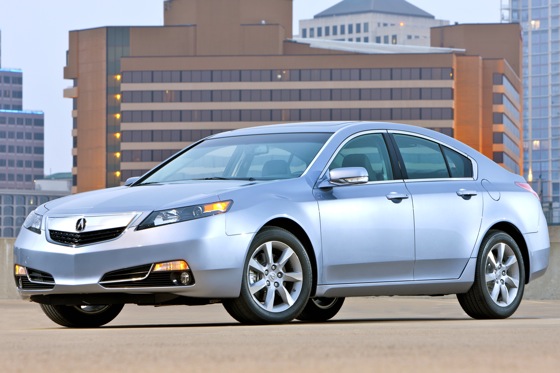 Never Underestimate the Super-Competent
During its 25 years in the North American market, Acura – Honda's upmarket subsidiary – has acquired an entire PowerPoint of firsts. First Japanese luxury brand (remember the skepticism?), first in-dash navigation, first Japanese supercar, first IIHS Top Safety Pick lineup. And that's just a selection.
To a typical consumer, however, Acura doesn't stand for innovation or technology so much as competence. Acura products go about their day-to-day responsibilities with a quiet capability. While "quiet" – by definition – doesn't shout at users or adjacent commuters, that capability is reflected in owner satisfaction and repeat sales. Which brings us to the freshening of the TL mid-size sedan for 2012. Acura describes it as "newly refined." The TL delivers smoother looks, enhanced performance (including a nod to improved efficiency) and upgraded technology.
Inside job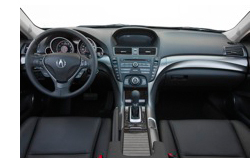 Conventional proportions mean no particular contortions required to access either the front or rear quarters. Once inside, passengers will be impressed by front bucket seats that offer easy ingress and appropriate lateral support. If those two aspects don't seduce, check out the controls for both heat and ventilation on the center console (vents are new for 2012). And when leather seating meets a sunbelt summer, those monthly payments seem all the more worthwhile.
The steering wheel contains within its three spokes more technology than the first Mercury space capsule (probably): cruise, audio and voice activation controls are all within a thumb's reach. Acura's Technology package includes HDD-based navigation, traffic and weather information, ELS Surround Sound (440 watts/15GB music storage), perforated premium leather and keyless access. Fit and finish are extremely good for its MSRP of $40,000, and reflect the design department's focus on refinement – what Acura terms "sophisticated workmanship."
Outside chance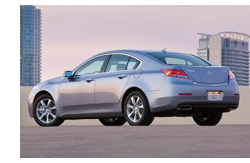 If members of an Acura forum had described the company's design effort for the new-in-2009 TL as "heavy handed," they would have been putting it politely. Even in Acura's own surveys of current owners, it saw opportunities for improvement. And those opportunities included exterior styling.
To that end, the front fascia has received a few tweaks. If considered separately, there isn't much to it. Taken as a whole, however, the resulting impression is one of lightness and athleticism. Changes to the grille include a new upper surround, logo base, frame, mesh and horizontal bars. The headlights have been extended, while the hood is lowered and pushed forward. New turn signals, fog lights and chrome accents complete the nose job. These mods result in an overhang that's shorter by an inch.
Out back, modest changes result in a lower, widened visual. The most significant modification is the license plate raised from its previous perch to a more centered spot in the rear fascia. Put this model next to its predecessor, though, and there seems to be more "sport" to this sport sedan.
Motor skills
The entry-level 3.5-liter V6 provides 280 horsepower and is offered in front-wheel-drive variants. At the top of the pecking order is the 3.7-liter V6, which cracks the 300-hp barrier (305 at 6,300 rpm) and is exclusive to the SH-AWD offering. The 3.7 makes the TL the most powerful Acura ever (which must give NSX owners pause), but either engine is mightily impressive and the 3.7 is pleasingly resonant.
The TL's V6 powertrains are connected to a new-in-2012 six-speed automatic transmission, which is highly responsive in its lower gears and offers improved efficiency at the top. In combination with steering wheel-mounted controls ("Sequential SportShift" in Acura-speak) and a sport-oriented double-kickdown feature, drivers can be as detached or aggressive as they please.
Although the TL does not offer a sporty rear-wheel-drive platform like BMW's 3 Series or the Infiniti G37, the car still manages to feel well balanced. Damping is composed, the cornering attitude flat and the electrically assisted steering surprisingly linear. The front-drive version also achieves 29 mpg on the EPA's highway cycle, an improvement of three miles per gallon over its predecessor.
The all-wheel-drive TL proves to be surprisingly "flickable." Its front/rear torque distribution can go from 90/10 to 30/70, while the left/right bias can be moved fully (meaning 100 percent) from one side of the car to the other. For those wanting to work their way out of snow – or wanting to work their way out of a corner taken with too much enthusiasm – Acura's SH-AWD is an appropriate and welcome enhancement.
The luxury of choice
Audi's 2011 A4 Quattro has grown into a credible TL competitor, as long as a buyer doesn't mind only having 211 hp for a starting price of $34,500 (with all-wheel drive and an automatic transmission). But that's about the only downside to a handsome exterior and a fabulously crafted interior.
BMW's 2011 335i four-door (from $41,100) is a failsafe for the enthusiast, but can easily exceed the TL's price by as much as $10,000 once a few options are selected. However, it is the benchmark for sport sedans.
Like BMW, Infiniti's 2011 G37 sedan offers rear-wheel drive or all-wheel drive. It's better suited to the cut-and-thrust of aggressive driving than the TL, but the G37 won't meet the needs of a daily commute with the same degree of equanimity. That said, a model in the well-stocked Journey trim with a 328-hp 3.7-liter V6 starts at $35,400, which is quite tempting.
Lexus also has a reputation for quality and supplying as standard what German companies offer as pricey options. And, like the TL, the 2011 IS has a similar easy-to-live-with demeanor. A rear-drive IS 350 with 305 hp starts at $39,070.
Acura has always represented value in the near-luxury and luxury categories. Although a top-of-the-line TL SH-AWD at $45,000 may seem to conflict with that spirit, its array of attributes makes the price easy to quantify and justify. And a well-equipped base TL at just over $35,000 is a relatively small premium in an era of Honda Accords costing $30,000 and Nissan Maximas at $35,000. Then factor in Acura's historically high resale values. Acura is a perennial winner of the residual value award given by ALG (Automotive Lease Guide), and always compares favorably in resale performance with its significant competition: Audi, BMW, Infiniti and Lexus.
The main issue with the TL is its relative (to the segment) anonymity. To be sure, Acura's stylists attempted to inject some excitement in its 2009 redesign. But the result was polarizing. Even so, unlike BMW, Audi and – to a lesser extent – Infiniti and Lexus, Acura still seems ill-defined in its character beyond "competent." It is the good wife rather than the hot lover. For those wanting a fling, there are more obvious choices. But if an automotive decision is long-term (as an increasing number of consumers are doing), an Acura TL is one of the better choices.