Car News
2012 Acura TL First Look: Refreshing Design Changes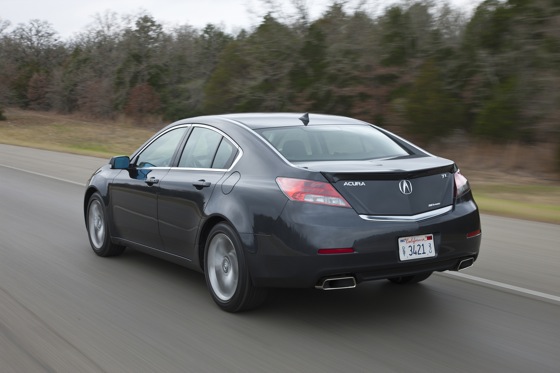 Acura's product team has executed an aggressive mid-cycle freshening of its venerable midsize sedan, the TL. Since its most recent redesign, the public has been slow to embrace the radically angular styling of what remains the foundation of the Acura franchise. Happily, the Acura design team has created a freshened TL that should appeal to a wider audience.
Of course, the current TL hasn't exactly been a slacker. As an integral part of the Acura brand, it benefits from a great finish in both J.D. Power and Consumer Reports rankings of initial quality (J.D. Power) and predicted reliability (Consumer Reports). And if you consider the cost of ownership being what you spend minus what you get in resale or at trade-in, the TL's status as the residual value award winner by Automotive Lease Guide should provide some assurance to your financial advisor and/or spouse. Finally, its platform, with standard V6 power and available all-wheel drive, has long been known for its competence – if not outright exuberance.
The updates begin with the nose. As described by senior designer Damon Schell, the mandate for the original design was "linear fluidity" while the freshening is underpinned by "sophisticated workmanship." The truth is in the details, and for 2012 model, those details include a totally reworked grille and front fascia. Tweaks include mods to the grille's upper surround, logo base, the grille's mesh and horizontal bar treatment. The end result is a lighter, lower visual without spending the money to radically alter the TL's structural foundation. Front overhang is also shortened by one inch.
In back, the detail differences – including raising the area for the license plate – result in a widened appearance, along with an overhang shortened by ½ inch. Despite the modesty of the exterior changes, the end result is visually lighter, fresher and more appealing.
Mechanical changes include the introduction of a 6-speed automatic transmission. Benefits include a more sport-minded shifting algorithm, along with an improved EPA of 20/29, a three mile-per-gallon (highway) improvement over 2011. Happily, a 6-speed manual remains available for those TL models offering all-wheel drive.
At a well-equipped starting point of just over $35K, the 2012 TL – on showrooms in mid-March – will continue to deliver traditional Acura strengths, while coming to market in a more appealing package.