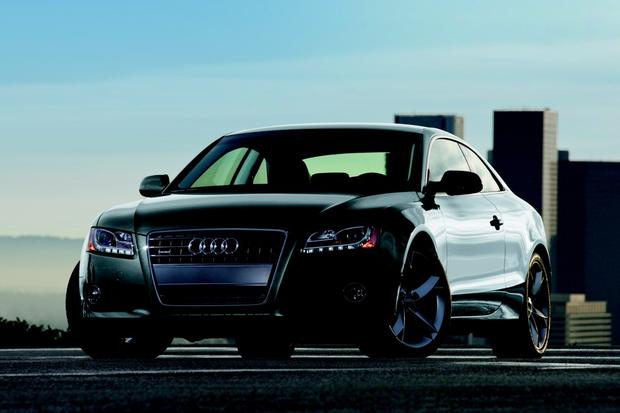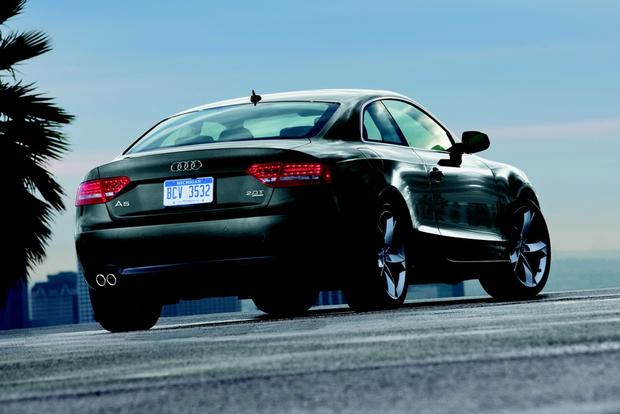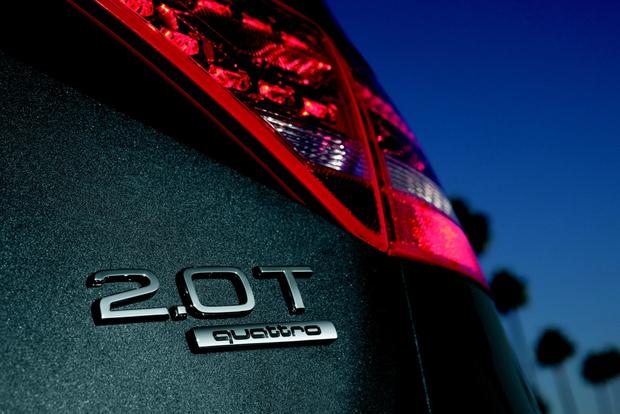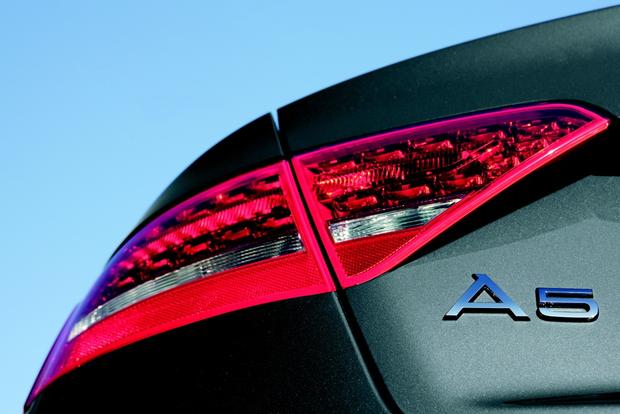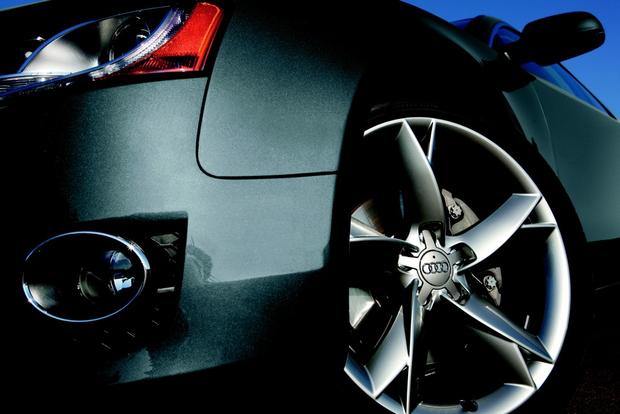 Pros: Beautiful styling, top-shelf interior, refined driving dynamics, standard all-wheel drive for the coupe.
Cons: Engine lacks both power and efficiency, Cabriolet gets a lackluster CVT and a soft-top rather than a retractable hardtop.
Introduction
If luxury coupes and convertibles were judged on looks alone, the 2012 Audi A5 would have few peers. Although the A5 is really just a two-door version of the A4 sedan, its expressive styling suggests far greater exclusivity. Pulling up to the curb in an A5 is an event in itself-you're almost guaranteed to draw admiring glances from everyone in the vicinity. Avoid this Audi if you don't want valets to display your car out front.
It's under the A5's shapely hood where things start to go a bit sour. Don't get us wrong, the standard turbocharged inline-4 is a fine piece of engineering, and its 211-horsepower rating is nothing to be ashamed of. But in the rarified realm of luxury two-doors, most motors offer considerably more muscle. If you want to power up, Audi does offer the S5 (reviewed separately), which boasts either a supercharged V6 or a luscious V8. Check the price tags, though; those enhanced engines don't come cheap.
So we've established that the A5 isn't going to win many stoplight races. But we also know that plenty of shoppers in this segment care more about style and luxury than all-out performance. And if that sounds like you, then there's a pretty good chance you'll fall in love with Audi's two-door stunner.
Comfort & Utility
The 2012 Audi A5 coupe and convertible (Cabriolet) are offered in three trim levels: Premium, Premium Plus and Prestige.
The Premium comes with 18-inch alloy wheels, foglamps, a panoramic sunroof (coupe only), a power-operated vinyl roof (Cabriolet only), leather upholstery, single-zone automatic climate control, power front seats with driver lumbar adjustment, a tilt-telescopic steering wheel, the Multi-Media Interface system with a dash-mounted control knob and a ten-speaker audio system with an auxiliary input, an SD card reader and satellite radio.
The Premium Plus adds xenon headlamps with LED running lights, LED taillights, auto-dimming mirrors, driver memory functions, Bluetooth and iPod integration and tri-zone automatic climate control-meaning the rear passengers get their own separate climate controls (a very unusual feature in a coupe).
The Prestige goes all-out with adaptive xenon headlamps that include LED running lights, a blind-spot warning system, keyless entry with push-button ignition, MMI Plus with navigation and a console-mounted joystick knob and a 14-speaker, 505-watt Bang & Olufsen audio system.
Many of the higher trims' features-including Bluetooth and iPod integration-are available on lower trims as options. Among the other available niceties, depending on the trim level, are 19-inch wheels, a Sport package (including sport front seats, a sport-tuned suspension and shift paddles for automatic-transmission cars), heated seats, adaptive cruise control and the Drive Select system, which gives the driver electronic adjustments for steering effort, automatic transmission programming and throttle response.
The A5's driving position is decidedly low-slung, emphasizing the car's sleek, intimate character. But the standard front seats are unexpectedly plain, offering little in the way of lateral support. We expect more in a European sport/luxury coupe. The Sport package's upgraded front seats are much improved, providing ample bolstering along with excellent long-distance comfort. However, only Premium Plus and Prestige models are eligible for this upgrade. Unlike in the A4, the A5's door-mounted armrests curve back plenty far to support the elbows of long-legged drivers.
The A5's tilt-and-telescopic steering wheel has a wide range of adjustability, as does the standard multi-way power seat, so most drivers should be able to find an agreeable configuration. The classic analog gauges use Audi's distinctive font for the numerals. Like just about everything else in the A5's cabin, those gauges impart a sense of luxury and sophistication, though there's inexplicably a cheesy silver plastic trim piece that surrounds the gauge cluster and the MMI screen.
Ergonomics are an adventure in A5. Try to adjust the climate control's fan speed and you'll see what we mean-it's a two-step process. A simple dedicated fan knob would work wonders here. On the bright side, we think Audi has made great strides with the MMI system's intuitiveness, which we discuss in more detail below.
Although the A5's back seat enjoys its own climate controls, there's no way adults are going to squeeze back there for any length of time. Kids might find it tolerable, but this back seat is best used for storage.
The A5 coupe's trunk capacity is the same as the A4's, measuring 12.4 cubic feet. Remarkably, the Cabriolet's trunk isn't much worse, checking in at 12.3 cubic feet with the top up and 10.2 cubic feet with it lowered.
Speaking of the Cabriolet's top, its fabric construction invites attention from thieves and doesn't seem to have saved much if any weight relative to a retractable hardtop. We prefer the hardtops offered by BMW, Infiniti, Lexus and others.
Technology
The base A5 doesn't come standard with iPod or Bluetooth connectivity, but those are easy enough to add as standalone options. The absence of a USB port is more troubling, but if you're a fan of loading mp3s onto your flash drive, you can switch to an SD card instead and use the A5's standard SD slot. Same difference, really. However, a USB port can provide superior connections for portable mp3 players; the standard auxiliary jack is pretty basic technology.
In any case, the technological centerpiece of the A5 is the MMI system, which comes in two forms. In standard spec without navigation, MMI is controlled via a knob on the center stack that requires an uncomfortable reach from the driver's seat. We strongly advise stepping up to the MMI Plus system, which includes navigation, a more sophisticated display screen and a control knob that's conveniently mounted precisely where your right hand rests on the center console. Audi has greatly improved the intuitiveness of MMI's menu structure, and the console-mounted knob now features a nifty joystick-like top section that's particularly useful for scrolling through a map.
Performance & Fuel Economy
The A5 is powered by a turbocharged 2.0-liter inline-4 rated at 211 horsepower and 258 lb-ft of torque. The coupe gets standard Quattro all-wheel drive and either a six-speed manual or an eight-speed automatic, while the Cabriolet starts with front-wheel drive and a continuously variable automatic (CVT), providing Quattro and the eight-speed automatic as a twofold option.
Equipped with front-wheel drive and the CVT, the A5 Cabriolet might be the least engaging premium convertible on the market. The transmission is neither responsive nor particularly refined, and it seems to sap some of the engine's power. Fortunately, Quattro brings a superior eight-speed automatic and an available six-speed manual in the coupe. But no matter what configuration you choose, there's no getting around the engine's modest output. The A5 may look like it's got a nose for speed, but the turbo four simply runs out of breath at higher velocities.
According to the EPA, fuel economy for the coupe is 21 mpg city/31 mpg highway with the manual, while the automatic yields 21/29 mpg. The Cabriolet is rated at 22/30 mpg with the CVT and 21/29 mpg with the eight-speed automatic. Two comments here: first, the Cabriolet weighs a few hundred pounds more than the coupe, so we doubt it really gets the same fuel economy. And second, these numbers aren't very impressive for a 211-horsepower inline-4.
Safety
The 2012 Audi A5 comes with standard stability control and four-wheel antilock disc brakes. The coupe gets eight airbags (front, front side, full-length side-curtain and knee), while the Cabriolet gets six airbags (front, front side and knee).
The A5 has not been crash-tested.
Driving Impressions
Perhaps due to its low driving position and roofline, the A5 has a substantial, hunkered-down feel at speed. Handling is good in standard form and excellent with the Sport package's sport-tuned suspension, while the ride remains supple unless you get the optional 19-inch wheels, which we wouldn't advise. We'd also stay away from the expensive Drive Select system, as the A5's standard calibrations are just fine. On the highway, the A5 feels invincible, tracking straight and true with nary a vibration at any speed. Road noise is less noticeable in the coupe, but the Cabriolet remains peaceful by soft-top standards. Overall, the A5 is a pleasure to drive; it's the power deficit that holds it back.
Other Cars to Consider
BMW 3 Series: The 3 Series coupe and convertible are carryover models this year while BMW prepares replacements, but don't let that dissuade you. They're still among the best cars in the world, and the convertible features a retractable hardtop.
Infiniti G37: The G37 certainly has no shortage of power, though it could use a dose of the A5's refinement. Like the BMW, the Infiniti features a retractable hardtop in convertible form.
Ford Mustang GT: Open to something different? How about a V8-powered Mustang coupe or convertible? You can't beat the value, and the Mustang's 5.0-liter V8 is one of the best engines in the world.
AutoTrader Recommends
We'd demand the style of the coupe and the performance of the Sport package, so our target would be a coupe in Premium Plus trim.