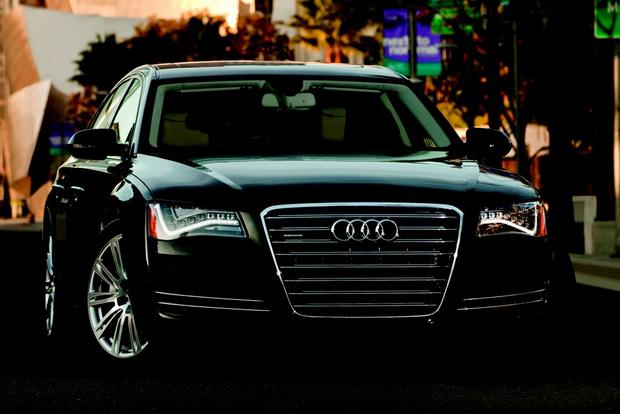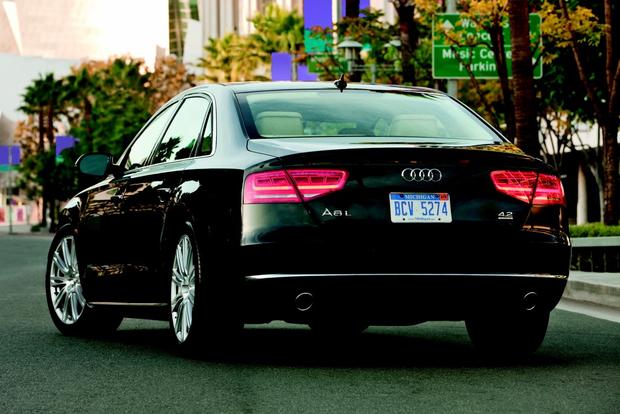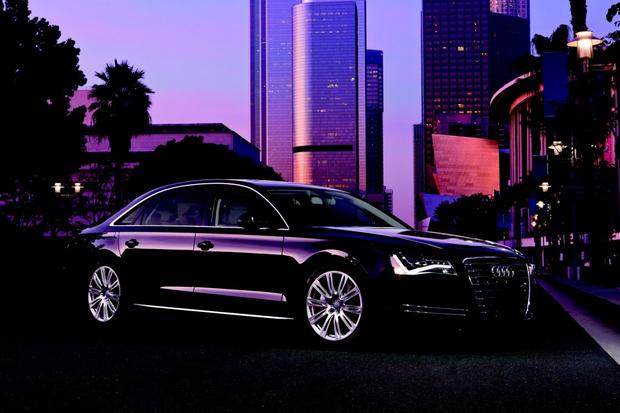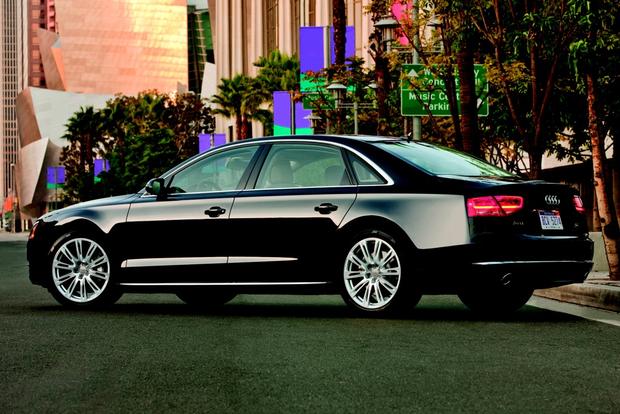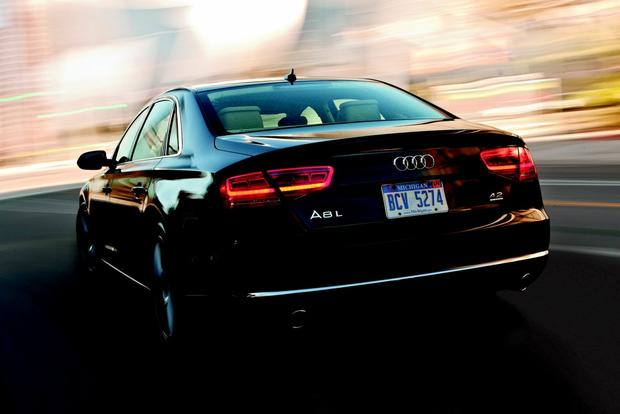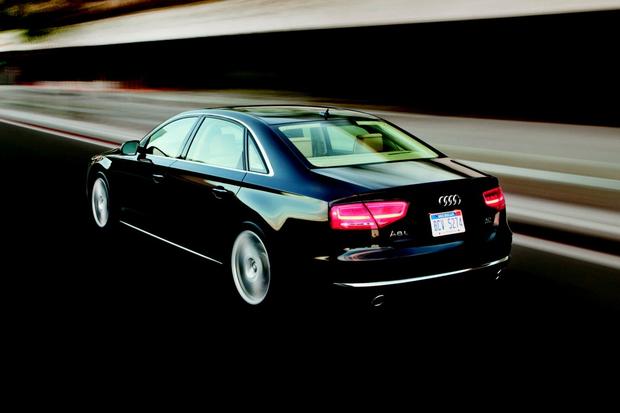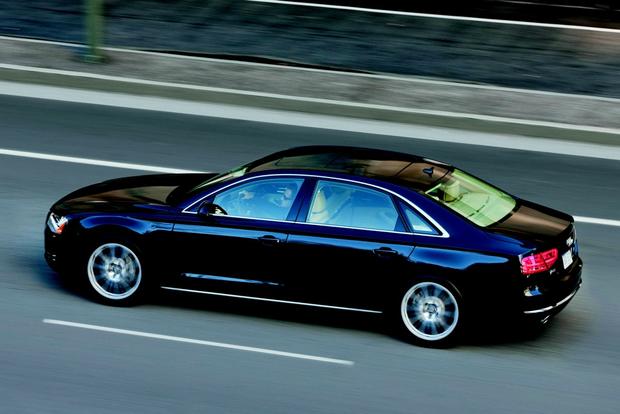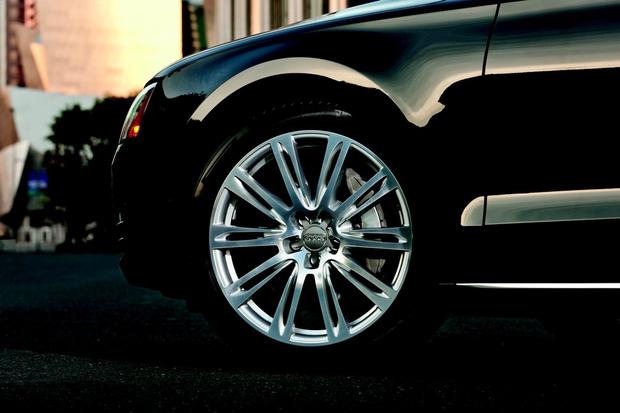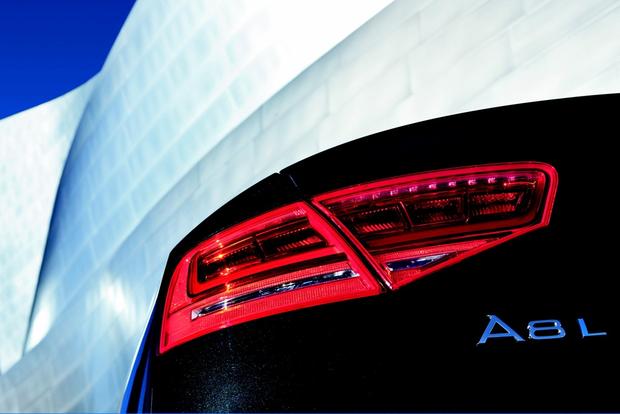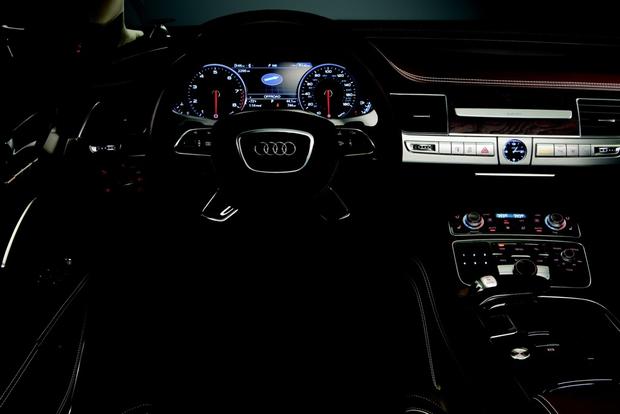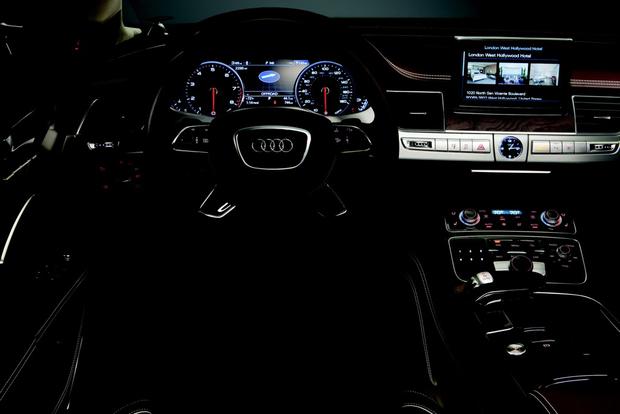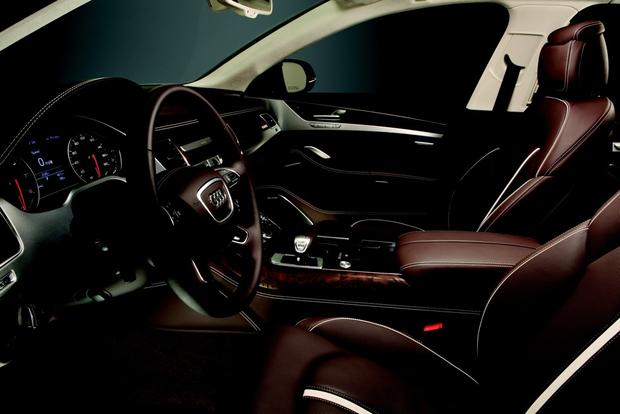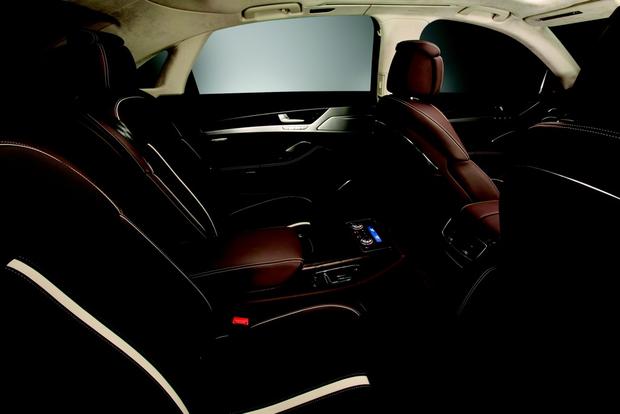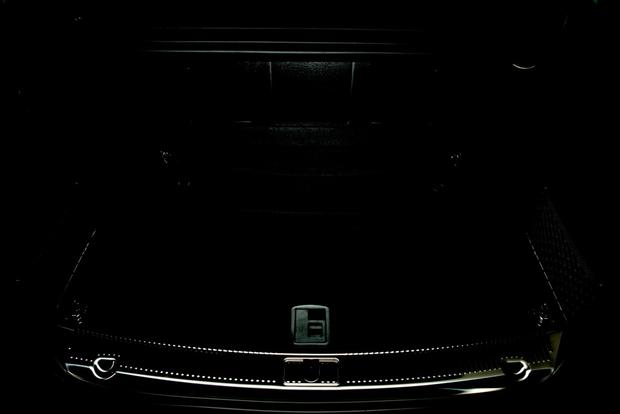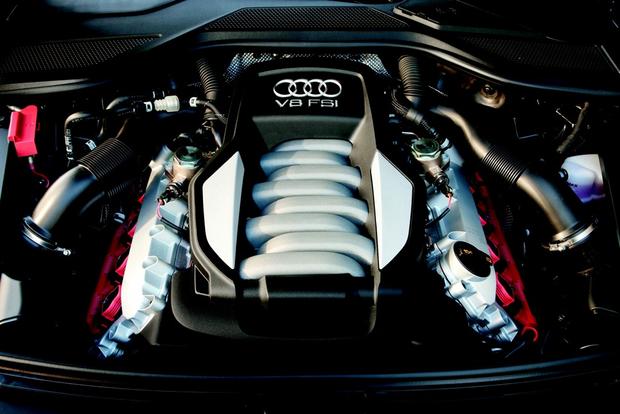 Pros: Remarkably nimble handling, velvety V8 with great fuel economy, standard all-wheel drive, exquisite interior, two wheelbase lengths.
Cons: Looks like a big A4, V8 lacks the ridiculous power of some rivals, small trunk.
Introduction
Perhaps the biggest surprise about the 2012 Audi A8 is that it has become the driver's choice among executive-class luxury sedans. We're not sure how Audi did it. After all, the A8 is the only car in this segment with a front-wheel-drive platform, and the short-wheelbase model only offers a single V8 engine with average-minus output. In theory, the A8 has no business acting like a world-class athlete.
But in practice, the A8 is so much more than the sum of its parts. The dimensions say the A8 is a large car, yet this nose-heavy saloon drives like a midsize sport sedan when you're pushing it, thanks in part to the Quattro all-wheel-drive system's rearward power bias. And although the stat sheet says the A8's 4.2-liter V8 makes a mediocre 372 horsepower, it's a thrill machine when the 7,000-rpm redline's approaching. We had to drive it to believe it, but there's no doubt that the A8 is the real deal from behind the wheel.
Of course, most shoppers in this segment are looking for cosseting luxury more than white-knuckle performance. Fortunately, the A8's got its bases covered there, too. The interior is one of the finest in the world-particularly in the long-wheelbase L model with its first-class rear accommodations-and the technology offerings are exceptional. But that's more or less expected at this price. What's not expected is a car that's even better to drive than it is to ride in, and that's why the 2012 Audi A8 is at the top of our executive-sedan pecking order.
Comfort & Utility
The 2012 Audi A8 is offered in three versions: regular A8 (short-wheelbase), A8 L (long-wheelbase) and A8 L W12 (long-wheelbase with the W12 engine).
The regular A8 comes standard with 19-inch alloy wheels, adaptive xenon headlamps with LED running lights, LED taillights, an adaptive air suspension, Drive Select (which provides electronically adjustable steering, suspension and throttle settings), a sunroof, leather upholstery, dual-zone automatic climate control, 18-way power heated front seats, a power tilt-telescopic steering wheel, Bluetooth, a Bose audio system, mobile Wi-Fi capability and Audi's Multi-Media Interface (MMI) with an 8-inch power-retracting TFT display screen, full iPod integration, twin SD-card slots and a navigation system with Google Earth street views.
The A8 L adds a longer wheelbase for extra rear legroom, rear parking sensors, keyless entry with push-button ignition, power-closing doors and a power-closing trunk.
The A8 L W12 tacks on 20-inch wheels, full LED headlights, a heated steering wheel, 22-way power heated and cooled front seats with a massage function, two rear seating positions instead of three and a rear DVD entertainment system with twin 10-inch screens.
Some of the higher trims' features are available on lower trims as options. The L models are eligible for high-roller upgrades like a refrigerator and a passenger-side executive rear seat with a power footrest and auxiliary front passenger seat controls. Also offered is quad-zone automatic climate control, a Bang & Olufsen audio system, adaptive cruise control, a Night Vision collision-warning system and a Sport package (short-wheelbase only) with 20-inch wheels, a sports rear differential and the 22-way power seats with exclusive stitching.
Leaving aside the maximally opulent offerings from Rolls-Royce and Bentley, the A8 might have the nicest cabin in the automotive world. The materials used are uniformly superb, and practically everything you touch has an expensive, precision-engineered feel. The 8-inch power-retracting MMI display screen is a beauty, especially when you call up Google Earth via the navigation system to get a 3D street view of your destination.
The A8's front seats are one of the few interior features that don't meet or exceed expectations. They're very comfortable, no doubt about that, but even the optional 22-way seats don't have wow-factor features like the S-Class's active side bolsters-nor can they match the all-around excellence of the 7 Series' Multi-contour chairs.
Ergonomics almost seem irrelevant when you're admiring the beauty of the A8's dashboard, but then you start driving and you realize you have to figure out how all these crazy gadgets work. As in other Audis, little tasks like adjusting the fan speed or seat-heater intensity can be needlessly complex, but most major controls are fortunately straightforward. Moreover, MMI has improved by leaps and bounds in recent years, with simplified menu structures and extra physical buttons that give you a fighting chance of actually accomplishing basic tasks at speed.
The regular A8's back seat has a relatively low bottom cushion, so there's not the robust thigh support that Hyundai, for example, gets exactly right in the Equus. The L models solve this problem by providing lounge-all-day legroom for lucky rear passengers.
The A8's trunk is on the small side at 13.2 cubic feet. Fitting a few golf bags is more difficult than it should be in a high-roller luxury sedan.
Technology
Technophiles rejoice-your executive sedan has arrived. We only have one reservation about the A8's high-tech offerings, namely the absence of a USB port. If you like to keep your mp3s on a flash drive, tough luck. You'll have to switch to an SD card in the A8. But, seriously, how could a geek not fall in love with this Audi? Check out all the standard features it provides, from iPod/Bluetooth integration to a Bose stereo and a crowd-pleasing MMI display screen that coolly slips into the dash when not in use. Then there's the navigation system with Google Earth street views, the touch-pad that can decipher fingertip scribbles and the rolling Wi-Fi hotspot capability. The A8 even features an optional Night Vision collision-warning system that can identify pedestrians in the dark at a distance of up to 300 feet.
Performance & Fuel Economy
The regular Audi A8 and A8 L are powered by a 4.2-liter V8 rated at 372 horsepower and 328 lb-ft of torque. As with every A8, Quattro all-wheel drive is standard, though the short-wheelbase model is eligible for a special sports rear differential that further sharpens handling. The transmission is an eight-speed automatic. Looking at the numbers, we assumed this venerable engine would be a letdown relative to the twin-turbo V8s from BMW and Mercedes, but it genuinely holds its own under most circumstances, and it's impeccably civilized all the way to redline. Still, it's not a fully satisfying substitute for those force-fed rivals.
If you want more power in a regular A8 (the muscular S8 is reviewed separately), you'll have to step up to the A8 L W12, which is motivated by an unusual 6.3-liter W12 engine that makes 500 horsepower and 463 lb-ft of torque. The W12 is certainly more capable than the V8, but we're not sure it's worth the extra cost, especially given that the L model is designed more for carrying passengers than pleasing drivers.
Another reason to stick with the V8 is its superior fuel economy. EPA-rated at 18 mpg city/28 mpg highway, the V8 trounces the W12's 14/21 mpg.
Safety
The 2012 Audi A8 comes with standard stability control, four-wheel antilock disc brakes, active front head restraints and ten airbags (front, front side, front knee, rear side, full-length side-curtain).
The A8 has not been crash-tested in the US.
Driving Impressions
Like all driver's cars worthy of the title, the A8 has a way of shrinking around you at speed, making most rivals feel like the land yachts they are. The optional sport rear differential makes the A8 even more responsive, but the standard Quattro system is already a performance plus with its 40/60 front/rear power split. Thanks to the air suspension, the A8 has a smoother ride than lesser Audis. Still, if you want the 20-inch wheels, make sure you're satisfied with the ride quality that they provide on rough pavement.
Other Cars to Consider
BMW 7 Series: BMW's boss sedan will still give the A8 a run for its money in driver engagement, and it's got a fantastic selection of engines to choose from.
Mercedes-Benz S-Class: The S-Class has no sporting pretensions whatsoever, but even after years on the market, it's still arguably got the most imposing presence of any executive sedan.
Porsche Panamera: The A8 might be the best executive sedan to drive, but if you broaden the field to include hatchbacks, the Panamera's athleticism is peerless. As for the styling: no comment.
AutoTrader Recommends
We'd be sure to add keyless entry/ignition to the base A8 (that's not standard on an executive sedan? Really, Audi?), but otherwise, we think the entry-level model is amazingly well-equipped for the price. We're tempted to call it a bargain.