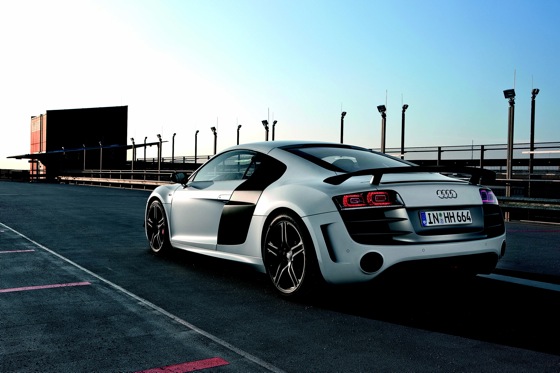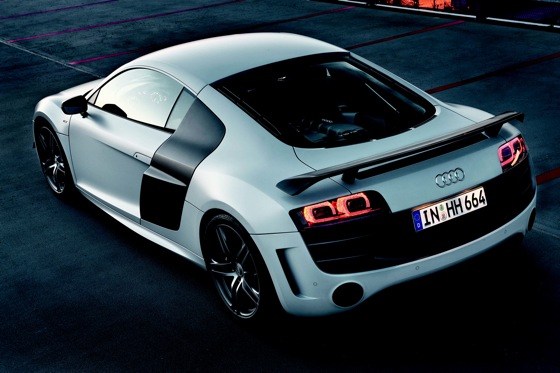 It's Comfy Out on the Edge
This may or may not be news, but Audi won the 24 Hours of Le Mans race in 2011. During the time Audi has participated in and pretty much dominated this legendary motorsports event, its team of highly talented drivers have given their input and expertise to create victorious sports cars that can be driven for hours on end.
Not only has this accumulated knowledge seeped into the standard road-going R8 coupes and convertibles – which are wonderful machines – it has reached a logical conclusion in this most extreme iteration yet, the R8 GT coupe. With its extra aerodynamic kit (check out those wings on the side of the headlights) and slightly lowered suspension, the R8 GT appears ready to tackle any endurance race.
Just like a track car, trimming weight was a must. Audi has changed the coupe's usual rear deck from aluminum to carbon fiber, while the standard automatic rear wing has also been replaced by a fixed carbon fiber item – no need for a heavy electric motor to raise or lower it. Even little savings – like using thinner glass for the windshield, a lighter steering wheel and thinner carpets – have all helped shed 180 pounds.
Behind the two seats throbs a 5.2-liter V10 engine, making 560 horsepower and 398 pound-feet of torque. Yes, that second figure does seem a bit low, especially when Mercedes-Benz AMG cars are churning out 590 lb-ft these days. When applied to the pavement, though, there isn't even the slightest hint that the R8 GT is a little shy in the torque department. The car sprints from standstill to 60 mph in just 3.6 seconds, on the way to a top speed of 198.8 mph.
Energy is transmitted to an all-wheel drive system through a six-speed, semi-automatic gearbox. There are just two pedals to deal with: one for go, one for stop. Most of the time, 85 percent of that power turns the rear wheels with the remainder driving the fronts, but up to 30 percent can be sent forward automatically, if grip conditions demand it.
The GT version has a different suspension to other R8 models. This one is more track-focused, but still no boneshaker. It would be comfortable enough to drive for long stints, especially when the actual dynamics are factored in. This car handles in such a benign manner; it feels utterly controllable at all times.
Imagine a Stradivarius violin played by a passable member of an orchestra's string section. It would sound sweet and no doubt inspire the musician to new levels of performance. Put that same instrument into the hands of a true virtuoso and its full potential is realized. It's like that with the R8 GT. It will flatter a driver with less talent, but will truly be unleashed with a real craftsman behind the wheel.
What's more, the R8 GT is cheaper than a Strad. Although it still takes $196,800 to buy one. And those excellent, fade-free ceramic brakes with the snazzy red calipers are another $9,900. Sadly, this car is also about as difficult to acquire as an antique violin. Of the 333 being made (it takes 12 days to build each example by hand), only 90 are earmarked for the United States and the company says most of those are already spoken for. Ah well, there's always the soft-top Spyder GT version, supposedly coming out in the fall with a price $20,000 above the coupe's.