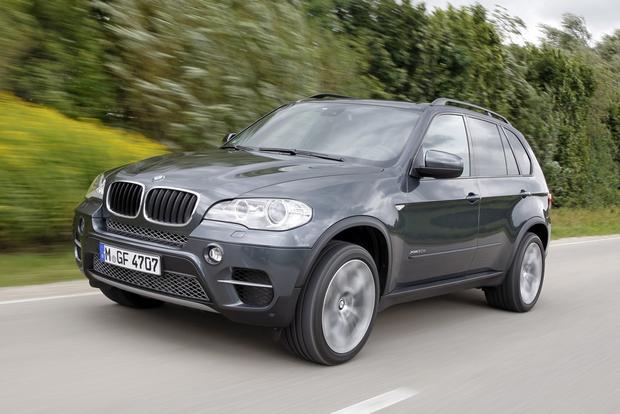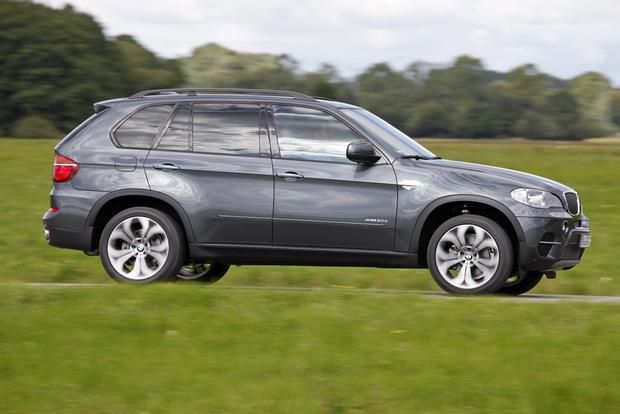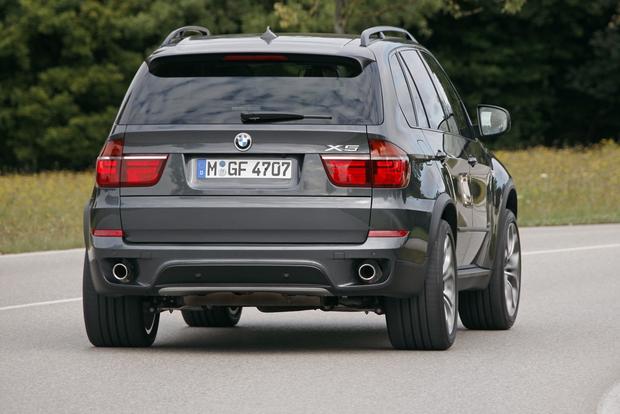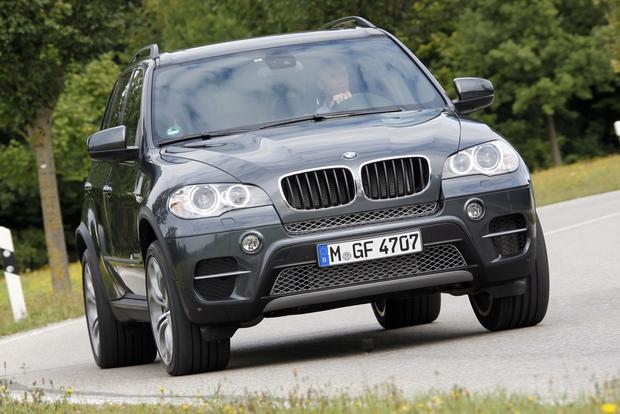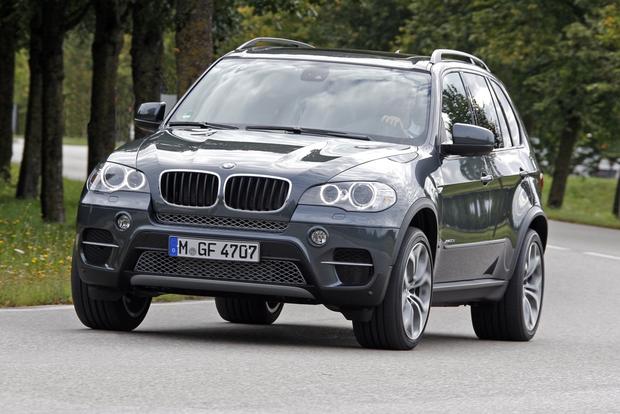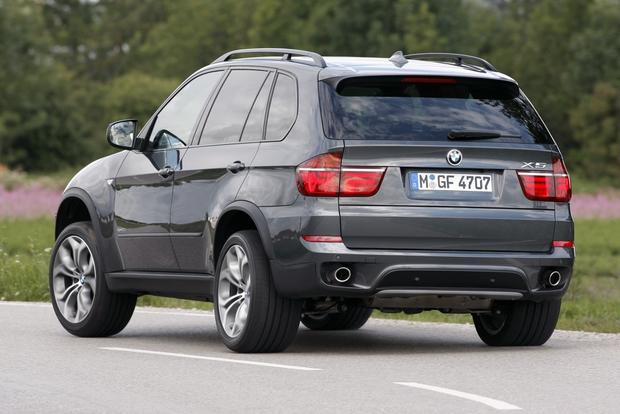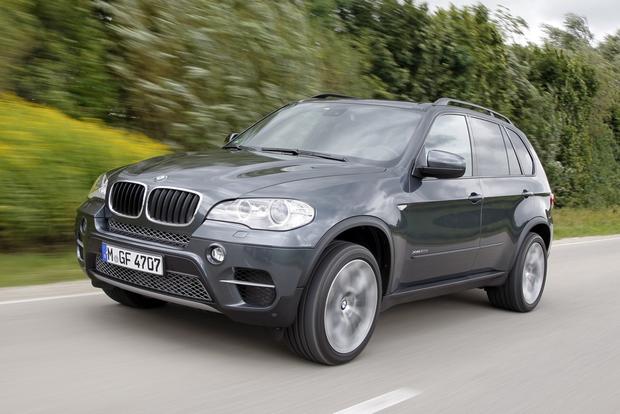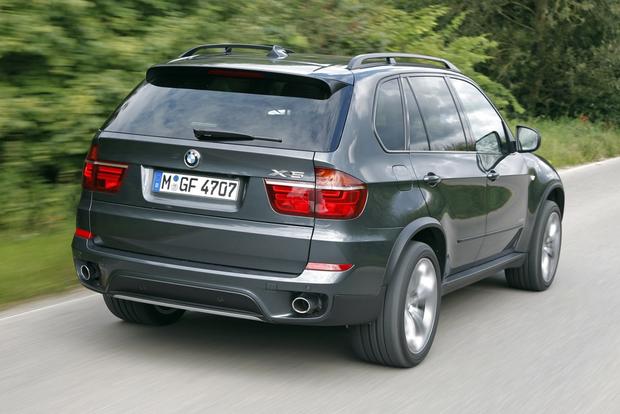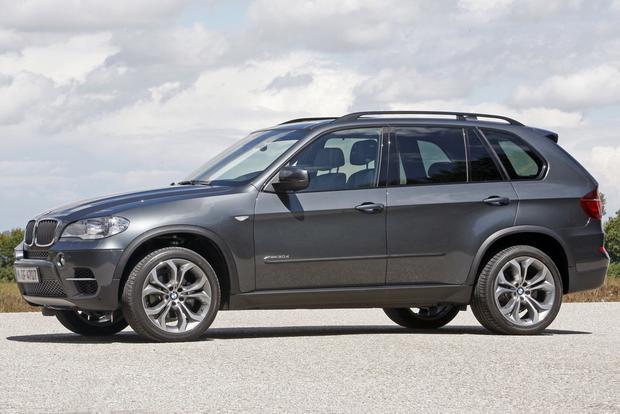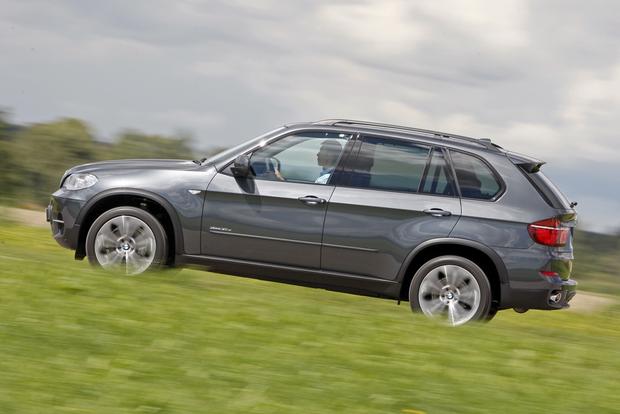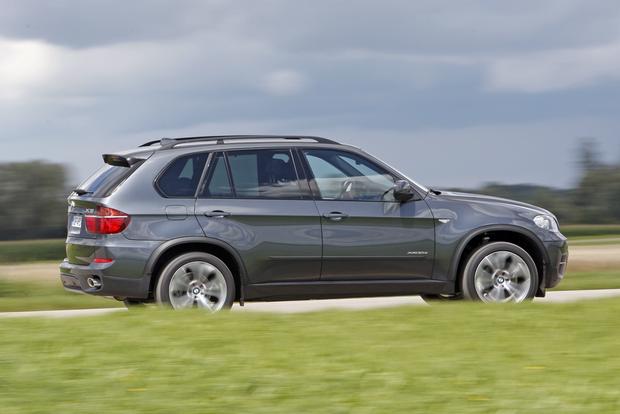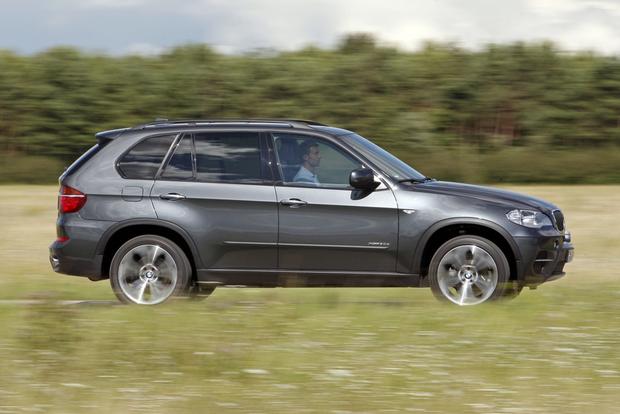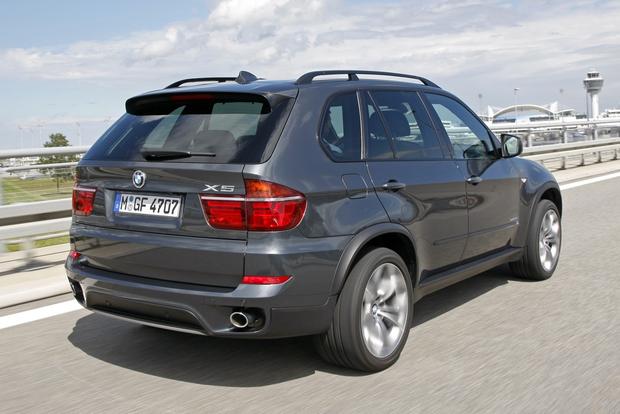 Pros: Excellent gasoline and diesel engines; remarkable handling capability; timeless styling; available third-row seat
Cons: Low second-row bench; barely usable third row; yesterday's interior; unimpressive fuel economy
The 2012 BMW X5 is like an aging superstar athlete after a steroid injection: on the down side of its career but still exceptionally capable. Fortunately, the X5's steroids were injected under the hood, where they're completely legal. Although the exterior of BMW's top-dollar crossover has hardly changed in half a decade, BMW recently saw fit to introduce a stout new roster of transmissions and turbocharged engines, including an eight-speed automatic, a diesel inline-6 and a gas V8. Combined with the X5's nearly peerless handling abilities, these improvements should be enough to keep BMW competitive in this class for a while yet.
But you might want to wait for that redesigned model for a few reasons. First, the X5's second-row bench is mounted low, and the available third row is kid size at best. We expect more in a mid-size crossover like the X5. Second, a glance at the dashboard and center console reveals materials and design elements that are clearly "old BMW," even though the iDrive information and entertainment system has kept up with the latest developments. Third, if you care about fuel economy, you'll like the diesel X5 well enough, but you'll scoff at the thirst of the other X5 models.
Nevertheless, the X5 is still one of the very best luxury crossovers from behind the wheel, and we haven't tired of its crisp, confident exterior styling, which is bound to stand the test of time. Aging superstars are often worth one last big contract, and the 2012 BMW X5 is one that we'd try to sign without a second thought.
Comfort & Utility
The 2012 BMW X5 is available in three versions: the gasoline-powered six-cylinder xDrive35i, and eight-cylinder xDrive50i and the diesel six-cylinder xDrive35d.The high-performance X5 M is reviewed separately.
The xDrive35i comes standard with a turbocharged inline-6 gasoline engine, 18-inch alloy wheels, adaptive xenon headlamps, foglamps, roof rails, keyless entry with push-button ignition, leatherette upholstery, 10-way power front seats with lumbar support and driver memory, dual-zone automatic climate control, iPod/USB and Bluetooth connectivity, a 10-speaker audio system with dual subwoofers and the iDrive information and entertainment system with its small, square display. The xDrive35i Premium version adds 19-inch wheels, a panoramic sunroof, a power tailgate, a power tilting and telescoping steering column, leather upholstery and heated seats. The xDrive35i Sport Activity version tacks on 20-inch wheels with performance tires, sport seats and subtle styling tweaks.
The diesel-powered xDrive35d slots somewhere between the xDrive35i and xDrive 35i Premium, sporting the latter's standard equipment except for the power steering column and 19-inch wheels (both of which are optional).
The xDrive50i adds a twin-turbocharged gasoline V8 and a wide-screen iDrive display with a navigation system and hard-drive-based operation (including digital music storage); however, it goes back to standard 18-inch wheels.
Notable options include 20-way power multi-contour front seats, heated rear seats, quadruple-zone climate control, a rear-view camera with multiple views, a rear-seat entertainment system, electronically adjustable dampers and a third-row seat with seatbelts for two occupants.
The X5's standard front seats are, well, pretty standard; we find their nondescript support disappointing, given the price of entry. Fortunately, you can upgrade to the 20-way multi-contour seats, which are sublimely comfortable and worth every penny. The gauges will be familiar to any BMW fan, employing the classic white-on-black numerals that change to orange on black at night. The traditional BMW dashboard curvature is instantly recognizable as well. Interior materials are good, but not great. We've noticed some uncharacteristically marginal plastics, and build quality in a recent test car was called into question by a few squeaks and rattles.
The X5's back seat is surprisingly low, especially for a crossover SUV. We're surprised the X5 doesn't offer second-row passengers a higher bench with more thigh support. The optional third-row seat is considerably more cramped than it should be in a mid-size crossover, but it does add versatility if you need to help haul the soccer team around town.
Given how tight the third row is, you might expect it to be crammed up against the X5's two-piece tailgate/liftgate, but actually there's plenty of room behind the third row-23.2 cubic feet, to be exact. Fold down the third row, and there's 35.8 cubic feet behind the second row. Maximum cargo capacity with the second row folded is 75.2 cubic feet. Not bad for this class.
Technology
The X5 may have a dated interior relative to newer BMW products, but its technology is anything but dated. Standard niceties include iPod/USB connectivity, Bluetooth and a kicking sound system with two subwoofers. But let's talk about iDrive, because it's the technological heart and soul of every X5. The base version of iDrive utilizes a small square screen that's frankly not very impressive, but if you check the box for the navigation system, you get a beautifully crisp wide-screen display backed by a hard drive with digital music storage. The iDrive interface has improved dramatically from its controversial early years, now featuring a vastly better menu structure and numerous physical buttons next to the controller knob for direct access to common pathways. It's one of the best information and entertainment systems on the market, and we appreciate that it's controlled by a console-mounted control knob instead of a touchscreen, so there's no need to lean forward and smudge the screen with your fingertips.
Performance & Fuel Economy
The X5 xDrive35i is powered by a turbocharged inline-6 rated at 300 horsepower and 300 lb-ft of torque. The transmission is an excellent eight-speed automatic. Acceleration with this engine is respectably swift and exceptionally smooth, but the X5 weighs in the neighborhood of 5,000 pounds, so don't expect miracles. The X5 xDrive35d's turbo-diesel 3.0-liter inline-6 actually makes less power than its gas counterpart, checking in at 265 hp; however, it compensates with 425 lb-ft of readily available torque, which makes the diesel X5 feel more confident when quick acceleration is called for. We love the diesel's angry soundtrack, too, and with all that torque, we don't mind at all that it only has a six-speed automatic. If you want to solve the X5's weight problem with gusto, there's the xDrive50i with its twin-turbocharged V8, which delivers its remarkably civilized 400 hp and 450 lb-ft of torque through the slick eight-speed automatic. An X5 V8 is a seriously fast SUV.
All X5 models are all-wheel drive, which at least partly explains the lackluster fuel economy. An xDrive35i gets 16 mpg city and 23 mpg highway, while the xDrive50i drops to 14/20 mpg. The diesel-powered xDrive35d is the winner at 19/26 mpg, although even those numbers seem like they could be higher.
Safety
The 2012 BMW X5 comes with standard stability control, four-wheel ABS and six airbags (front, front side and full-length side curtain).
The government hasn't crash-tested an X5 lately, but the independent Insurance Institute for Highway Safety awarded the X5 its highest rating of Good in every tested category.
Driving Impressions
The X5's unusually high steering effort at low speeds is impressive. It almost feels as if the power steering system is broken. But there's a flip side to this coin: the wizened X5 still employs trusty hydraulic power steering, and that gives it an unusually precise, connected feel at the helm once you're up to speed. Body roll is kept mostly in check, no small feat in a 2.5-ton SUV. Indeed, this BMW puts the "Sport" in SUV, generally comporting itself like a tall previous-generation 5 Series sedan (which is essentially what it is). The ride is firm but supple, in the classic BMW manner, and even the optional 20-inch rims can't make this ute jittery over bumps. Only the Porsche Cayenne delivers more smiles per mile in this class, and you'd have to pay a bundle to get a Cayenne that can keep up with an xDrive50i.
Other Cars to Consider
Mercedes-Benz M-Class: The thoroughly redesigned 2012 M-Class isn't nearly as rewarding to drive as the X5, but it has plenty of presence, and its ride is exceptionally smooth. Worth a test drive.
Porsche Cayenne: Cayennes can be pricey when you option them with all the stuff you like, but for some, that's a reasonable price for exclusivity.
Volkswagen Touareg: The Touareg has a nice interior, a wonderful back seat and decent off-road capability. It handles surprisingly well, too.
AutoTrader Recommends
We'd take the diesel. It offers the best mileage and almost the best torque. The standard feature set is robust, too.