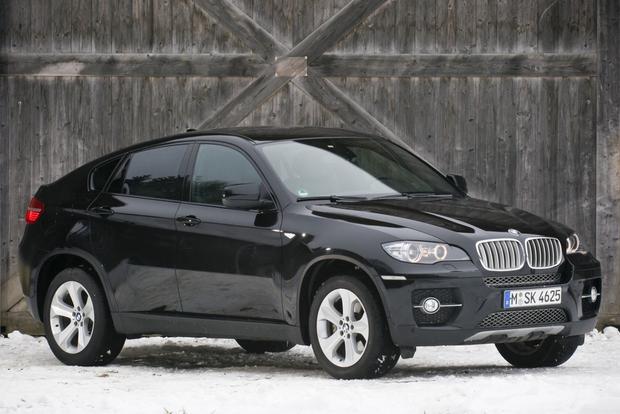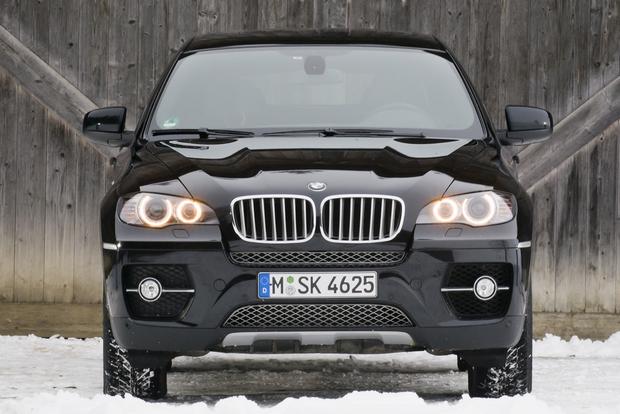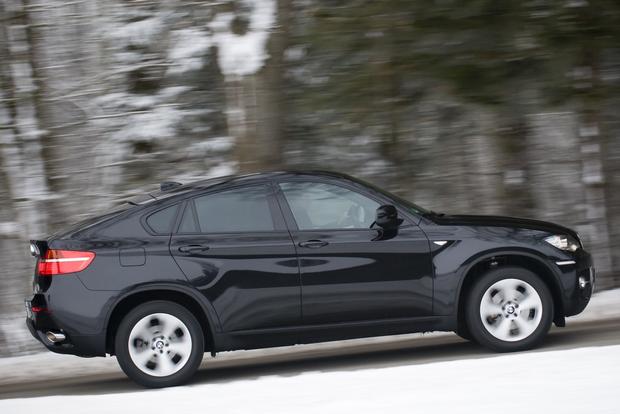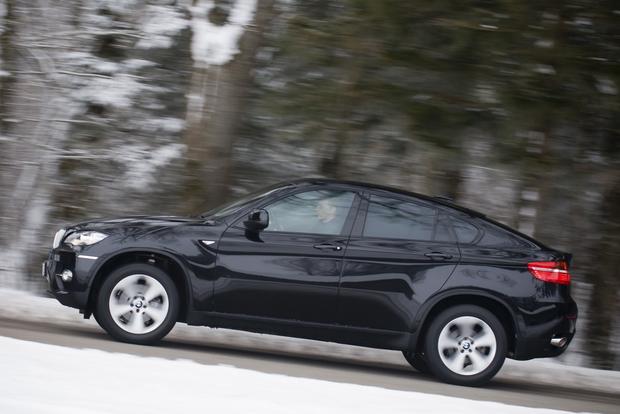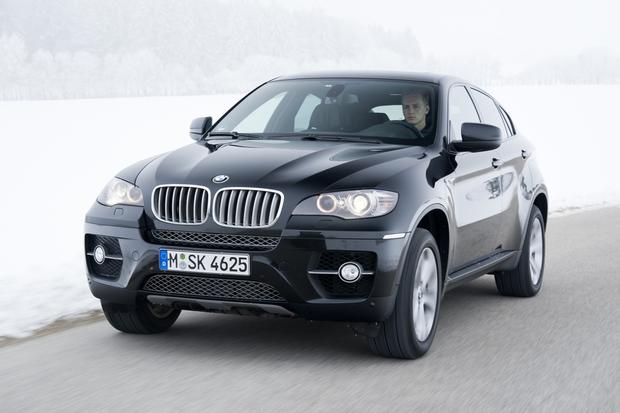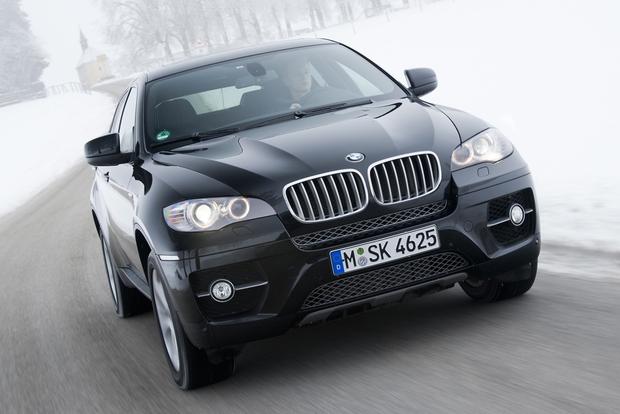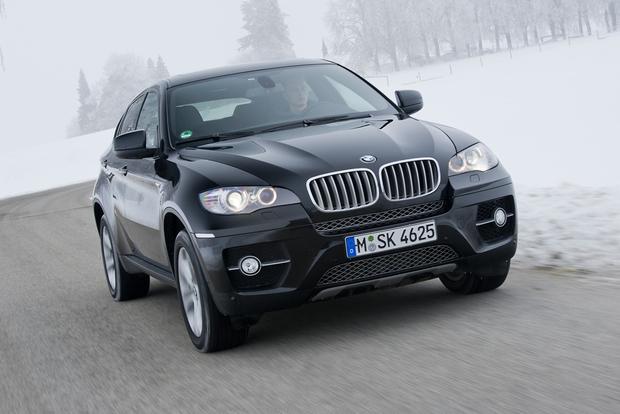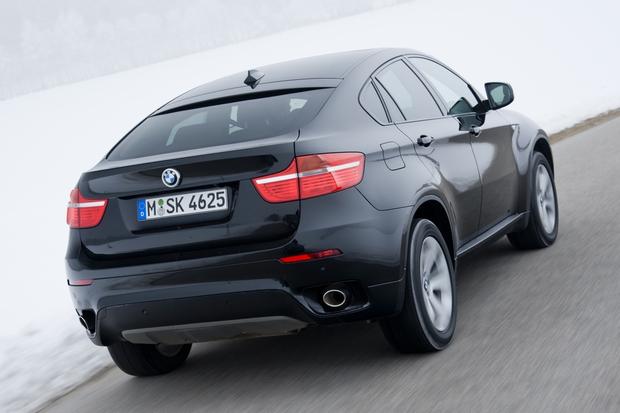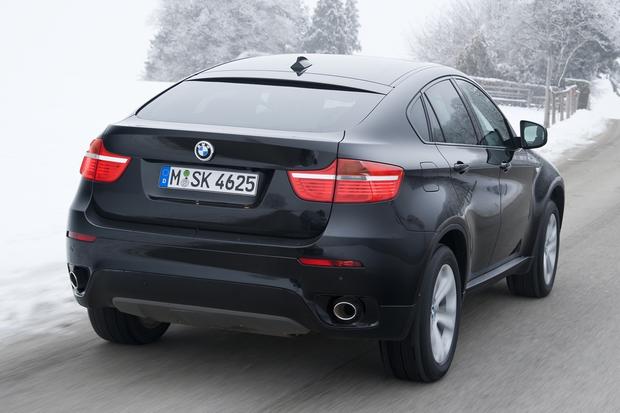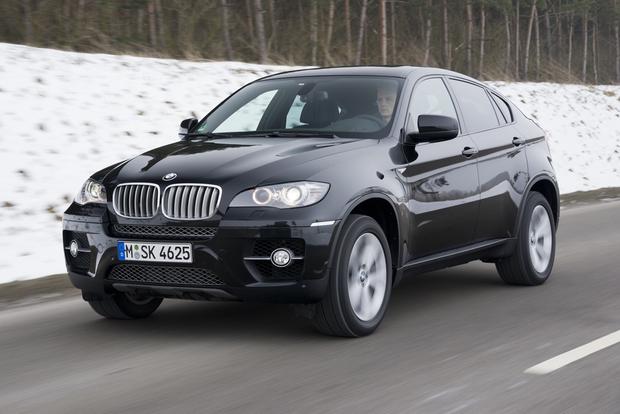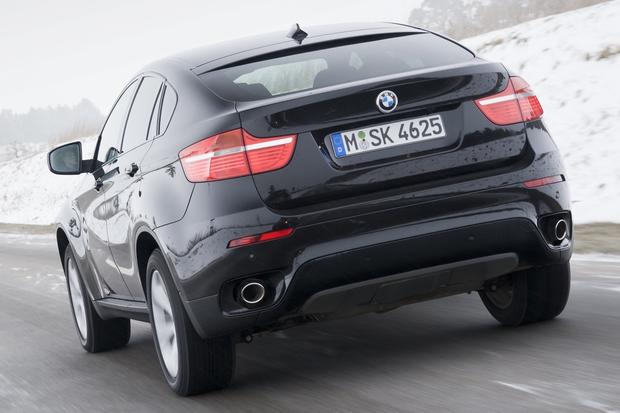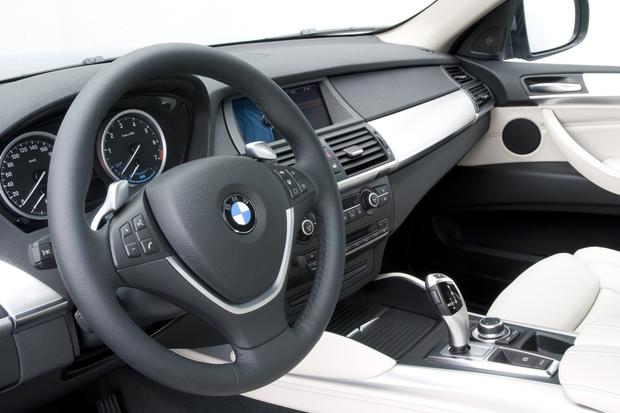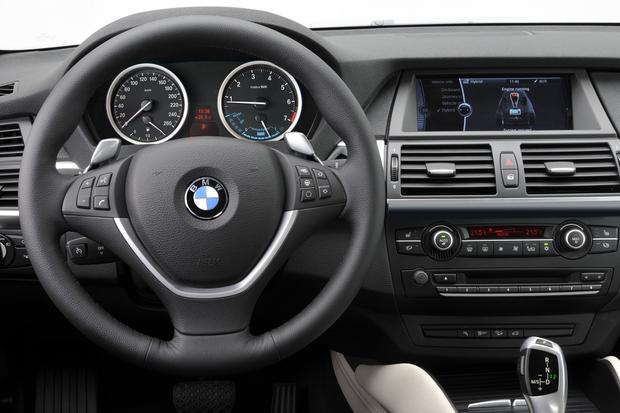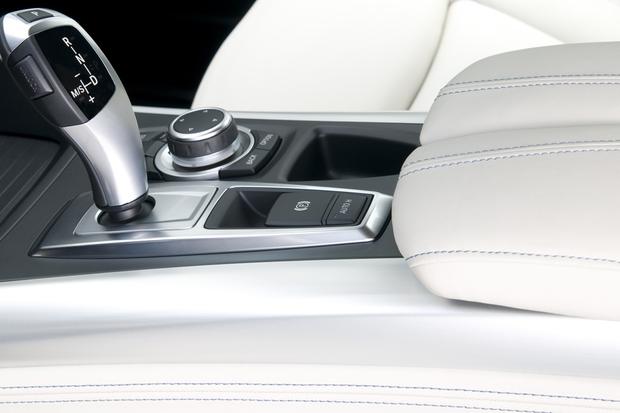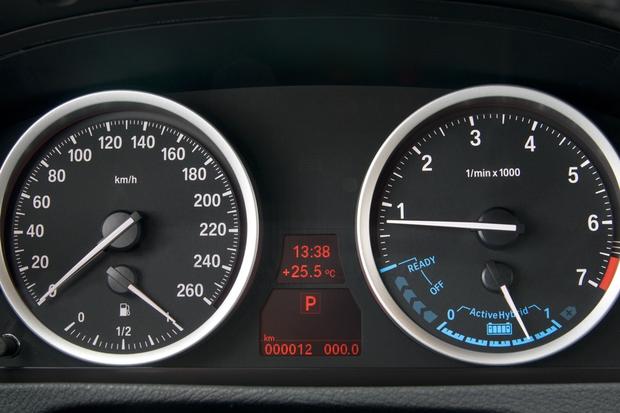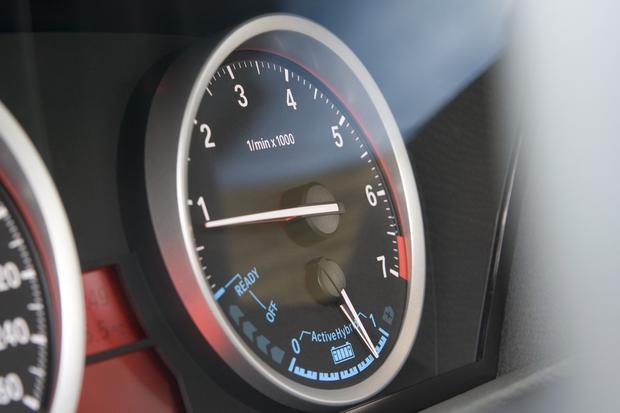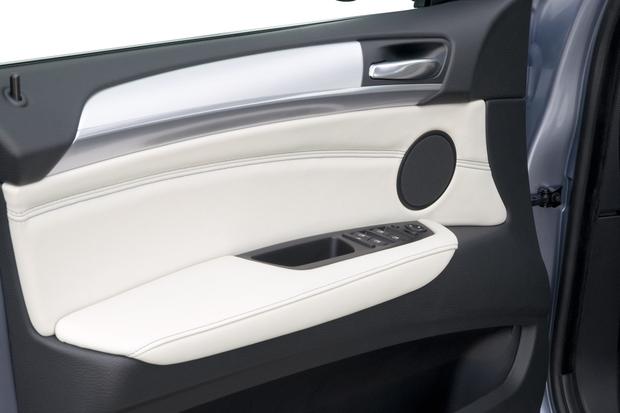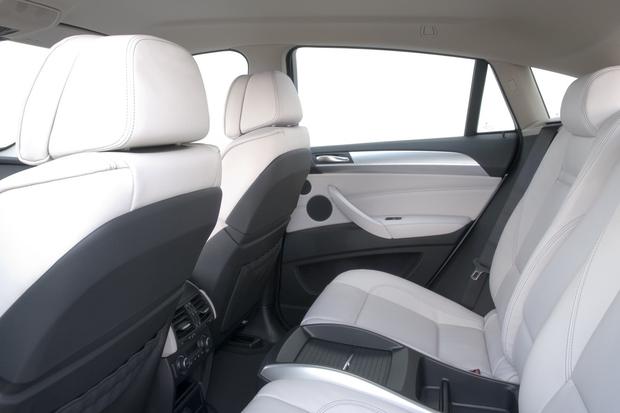 Pros: Great engines; impressive handling; rich feature set
Cons: Limited cargo and passenger capacity relative to X5
The 2012 BMW X6 is what BMW calls a Sports Activity Coupe. We say it's a crossover SUV. After all, the basis for the X6 is BMW's mid-size crossover, the X5. And in this country, at least, coupes don't have four doors; they have two. So what we've got here, really, is a crossover SUV with a rakish roofline that compromises its cargo capacity. Under that definition, the X6 doesn't have a whole lot of appeal.
But let's think about the X6 on its own merits, not as a more limited X5. The body is effectively a four-door hatchback, which we generally love for practicality and style. Speaking of style, the X6 is definitely less conservative-looking than its X5 sibling; we don't exactly see beauty when we behold it, but we can see how folks might be drawn to its distinctiveness. The X6's back seat is more accommodating than the X5's, thanks to its higher bottom cushions, and you can choose from separate rear buckets (unavailable on the X5) or three-across seating for 2012. And the X6 handles better than the X5-which is one of the best-handling crossovers on the planet.
Most pundits love to hate on the X6, but we think this BMW deserves respect. If you need a third row or the ability to stack boxes up to a normal SUV's ceiling height, you should stick with the X5. But instead of deriding the 2012 BMW X6 for what it's not, we strongly suggest appreciating it for the excellent vehicle that it is. Sports Activity Coupe, crossover SUV, overgrown hatchback-you can call the X6 whatever you like, but you can't deny its lengthy list of virtues.
Comfort & Utility
The 2012 BMW X6 is available in two trim levels: six-cylinder xDrive35i and eight-cylinder xDrive50i. The high-performance X6 M is reviewed separately.
The xDrive35i comes standard with 19-inch alloy wheels, adaptive xenon headlamps, foglamps, a sunroof, a power liftgate, keyless entry with push-button ignition, leather upholstery, 10-way power heated front seats with lumbar support and driver memory, two rear bucket seats with a center armrest, dual-zone automatic climate control, iPod/USB and Bluetooth connectivity, a 10-speaker audio system with dual subwoofers and the iDrive information and entertainment system with a small, square display.
The xDrive50i adds different 19-inch alloy wheels, chrome exterior trim, 20-way multi-contour front seats and a wide-screen iDrive display with a navigation system and hard-drive-based operation (including digital music storage).
Most of the xDrive50i's standard niceties are available on the xDrive35i. Notable options include quad-zone climate control, three-person rear seating, sport seats, adaptive dampers, 20-inch wheels and a 16-speaker, 600-watt audio system.
Compared with the X5, the X6's driving position is definitely more low-slung, so BMW got that part of the coupe equation right. It's a pleasantly strange sensation to be sitting higher than in a regular car yet within the intimate confines of a coupelike cabin. The standard 10-way power front seats are no slouches, and the sport seats are admittedly solid, but the xDrive50i's phenomenal 20-way multi-contour seats-optional on the xDrive35i-are without question the way to go. They're that good.
The gauges are standard BMW spec, employing the classic white-on-black numerals that change to orange on black at night. The interior materials are of high quality, although the X6's dashboard is largely shared with that of the X5, which means it's older than most current BMW dashboards and perhaps not assembled to quite the same exacting standards. We were disappointed to discover that the high-priced X6 doesn't come standard with the crisp wide-screen iDrive display; you have to pay extra for the navigation system to get the wide screen, or else you're stuck with a very plain square display.
We find the X6's standard rear bucket seats more comfortable for two passengers than the X5's rear bench. BMW raised the hip point of the back row for X6 duty, which means you sit up higher than in the X5, with better thigh support. There's an available middle seat that you can specify in place of the standard center armrest, but we wouldn't recommend it; the X6 is comfier and frankly cooler with the Porsche Panamera-style rear buckets.
As for cargo space, the X6 may pale in comparison to the boxier X5, but it's actually not bad at all relative to smaller crossovers like the X3. In fact, the X6 technically has more maximum cargo space than the X3-59.7 versus 56.5 cubic feet-and nearly as much regular trunk space at 25.6 cubic feet. That's on paper, though; in the real world, the X6's sloping rear roofline makes its cargo bay more like that of a big hatchback than a true SUV.
Technology
The standard X6 xDrive35i comes with a basic version of iDrive that utilizes the sort of small, square screen we expect to find at a much lower price point. But if you check the box for the navigation system-standard on the xDrive50i-you get a beautifully crisp wide-screen display backed by a hard drive with digital music storage. Either way, the iDrive interface has improved dramatically from its controversial early years, now featuring a vastly better menu structure and numerous physical buttons next to the controller knob for direct access to common pathways. It's one of the best information and entertainment systems on the market, and we appreciate that it's controlled by that console-mounted control knob instead of a touchscreen, so there's no need to lean forward and smudge the screen with your fingertips.
Performance & Fuel Economy
The xDrive35i is powered a turbocharged inline-6 rated at 300 horsepower and 300 lb-ft of torque. Acceleration is satisfactory with this engine, and refinement is off the charts; however, the X6 is a roughly 2.5-ton beast, so 300 hp really isn't all that much. We'd be sorely tempted to go whole hog and get the xDrive50i, which features a twin-turbocharged 4.4-liter V8 that's good for 400 hp and 450 lb-ft of torque. So equipped, the X6 transforms into a veritable muscle car, surging forward effortlessly at any speed when you give it the spurs. The V8 is otherworldly; few engines can match its combined performance/civility index.
A slick eight-speed automatic transmission is standard on every X6, as is all-wheel drive. Fuel economy is not an X6 strong suit. It checks in at 16 mpg city/23 mpg highway with the inline-6 and 14/20 mpg with the V8.
Safety
The 2012 BMW X6 comes with standard stability control, four-wheel ABS and six airbags (front, front side and full-length side curtain).
Neither the government nor the independent Insurance Institute for Highway Safety has crash-tested the X6.
Driving Impressions
The X6 has great genes: the X5, based on the nimble previous-generation 5 Series, is one of the most athletic crossover SUVs we've ever driven. Due to its lower center of gravity and some suspension tweaks, the X6 is even sharper in corners, exhibiting a degree of poise that's scarcely believable given the car's roughly 5,000-pound curb weight. Ride quality somehow remains thoroughly civilized. We'd only ask for less steering effort at parking-lot speeds; the X5 passed along its heavy steering, too, and the X6 could do without that.
Other Cars to Consider
Acura ZDX: The ZDX is frankly uncompetitive with the X6 in performance, but it has a similar design concept (albeit with a more cramped back seat), so it's worth checking out.
BMW X5: If you want more cargo space and passenger capacity than the X6 provides, know that the X5 delivers a very similar driving experience in a more practical package, and it offers an excellent turbo-diesel, too.
Jeep Grand Cherokee SRT8: Jeep hasn't quite cracked into the X6's refinement bracket with the new Grand Cherokee, but it's getting there. Plus, who's going to argue with 6.4 liters of pure American V8 muscle for thousands less than even the six-cylinder xDrive35i?
AutoTrader Recommends
Did you see all the standard equipment the Gran Turismo's got? We're amazed. There's one option we'd go for-those multi-contour front seats-but otherwise, the base 535i model has everything we'd want.