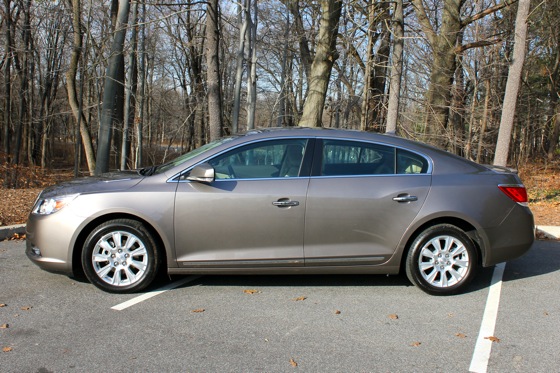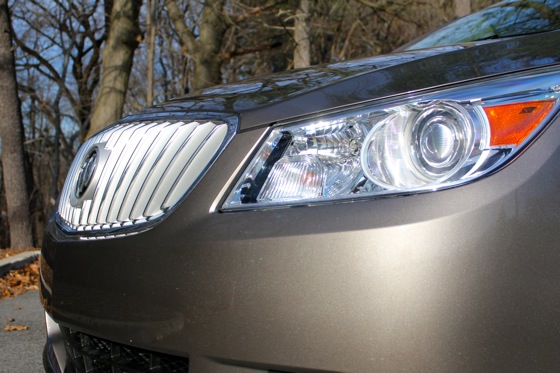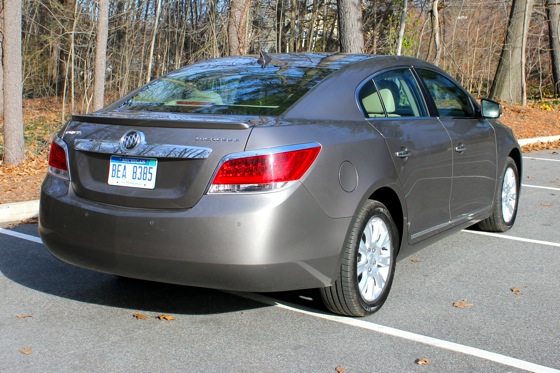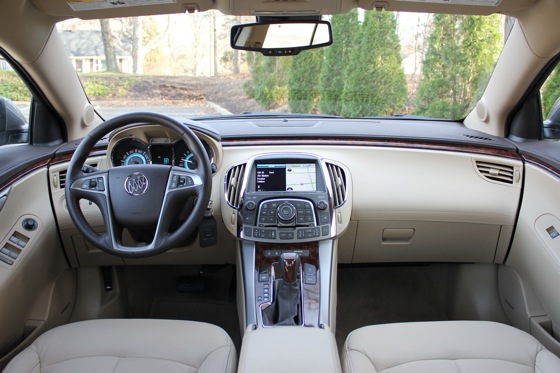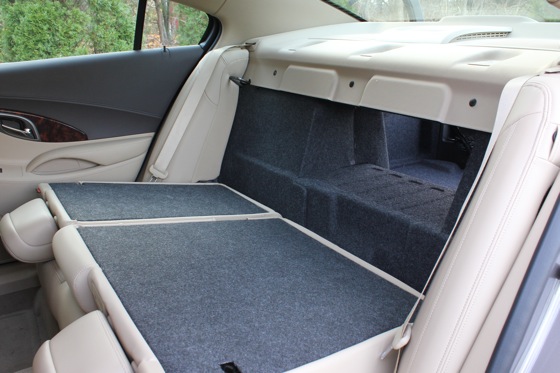 Combining European styling with modern luxury touches and excellent fuel economy, all of Buick's new and redesigned nameplates are largely unrecognizable from the dated brand most Americans still remember. Stodgy and mild no longer have a place in the Buick vocabulary, and, arguably, there is no better example of that than with the new LaCrosse.
When the LaCrosse received a major overhaul in 2009, it was billed as the first car of a new generation of Buicks that were meant to attract a younger buyer-meaning 40 and 50 year olds. For the most part the strategy has succeeded and with the addition of both the new Verano and Regal to the lineup as well as the continued success of the Enclave, Buick's efforts have been rewarded with incredible double digit sales growth in the last year alone.
For 2012, the LaCrosse has received some major tweaks meant to further increase its appeal to younger buyers, the biggest of which are a brand new eAssist powertrain-providing excellent mileage for a luxury car in this class-as well as a touchscreen infotainment system with good smartphone integration.
The 2012 LaCrosse is an excellent choice for luxury shoppers seeking fuel economy and value. Yes it has a few foibles, but they are by no means dealbreakers-especially among the car's target market.
Good Fuel Economy Comes Standard
Rising fuel economy regulations have forced automakers to come up with new ways of making cars more efficient without losing the performance customers demand. The major strategy GM has adopted to attain these seemingly mutually exclusive goals involves a light electrification system dubbed eAssist.
As the first vehicle across all of GM's brands to receive its eAssist package as standard equipment, the 2012 LaCrosse represents a vanguard of sorts, and it's a strategy GM has said will spread across much of its passenger vehicle lineup in the years to come.
The eAssist system mates a large starter motor/generator combo to a 2.4-liter, four-cylinder engine and pairs it to a big battery in the trunk. The combination of these two elements allows the vehicle to capture electricity through regenerative braking and use that electricity to provide an assist to the gas engine during acceleration. The large starter motor also allows the vehicle to shut off the engine when slowing down and stopped and start back up immediately when needed.
Altogether the system can return some impressive numbers, with the EPA rating it at 25 mpg in the city and 36 mpg on the highway. During a week of driving on approximately 70 percent highway and 30 percent city roads our test car returned about 29 mpg. Considering a large part of that driving was with a fully loaded vehicle carrying luggage for four people and usually seating three adults and two children, the result is all the more impressive.
The auto start-stop feature of the eAssist system performed flawlessly and the engine turned on and off quicker and even more unnoticeably than on most full hybrids such as the Toyota Prius or Ford Fusion Hybrid. The only clue that the system was working came when the tachometer dropped below zero into a section of the gauge that read, "auto stop."
Although the mileage from the base eAssist system is very good, the drivetrain felt as if it were occasionally struggling to keep up in heavy North East Thanksgiving traffic where short spurts of fast acceleration can make the difference between unharmed and accident. Even with the car's smooth 6-speed automatic transmission, when my foot was mashed on the gas pedal it produced a high pitched whine and strained to meet my demands-although the results were still acceptable.
For customers less concerned about mileage and more concerned with a smoother drive and more responsive acceleration, Buick does offer a 3.6-liter V6 upgrade. However, the V6 drops fuel economy substantially to 17-city and 27-highway mpg.
Although the LaCrosse starts at a base price of just around $30,000 after destination and handling, our test car came equipped with convenience, comfort, leather, audio and safety packages that pushed it to a total price of $36,685. These options included adaptive high intensity headlights that were articulated to follow the curves in the road, a blind spot warning system, ultrasonic parking assist, heads up display, navigation system, backup camera, heated seats, fog lamps, an 11 speaker Harman/Kardon audio system, a 120-volt three-prong power outlet, and 8-way adjustable driver and passenger seats.
The V6 engine costs another $1,500 and brings with it some additional comfort and luxury features. All-wheel drive is also available for $4,000 more and requires the V6.
Interior Hits and Misses
While the interior of the 2012 LaCrosse is generally well designed and pleasing to look at, there are a few issues that came up over the course of a week of hauling a family around in it. One of the car's best features is how well the engineers handled noise and vibration. In fact, the car was so quiet even on poorly maintained highways that the road sometimes faded away as an afterthought. With the engine off at every stop sign and streetlight, the quietness was even more noticeable during in city driving.
Although the seats were generally comfortable for long rides, and the 8-way adjustability didn't leave any dull spots, they could benefit from a bit more bolster for front passenger hips and thighs.
There are also some minor details that we hope to see Buick address in the next generation. For one the front cupholders are so high that the driver and front passenger constantly hit any cups in them with their elbows. Also, in a classic case of design trumping functionality, the front door handles are partially covered by a design element that makes grabbing the handle sometimes a bit frustrating.
The center console LCD screen is also positioned such that the driver's right hand obscures a portion of it causing the driver to crane his or her neck to glimpse at it while driving. In addition, as with many modern vehicles, the gunslit window fad has created rear windows on the LaCrosse that anybody less than 5 feet tall will have trouble seeing out of. For young children this makes for some very boring trips.
In an effort to attract a younger, more tech-savvy buyer to the brand, Buick's smartphone integration is very good and relatively intuitive. Connecting an iPhone to the system worked flawlessly and the Bluetooth audio phone connection was clear and easy for incoming callers to understand, even at highway speeds.
Safety Packed But Steering is Twitchy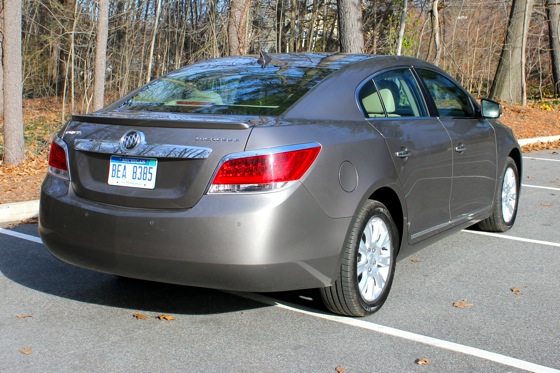 The 2012 LaCrosse comes standard with a host of six airbags, stability control, traction control, ABS and daytime running lights. The available $1,440 'Driver Confidence Package'-which our test car was equipped with-provided some additional safety features that make that package an incredibly appealing value, including a heads-up display, articulated front headlights and a blind spot warning system.
The heads up display not only provided a quickly accessible speedometer, but was also capable of showing navigation directions and satellite radio information. The articulated high intensity discharge headlights curved with the turn of the steering wheel and provided great nighttime visibility around dark corners. On several occasions in heavy holiday traffic, the blind sport warning lights on the side rear view mirrors provided critical information without the need to look away from the road ahead. Even without those additional safety features the LaCrosse has obtained a five star overall rating from the NHTSA and a "Top Safety Pick" from IIHS.
Yet, although it has some good safety credentials, the modern LaCrosse has unfortunately inherited the steering of the old Buick. The steering is twitchy at high speeds, and caused passengers in the car to remark on it as nearly nausea inducing on more than one occasion and independently of one another. Slight steering corrections led to amplified and noticeable jerkiness at freeway speeds. Although it wasn't ever a big enough problem to cause a safety concern, during long drives the effect became tedious.
Even with its relatively minor foibles, the 2012 LaCrosse is a solid effort. Combined with its modern Buick siblings, it's no wonder the Buick brand is experiencing some of the fastest and strongest growth in the industry. Loaded with luxury features at a less-than-luxury price, the 2012 LaCrosse is a great value and should be on the test drive list of any shopper looking to buy an Acura, Lexus, Lincoln or even a high end Camry.