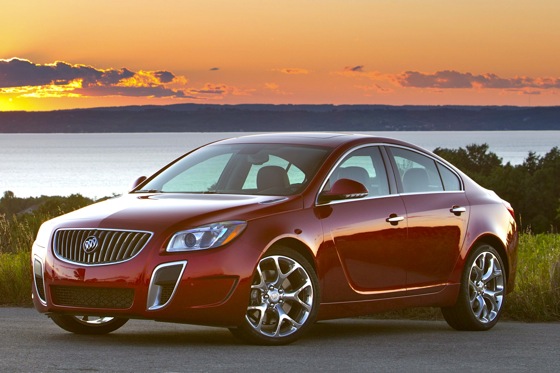 That we have today's Buick Regal is a good thing for anyone in the market for a mid-sized, mid-priced sedan with near-luxury aspirations. GM's German subsidiary, Opel, has crafted just such a platform for those in Germany without a need for an Audi, BMW or Mercedes badge, and management at Buick realized a mildly tweaked Opel would make a very credible Buick. There were, to be sure, some modifications made to the Opel architecture to adapt it to American wants and needs, but those changes were (thankfully) modest in nature, and they did nothing to remove or conceal the essential goodness of the Opel's structure, suspension and drivetrain.
If you think it's difficult to remain relevant in today's automotive marketplace, try and obtain an interview with the brand managers at GM's Saturn or Pontiac. You guessed it; with the demise of Saturn and Pontiac, there are no brand managers. And were it not for Buick's resounding success in China, where it's perceived to be the aspirational brand for China's upper-middle class, there wouldn't be Buick brand managers, either. In the wake of the General's bankruptcy, everything - including Buick - was on the table.
For American drivers, consideration was given to both interior comfort and on-road demeanor. And while the dollar's decline against the Euro continues to work against affordable German automobiles (and explains US factories for BMW, Mercedes and Volkswagen), transplanting Opel tooling to US factories provides American buyers with European specifications at American and/or Asian price points. It's a win/win when visiting the showroom, and for the subsequent 48, 60 or 72 monthly payments.
Personal Space
In a category where bigger is inevitably described as better, Buick's product team marches to a slightly different drummer. The Regal, in any of its iterations, will certainly seat you comfortably, but with an overall length of roughly 190 inches on a wheelbase of just under 108 inches, the Regal's footprint is closer to that of an Accord built some fifteen years ago, and not the stretched iteration we know today.
That tighter exterior dimension translates to a passenger compartment with the ability to carry five adults, but supplying a greater comfort level for four. This is personal space, and while you and your 2.3 kids can be supremely comfortable, there is a sense of connection with other passengers and your surroundings that is magnified by your connection to the Regal. Its 3-spoke steering wheel is designed to heighten control, the gauges are fully informative, and few cars in its category provide the option of shifting via an available 6-speed manual. Today's Regal won't provide you with cross-your-legs legroom in back, but then, this isn't intended to replace your SUV; it's designed to supplement it.
Sport Sedan
In a land populated to an ever-growing degree by Asian-generic mid-sized sedans, Buick's Regal strikes a note of distinctiveness with an almost coupe-like profile, relatively short overhangs and detailing that constitutes a unique mix of organic and angular. And within its agreeable proportion are generous access to the front seats, gracious access to the rear and reasonable visibility all around. You'll also appreciate a level of fit and finish on the Regal that just ten years ago would have been considered an aberration on any GM showroom.
We're also taken by Buick's decision to avoid the boy racer appendages often seen on performance variants. To be sure, there are cosmetic differences between the Regal and its GS high-performance variant, but those differences are tastefully restrained. We would pass on the available 20-inch alloys, and we remain puzzled by the affection the Big Three continue to hold for chrome wheels (and consumer willingness to pay extra for same). We also enjoy the Regal's athletic stance, especially when compared to upmarket Camry and Accord models, whose visual demeanor has grown to be anything but athletic.
Four Score
In stark contrast to GM's well-established reputation for providing an engine for every pocketbook, today's Regal keeps things marvelously simple. Those seeking economy of operation along with a lower base price can opt for Buick's 2.4 liter Ecotec, providing 182 horsepower, 172 lb-ft of torque and an EPA estimate of 19 city/31 hwy. This powertrain is fitted with a 6-speed automatic, a 3.23:1 final drive ratio and the non-intrusive appeal for which the Accord and Camry have become justifiably famous.
For those leaning green, opt for Buick's eAssist, which adds to the 2.4-liter 4-cylinder a smallish electric motor with 15 hp and 79 lb-ft of torque. The package provides a small assist in acceleration and a relatively huge benefit in economy. Its EPA figures of 25 city/36 hwy are fully competitive with other hybrids in the mid-sized segment, and provide it little uptick in the purchase price as well as an appreciable increase in driving engagement.
Buick prospects hoping to do more with less can opt for one of two 2.0-liter turbocharged 4-cylinder engines. In its more conventional form, the Regal provides 220 hp and 260 lb-ft of torque. It drives the front wheel through either a beefed-up automatic or an available 6-speed manual transmission. The newly introduced Regal GS moves the meter, with 260 hp and 295 lb-ft of torque. At introduction the GS will be available only with a manual transmission, an interesting decision on the part of Buick's product team. By the middle of the model year an automatic - again, with enhancements - will be made available as an option.
At even its most prosaic, the Regal is an engaging driving experience, with well-connected steering, adequately damped suspension and a drivable demeanor rarely associated with the brand. The GS absolutely rocks, although our affection for manual transmissions is tested when planted within a mid-sized 4-door. And if you're considering alternatives to conventional drivetrains, the Regal with eAssist provides a compelling argument for hybrid tech within a relatively conventional envelope.
Euro Design at a Dollar Discount
Early iterations of the Buick Regal were built in Germany and shipped to the US, an expensive means with which to supply American Buick dealers with competition for US-sourced Accord and Camry models. Today the Regal is built stateside; price points between $27,000 and $36,000 reflect that decision. Notably, even base Regals are well equipped, offering AM/FM/XM stereo with CD and MP3 player; heated driver and front passenger seats; 8-way power seat adjustment for the driver; halogen headlamps and 18-inch alloy wheels. From its $27K base, Premium groups add to the array of comfort and convenience amenities, while turbocharging allows you to escape the ordinary even faster.
With the Regal's mix of comfort, convenience and composure, it effectively bridges the gap between lesser-equipped Accords and Camry vehicles priced (slightly) beneath it, and the Acura TL, Infiniti G25/37 and Volkswagen CC priced above it. The Regal provides a satisfying selection in any guise, and a genuinely entertaining option when equipped with either of the two turbo engines.
Of course, in GM's new era of enlightenment, its management is eschewing volume for volume's sake; you might not need to pay the MSRP, but neither will the available discounts or incentives significantly alter a Regal's affordability. Were it our shopping experience, we'd opt for the 220-hp turbo, consider the 6-speed manual and ultimately spring for the 6-speed automatic, selecting those options closely aligned with an enhanced driving experience. That would almost certainly include Regal's Interactive Drive Control System, available on the 2.0-liter Turbo and standard on the GS. Offering two driver-selectable modes, the suspension is adjusted to better match your own driving preferences and, of course, road conditions.
In an ultra-competitive segment, with new offerings seemingly appearing daily, the Regal represents an almost niche-type alternative to the category's mostly Asian mainstays. For this alone it might make for a worthwhile alternative.