Car Review
2012 Chevrolet Colorado: New Car Review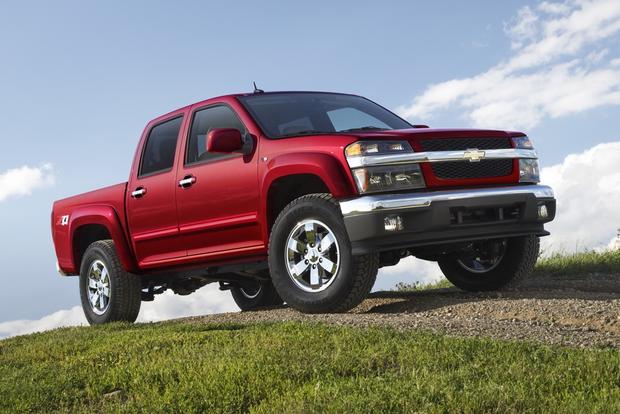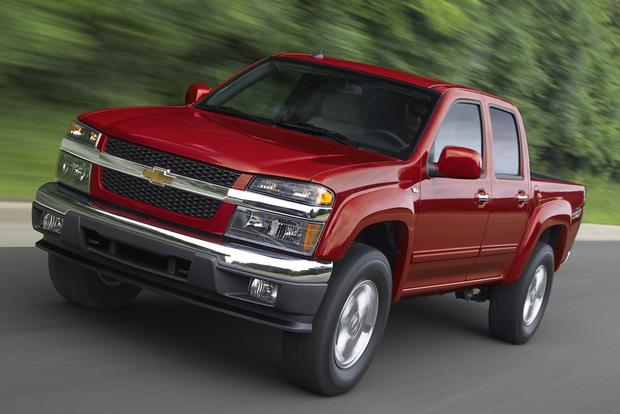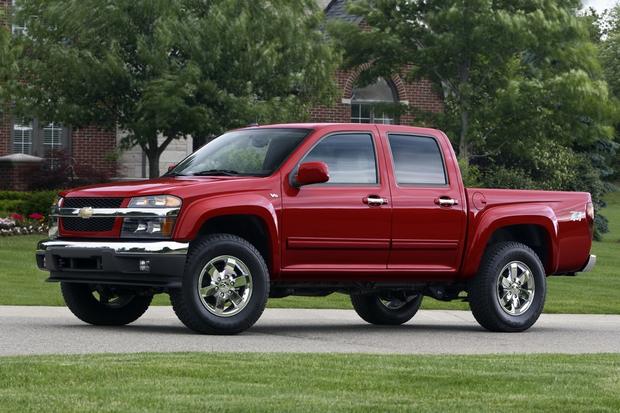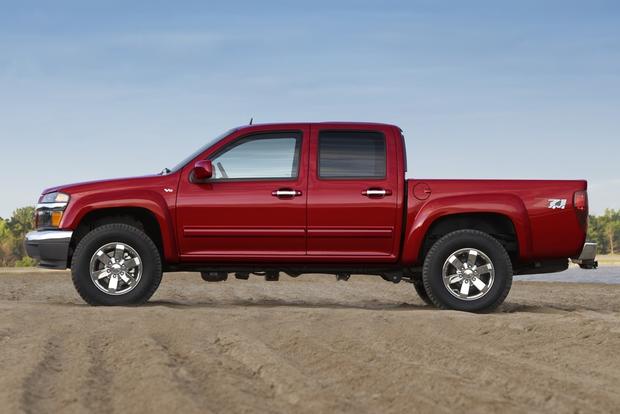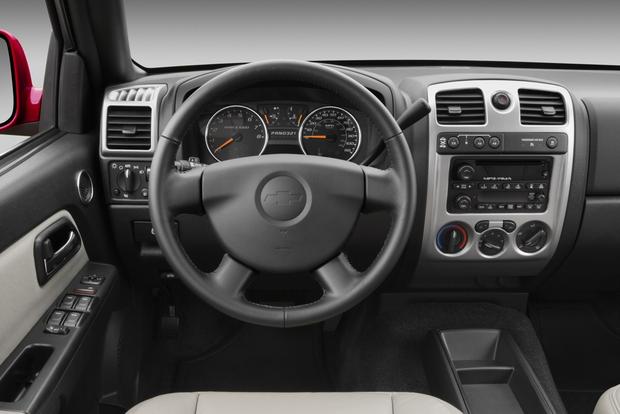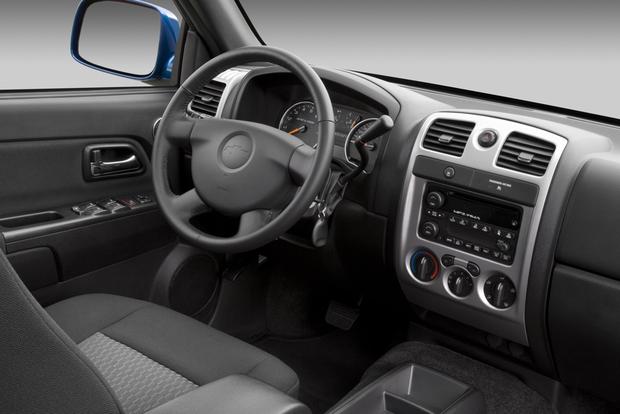 Pros: A great light-duty package for those with a need for an open bed - and little else
Cons: The Colorado's interior was marginal at the time of its debut, five cylinders might never catch on in the US marketplace, and the Japanese have the midsize category capably covered
Given the aggressive rebound of GM's fortunes, with sales up and profits well above forecasts, the rising tide should lift all ships. And for the most part the cliche holds true, until you look at Chevy's Colorado. Long a stepchild of the Chevy truck showroom, Chevy's midsize entry is overshadowed by the larger Silverado and its generous incentives above it, as well as new entries targeting Gen Y consumers (Chevy's Sonic and Cruze) beneath it. Despite the lack of attention and investment, the Colorado remains a valid consideration for a light-duty truck user.
The 2012 Colorado is one pickup that hasn't been overbuilt. To be sure, Chevy's midsize benefits from GM's 100,000 miles/5-year powertrain warranty. And that warranty applies to all three available powerplants: a 2.9-liter 4-cylinder, 3.7-liter 5-cylinder and 5.3-liter V8. But the Colorado, in any of its cab configurations, has a light, almost tossable feel behind the wheel, a nimble nature which eludes its Nissan and Toyota competition. In the guise of an in-town, Home Depot-type shuttle, the Colorado (despite numerous shortcomings) seems just about perfect.
Comfort & Utility
Within the context of an aging platform built in a soon-to-close plant, the Colorado offers reasonable comfort and abundant utility. Available in four trim levels, including the very basic 'Work Truck' (is there a better descriptive?), the Colorado starts at a consumer-friendly $17,475; options, however, can easily elevate the window sticker by another $10,000. And while you'd reasonably assume that higher trim levels afford more comfortable appointments, you shouldn't bring those higher expectations to a Colorado showroom. Even at an MSRP approaching $28K, a 2WD Z71 Colorado was notably lacking in interior appointments, upgrades or comfort. The cloth-covered bucket seats lacked support, headroom was (at best) marginal and rear-seat legroom in the crew cab suggested the area is best left to smallish children. But in a nod to the 21st Century, the Colorado's 2LT trim level does receive buckets, which replace the 60/40 split bench.
We enjoyed the Colorado's gauge package, extensive list of standard equipment (including A/C, AM/FM stereo and SiriusXM) and expansive visibility. Despite the raised ride height (and improved ground clearance) of the Z71 off-road package, getting in and getting back out were surprisingly easy.
Technology
Although most aspects of the Colorado range from 'dated' to 'very dated,' GM has kept pace on the technology front. Both Bluetooth wireless and SiriusXM are offered on all trim levels, as is OnStar, GM's telematics feature with what is described as the Directions (Nav) and Connections plan. OnStar was the first to provide the security of an always-available friendly voice. Whether it's a direction you need now, or a suggested eatery you need later, OnStar remains a great blend of big help and small distraction.
Performance and Fuel Economy
Chevy's powertrain options range from the underperforming 2.9-liter inline four-cylinder to the questionable use of five cylinders in the 3.7-liter to the (comparably) overwhelming 5.3-liter V8. And despite this wide range of offerings, none seem to hit the sweet spot for a midsize pickup. If you can forego any semblance of acceleration, the 2.9-liter four-cylinder does provide credible economy with an 18/25 city/highway EPA rating. There's little penalty to be paid in opting for the 3.7-liter five-cylinder, offering 17 mpg city/23 mpg hwy in most configurations. And the V8, which with the demise of the Dodge Dakota is now unique in the segment, is respectable at 14 mpg city/20 mpg hwy (2WD) or 14 mpg city/19 mpg hwy (4WD).
In contrast, both Nissan and Toyota provide four cylinders with respectable economy and sixes with respectable performance. Chevy's small displacement V8 is wonderful, but ultimately is too sophisticated for the Colorado platform. Were it our product line, we'd build it with an Ecotec four-cylinder, the Camaro's 3.6-liter V6 and a Euro-sourced light-duty diesel. In the next generation of Colorado, now scheduled for a 2014 launch, we suspect Chevy might do just that.
Safety
The 2012 Colorado offers safety appropriate to a midsize pickup introduced some eight years ago, but it doesn't provide a menu of safety commensurate to today's competition. The Colorado's head curtain side-impact air bags might mitigate injury in a side-impact collision, but your better option is to avoid an accident in the first place. Thankfully, active safety does play a role in the Colorado's specification, with excellent visibility, StabiliTrak electronic stability control, 4-wheel ABS and three suspension choices appropriate to your intended use: Z85, Z71 off-road and ZQ8 'sport' suspension.
In collision testing conducted by the Insurance Institute for Highway Safety, the Colorado performed only adequately. However, in the event of an accident, OnStar will perform superbly, automatically notifying local safety personnel if the airbags have deployed in a collision.
Driving Impressions
If you were buying a vehicle to enthusiastically drive, you wouldn't be buying a midsize truck. Due to the Colorado's relatively light weight, however, the platform is more nimble (and by extension, entertaining) than you might expect. Opt for the Z71 off-road suspension and go rock hunting, while the available ZQ8 sport suspension not only increases control, but quickens the steering ratio and, with its 18-inch low-profile rubber, heightens the grip.
In terms of acceleration, regard the inline four-cylinder as merely pedestrian (you could walk as fast…), the inline five as passably responsive, and the 5.3-liter V8 capable of taking you to jail without passing 'GO.' We wish all available powertrains had an automatic transmission with more than four speeds, and that there were wider availability of a manual transmission with the inline five.
Other Cars to Consider
With the departure of both the Dodge Dakota and Ford Ranger, the compact/midsize category is a rapidly diminishing segment. Thankfully, both the Nissan Frontier and the Toyota Tacoma continue to play the game, and represent credible competition to Chevrolet Colorado and GMC Canyon.
If we were shopping for the maximum amount of truck among midsize offerings, we'd opt for the Frontier, as it benefits from a fully boxed frame that has more in common with the full-size Titan than other midsize pickups. For aggressive off-roading it's hard to argue with the menu supplied by the Toyota Tacoma, given its credible drivetrain and numerous enhancements available from TRD, Toyota's in-house tuner. And if we were shopping for little more than something to haul home the fertilizer and mulch, a late-model Ford Ranger would serve that role (albeit little else) capably.
AutoTrader Recommends
Despite its age, the Colorado remains a viable candidate for your consideration, but only if you appreciate the packaging (like the sheet metal) and you're satisfied with the way it drives. With that, we're inclined to opt for a Z71 off-roader with 4WD, perhaps in an extended cab variant. Or go low, in both price and stance, with a regular cab equipped with the ZQ8 sport suspension and little else. If you spend over $30K on a Colorado, however, Toyota and Nissan offer more content, along with appreciably better resale.