Car Review
2012 Chevrolet Silverado 1500 & Hybrid: New Car Review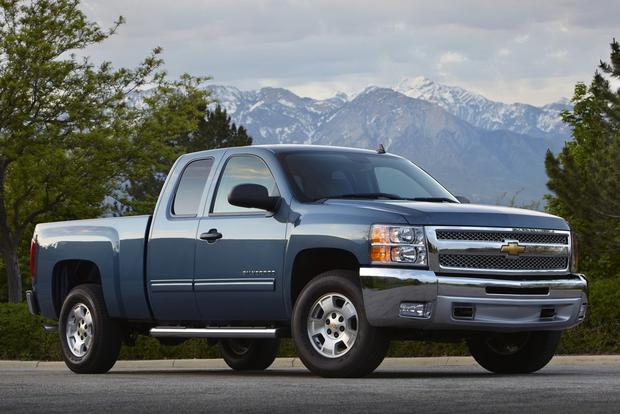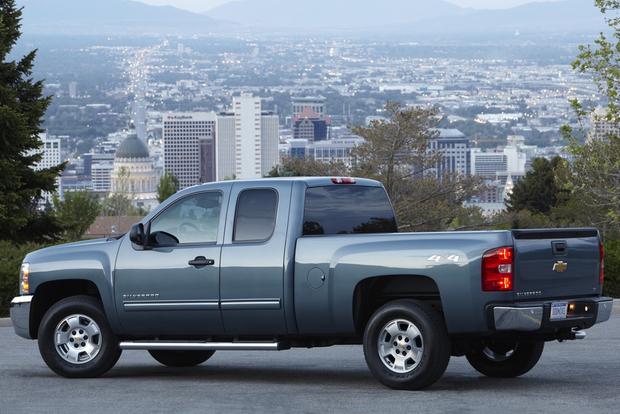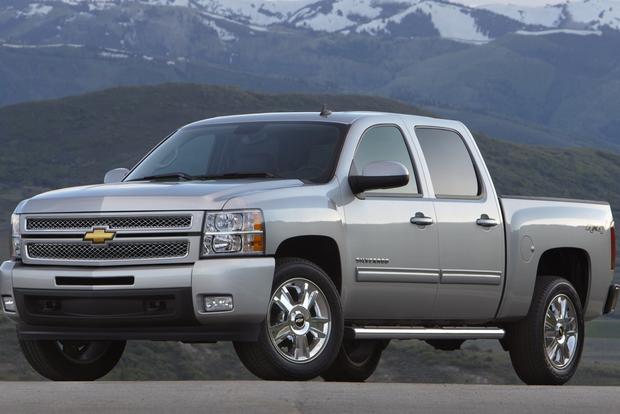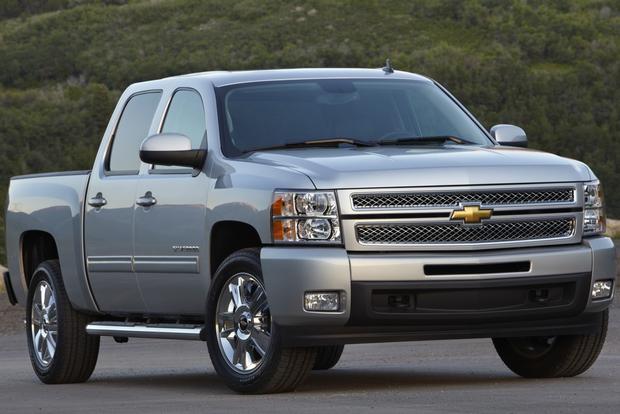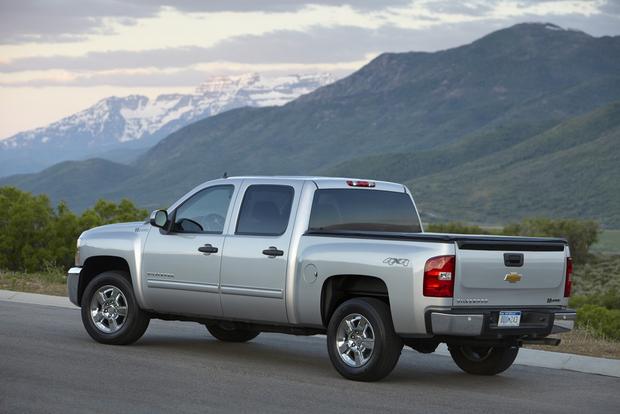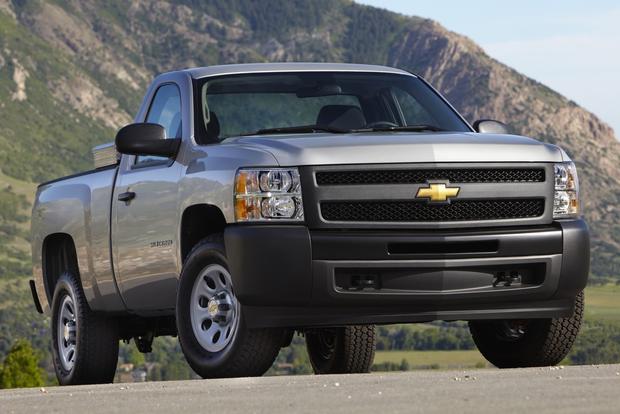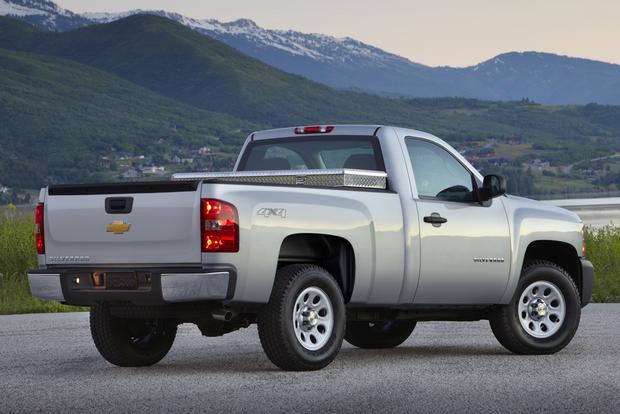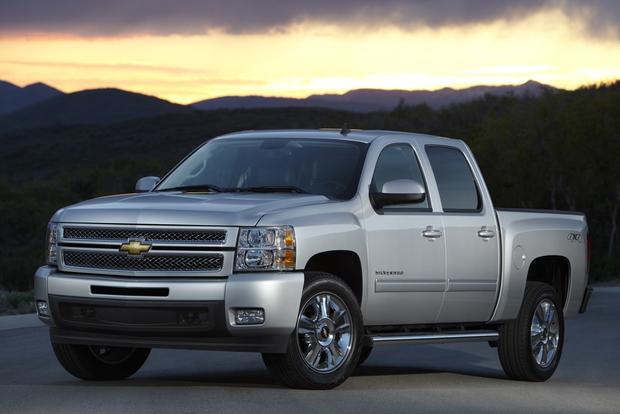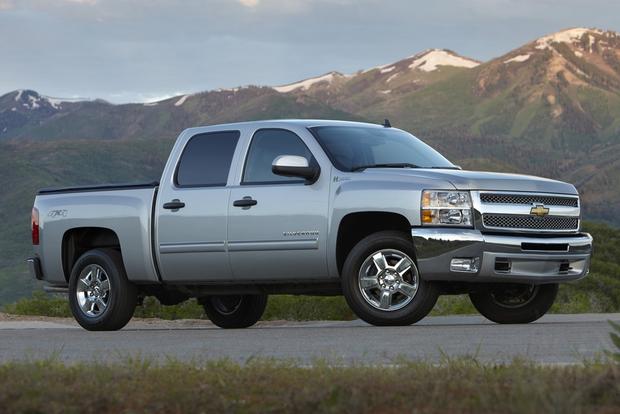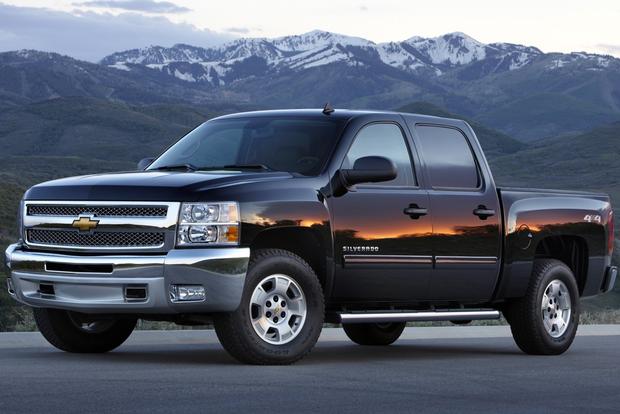 Pros: Can be tailored to virtually any need, want or desire; stylish and relatively efficient; stays relevant to both Chevy loyalists and customers new to pickups
Cons: Oldest platform in the category; lags behind both Ford and Chrysler's Ram in comfort and technology
The image is as American as apple pie: a man, his dog and his pickup. Across America, whether in urban, suburban or rural settings, that image translates to continued popularity of Chevrolet's Silverado. At this point in its product cycle, the Silverado may not boast the high-tech allure of Ford's EcoBoost drivetrains or the open-road appeal of the Ram's expressive sheetmetal. That hasn't kept both Chevy loyalists and those new to the brand from taking delivery of several hundred thousand 1500s during the course of a model year. The continued allure of the Silverado is justified by GM's ongoing commitment to both its capability and flexibility; you can truly tailor a Silverado to your specific needs, wants and desires, whether it be for work, play or a combination of the two.
Offering three cabs, five trim levels, three V8s and an available hybrid drivetrain, the Silverado can fit most budgets and needs, especially when matched with the industry's current emphasis on sales volume and customer incentives. The pickup category was hit hard during the economic downturn, but with the recent upticks in both construction and manufacturing, truck sales are rebounding as customers return to the showroom.
Whether a Chevrolet truck shopper opts for the bare-bones WT or the full bed of options on the LTZ, the basic strengths of the Silverado are clearly evident in both its easy-to-use on-road demeanor and, when properly equipped, its off-road toughness.
Comfort & Utility
Virtually any full-size pickup will provide you with adequate room, and today's Silverado is no different. Comfort, however, is largely a function of how much you wish to budget. Chevrolet's WT and LS trim levels lean more to a bare-bones work ethic, while opting for the LT and LTZ supplies the buyer with more comfort and convenience options, including available dual-zone automatic climate control, premium cloth (LT) or leather (LTZ), and a flip-up split bench in extended-cab models (LT and LTZ).
Utility is well covered, with extended and crew cabs providing secure storage, a choice of standard or long boxes on regular and extended cabs and a wide range of options and accessories for both towing and cargo. Bedliners and toolboxes are there, of course, but the Silverado's bed also features two-tier loading capability and a cargo management system. Opt for a 2WD crew cab, and the Silverado will handle almost a ton of payload. Equipped with an enhanced towing package and optional 6.2-liter V8, the Silverado can tow up to 10,700 pounds.
We've found the ride comfort of Silverado 1500s comparable to that of other half-ton trucks in the category. Notably, Chevrolet offers five suspension systems, allowing the owner to truly tailor a suspension to his or her requirements. Ram's most recent redesign exchanged the time-honored rear leaf springs for more supple coils, while Ford's F-Series offers a ride and handling balance that is-at least subjectively-more "planted," but the Silverado still delivers an adequate ride and handling compromise, with load or without.
Technology
As an older platform, the Silverado doesn't support the wide array of technology available in some of its competitors. That said, a range of CD/DVD/MP3-capable audio systems is available on all models, and a navigation radio with USB port is an option on the LTZ trim level. SiriusXM NavTraffic, which can update you on traffic conditions in your area, is optional on LT, XFE and LTZ, and Bluetooth hands-free phone connectivity is standard on the LTZ and optional on all other models. OnStar remains standard on all Silverados except the WT and has been expanded with a mobile app allowing remote engine starting. OnStar's NavTraffic updates can update you on traffic conditions in your area, and Wi-Fi is available via AutoNet Mobile.
Performance & Fuel Economy
Chevrolet offers almost as many drivetrain options as there are exterior colors and interior trims. The base powerplant for both regular- and extended-cab Silverados is Chevrolet's 4.3-liter V6, a truck-specific lump that delivers a middling 195 horsepower and an adequate 260 lb-ft of torque. The V6 shares a four-speed automatic with the entry-level V8, a 4.8-liter offering a respectable 302 hp and 305 lb-ft of torque. Much better are the optional 5.3-liter (315 hp) and 6.2-liter (403 hp) V8s paired with the six-speed Hydra-matics. To GM's credit, there's little fuel economy penalty when opting for the larger powerplants, as they are comparatively understressed when contrasted with engines with smaller displacements and outputs.
Chevrolet is the only pickup maker to offer a hybrid drivetrain. It allows the Silverado to launch and be driven at speeds up to 30 mph on electricity alone. In combination with the truck's Active Fuel Management cylinder cutoff system, the Silverado Hybrid delivers an EPA estimated 20/23 mpg.
Safety
Chevrolet offers a full menu of active safety components, including four-wheel disc brakes with ABS, rack-and-pinion steering for precise control and strong on-center feel, StabiliTrak electronic stability control and an optional integrated trailer brake controller. Standard head curtain side air bags with rollover protection are provided to all seating rows, and standard seat-mounted side-impact air bags for driver and right-front passenger provide thorax and pelvic protection. Pretensioners on the front safety belts minimize forward movement during a collision.
Driving Impressions
Given the wide array of cabs, wheelbases, suspensions and drivetrains, a Silverado's ride, handling and performance are essentially what you want them to be. The base Z83 suspension is described as delivering a solid, smooth ride; Z85 is specced for enhanced handling and trailer towing. If you're going adventuring, the Z71 is tuned for enhanced off-road capability. For those towing the heaviest loads should opt for the NHT suspension, featuring 17-inch wheels, off-road tires and high-capacity rear springs. And should you want maximum street performance, check the Z60 box, which is delivered with 20-inch wheels and tires.
We've always found Silverado platforms to be relatively composed and genuinely comfortable. The basic architecture is, however, beginning to show its age. We anticipate the next Silverado will offer significant improvements in both on-road dynamic and off-road capability.
Other Trucks to Consider
The Silverado's closest competitor is and always has been the Ford F-150. To a growing extent, its other competitor is Chrysler's Ram 1500. Both Ford and Ram offer newer designs, capable powertrains and more expansive technology. Neither truckmaker, however, currently offers a hybrid powertrain or a similar selection of available V8 engines. If a truck buyer truly wants to configure a pickup to his or her specific need, no one provides the range of choices available in the Silverado.
AutoTrader Recommends
We like the middle of the Silverado lineup. Therefore, we'd opt for an extended-cab LT equipped with 4WD, the 6.2-liter V8, the trailering package and an automatic locking rear differential. So equipped, it would have a window sticker of just over $38,000 with destination. Given the menu of typical incentives, however, we'd expect it to transact at a figure substantially lower than that.