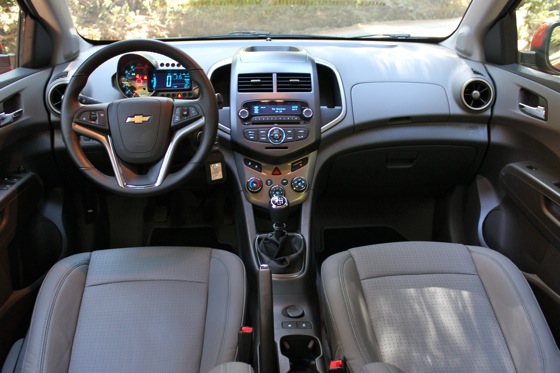 If 2011 was the year the compact car came to life in the U.S., 2012 looks set to be the year of their pint-sized subcompact cousins. From the totally redesigned Ford Fiesta and Hyundai Accent to old standbys like the Toyota Yaris and Honda Fit, the idea that cheap, small and efficient has to mean low quality and a boring drive is quickly becoming a notion of the past.
Arguably, there may be no greater highlight to the change in the subcompact market than the staggering difference between the outgoing Chevy Aveo and the completely new for 2012 Chevrolet Sonic.
Where the Aveo was slow and dull-witted in the corners, the Sonic is quick and surprisingly agile. Where the Aveo had the look of a 1990's bargain bin leftover, the Sonic is sharp, modern and full of well-designed and thoughtful features. It may have its foibles, but they are few and far between.
Certainly, if you are in the market for an affordable pint-sized champ that won't make you feel second-class for driving it, the 2012 Sonic may have your number.
Building on a Solid Base has Surprising Benefits
According to Chevrolet, the Sonic is the most global platform they've ever designed. To avoid building many different versions of the same car for the huge variety of global standards that now exist, the Sonic team engineered a structure that would universally meet safety standards the world over.
"We started with the philosophy that we're going to do it right in every market, and a big part of that is safety," said Joaquin Nuno-Whelan, Chief Engineer and Vehicle Line Director for Small Cars in North America, during the vehicle's launch in San Francisco. While designing for a global market might seem like a bit of a no-brainer in the eyes of many consumers, it is a concept that has taken the automotive world some time to embrace.
"The reason building such a universally safe structure is important is that we didn't have to do anything to the car to bring it to the U.S., such as lengthen it or add mass or strengthen bumpers," said Nuno-Whelan. "When you have such a safe and stable frame, every other desirable feature builds off of it and becomes easy to attain."
The Sonic's structure is nearly 80 percent stiffer than the Aveo's, and all that stiffness leads to some much appreciated benefits, not the least of which is good handling. During a day of driving through the streets of San Francisco and over the twisty desert canyon roads of the region, the Sonic displayed incredible poise. Its rigid frame kept it firmly and confidently planted in the corners as well as when shifting lanes quickly. On the interior, the solid frame held errant vibrations and rattles at bay, and, because the Sonic is built in the same U.S. factory as many Buicks, the car is able to take advantage of robot-applied liquid sound-deadening technology to give it a rather luxurious level of quietness.
Marketed For Millennials, with Parents in Mind
With its motorcycle-inspired styling, non-traditional gauge cluster and small size, the Chevrolet Sonic is clearly marketed as a first car purchase among the huge and growing group known as the Millennials (18-29 year olds).
The base LS model, starting at $14,495 for the sedan and $15,395 for the classy-looking hatch, comes with premium 15-inch alloy wheels as standard equipment, as well as air conditioning, remote keyless entry and a tilt/telescoping steering wheel-all items that make the car stand out among the competition and feel like a higher class entry than it is.
While those comfort features make sense when trying to woo Millennials, the Sonic also boasts a slew of more mundane standard safety features, including a class-leading 10 airbags, electronic stability control, anti-lock brakes, and crash collapsible pedals to protect the driver's feet and legs. From a marketing perspective, the addition of a laundry list of safety features makes sense, given that many of these vehicles will be bought with at least a bit of parental input and financing, and to most parents safety trumps all else.
On top of the LS, the mid grade LT, starting at $15,695 for the sedan and $16,495 for the hatch, adds a six speaker sound system with XM radio, power windows with one-touch up and down, and heated exterior mirrors. The upper-end LTZ-$17,295 sedan/$17,995 hatch-adds a much higher level of smartphone integration, including a USB port and Bluetooth connectivity, as well as the ability to control an mp3 player from both the radio and steering wheel mounted controls. The LTZ also comes with heated front seats, cruise control, fog lamps, and larger 17-inch alloy wheels.
Although no trim levels of the Sonic have an available navigation system, OnStar, with a complimentary six-month subscription, provides turn-by-turn directions, and is standard even on the LS. While it might seem strange that a modern vehicle can be sold without an option to have a navigation system installed, GM made a strategic decision, believing that the Millennial crowd is less interested in using in-car equipment and wants to be able to use their own smartphones instead.
Fun and Frugal with Understated Good Looks
Standard on all trims, the 1.8-liter, 138-horsepower engine with five-speed manual transmission is peppy enough to handle daily driving needs, and at the same time return a decent EPA-rated 26 mpg city/35 mpg highway. Adding the $1,070 six speed automatic transmission makes for more convenient in-traffic driving, but also reduces estimated city mileage by an almost imperceptible 1 mpg.
Although the 1.8-liter standard engine is a solid performer in this size category, the Sonic's dark horse is the optional 1.4-liter turbocharged engine that it borrows from the Cruze Eco. Available only mated to a six speed manual transmission, the 1.4-liter Ecotec engine makes for some seriously fun driving while also returning a stellar EPA estimated 29 city mpg/40 highway mpg.
On flat to slightly sloping uphill runs, the 1.4-liter turbo was incredibly zippy. While we didn't measure it ourselves, Chevy claims the engine can get the car to sixty mph in about eight seconds - a claim that our experiences certainly supported. However, the turbo tended to lose power on moderate to steep uphill climbs, requiring what we felt was an excessive amount of downshifting on the six speed manual to power through. Even with rather sporty driving at average speeds of about 40 mph in both the city and on hilly canyon roads, we were able to squeeze 32 mpg out of the 1.4-liter turbo with manual transmission.
The non-traditional gauge cluster places a conventional tachometer to the left of a bright blue digital display that collects everything from current speed, to directional heading, to average fuel economy to distance driven into one easy to read package. While it took a bit of getting used to, after driving with it all afternoon we wouldn't be surprised to see other manufacturers start copying this gauge implementation.
When combined, the Sonic's supportive seats, excellent suspension, standard driver armrest - a rarity in the subcompact market - and tilt and telescoping steering wheel made for one of the most comfortable rides of any small vehicle we've driven. Over the course of the day the seats blended into the background and never caused any noticeable dead spots or discomfort.
While the Chevy Sonic sedan looks like many other small sedans on the road today, the hatchback is a different story entirely. We wouldn't go so far as to call the Sonic hatchback "sexy," but it does have an understated sharpness and elegance about it that give it both an aggressive and cute demeanor all at once.
In the suddenly competitive and exciting subcompact market, the 2012 Sonic stands out as a well-designed and engineered vehicle that delivers fuel efficiency and fun while remaining comfortable and easy to drive. It's fitting that the Sonic is 80 percent better engineered than the Aveo it replaces, because it's also at least 80 percent more vehicle.