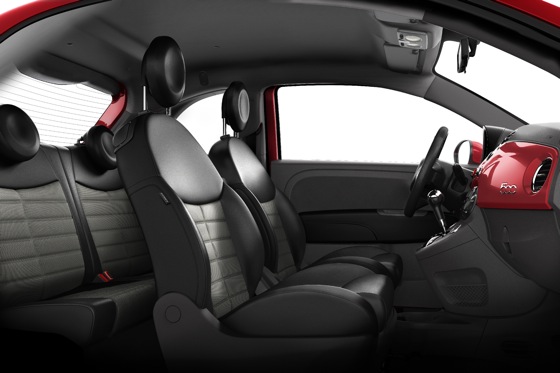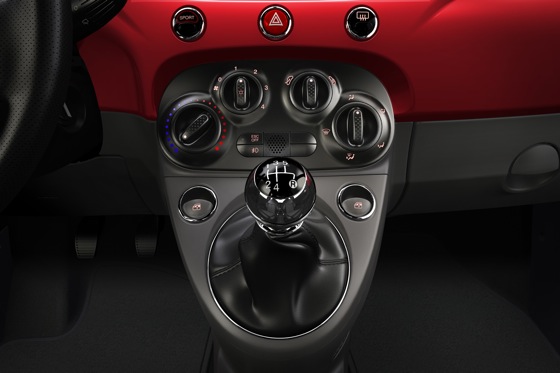 It's a Small World
Italy is already responsible for many great things in the United States that have become part of the nation's fabric. Where would we be without the Jacuzzi, Zamboni or Ghirardelli's chocolate? The 2012 Fiat 500 may or may not join this illustrious company, that will be the function of history. But it comes across the Atlantic with a cute-as-a-button retro design and the kind of fuel economy that becomes more right for the times with each passing day.
The 500, or Cinquecento (chink-wee-chen-toe is the proper Italian pronunciation), marks Fiat's return to the States after an absence of more than 25 years, thanks to the company's tie-in with Chrysler. Therefore this subcompact is available from Fiat Studios set up in selected Chrysler dealerships. The kind of people expected to walk into those showrooms are young, style-conscious, happy to reject the old "big American car" paradigm and, hopefully, of a stature more slight than usual.
Piccolo interno
Basketball pros should probably look elsewhere. Even people of average height (five-ten) will find the interior to feel somewhat scaled down from a "normal" car. It's akin to the premise of a hypothetical Jim Carrey movie (one of his earlier, funnier ones) where our hero has woken up one morning and he's bigger than the day before, and everything he once did without thinking now requires getting used to all over again, with hilarious results.
The opportunities for physical comedy increase when trying to sit in the back seats, but at least this little hatchback has wide-opening doors and a surprisingly useful amount of cargo space, given the car's modest dimensions.
However, there's nothing modest about the dashboard design. Like the exterior, there's a hint of retro with bold, color-keyed panels and a cool concentric speedometer/tachometer dial.
Bella automobili
There was an earlier Fiat 500 that started life in 1957. It was a really small, rear-engined car, but it was affordable for many Italians and became a design icon. This new model takes its stylistic inspiration from the original, but is fashioned to comply with modern crash regulations, accommodates a front-mounted engine and recognizes the fact that hobbits do not make up a significant number of car buyers.
Naturally, it's all in the eye of the beholder, but the pert-and-perky 500 won the 2009 World Car Design of the Year award from a panel of automotive design specialists, so that should count for something. It was also a finalist in the 2010 Eyes on Design award given out at the Detroit auto show (but that went to the Audi A8).
L'accelleratore
On paper, the idea of a 1.4-liter engine trying to propel a car with 101 horsepower and 98 pound-feet of torque doesn't seem like a whole lot of fun until we drive up to a gas pump, having just enjoyed 30 miles per gallon in the city and 38 mpg on the highway (that's with the manual transmission; the auto returns 27/34). Then again, with its wheels placed as far into the corners as possible and such a short wheelbase, the 500 has a lively, dart-like quality to its front-drive chassis.
It is invariably more of a hoot to drive a low-powered car at its limits than to be in a fast car and use only a fraction of its capabilities – which is certainly the case here. Despite a short wheelbase, this does not imply that the ride quality is overly harsh. It's fairly comfortable for the machine it is, but if there's a rough road surface, the driver will know about it.
The five-speed manual transmission shifts sweetly enough, while the six-speed automatic is a smooth operator. Pressing the Sport button in the dash raises the auto box's shift points and sharpens throttle response for a little more fun.
Rivalry in the small car ranks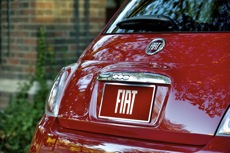 This trend of retro-styled small cars did not begin with the 500. We have the Mini to thank for that. There is a chance someone might be wavering between buying a Fiat 500 or a Mini, which starts at $19,400 for the base hard top. If they could afford it, the Mini offers greater space and power, feels more sophisticated, and still delivers a thrill or three.
If good fuel consumption is a priority, the 2011 Ford Fiesta is capable of 40 mpg on the highway, using its six-speed semi-auto transmission. It also has the jump on the 500 as far as ride comfort and space is concerned. It has five doors to the Fiat's three, or also comes as a subcompact sedan. The hatch starts at $15,120 in SE trim. Ford is also doing something clever by making youth-oriented technologies like internet radio available in the Fiesta. It's a nice car, but the engine seems to lack any oomph. And it probably doesn't have the same kind of visual appeal as the 500.
Toyota's 2011 Yaris would consider itself lucky if it had any visual appeal at all. It's one of those cars whose looks are forgotten as soon as it drives out of sight. The whole experience struggles to leave a memory, except for the non-responsive handling, a wheezy engine and plasticky interior. However, Toyota still stands for reliability and build quality. And the most expensive three-door Yaris – which is still roomier than the Fiat 500 – retails for only $13,755.
Other cars going for the youth market include Scions and the Kia Soul, but they tend to have larger engines and use more fuel, so they don't quite compare.
Apart from the space issue – which is either going to be acceptable or not – there is one other hill the 500 has to climb and it's called reputation. Fiat did not leave the United States all those years ago just because it wanted to. The cars it made then were prone to rust and had patchy build quality. For younger folk, this may not be an issue, as this is all new to them. But to reassure their parents, this car feels far more solid. Build techniques have improved since then and more than 500,000 units have been sold so far.
Generation one of the Fiat 500 came out in Europe in 2007. The version debuting in America (having been constructed at a Chrysler plant in Mexico) is the second-generation model, which has seen improvements in economy, ride quality and safety. In an offset front-end 40-mph impact, the door on the crashed side will still open. The car also has a complement of seven airbags.
Prices start at $15,500 for the Pop trim level. This includes air conditioning power windows, mirrors and locks, plus a CD player with an auxiliary input, and the manual transmission. Despite being the most inexpensive choice, it still doesn't feel cheap. For $17,500, the Sport version adds figure-hugging seats to accompany a sport-tuned suspension, a fixed glass roof, rear spoiler, red brake calipers, smart 16-inch alloy wheels, Bluetooth and a USB socket. The range-topping Lounge goes for $19,500, featuring the automatic transmission, glass roof, 15-inch alloys, leather-covered steering wheel and an upgraded stereo. And then there is a kaleidoscope of options, ranging from stripes, decals, badges, kick plates, paint, leather... in all, there are around 500,000 permutations for personalization.
On a more mundane but no less positive note, the 500 has a four-year/60,000-mile warranty plus free basic maintenance for the first three years or 36,000 miles.