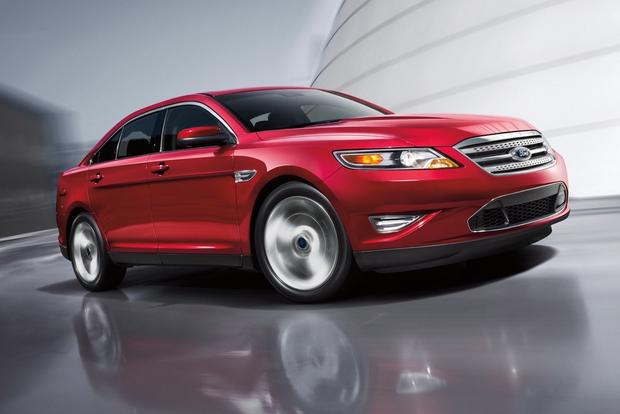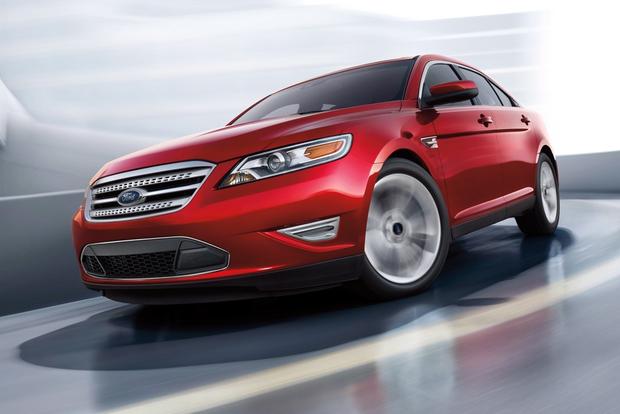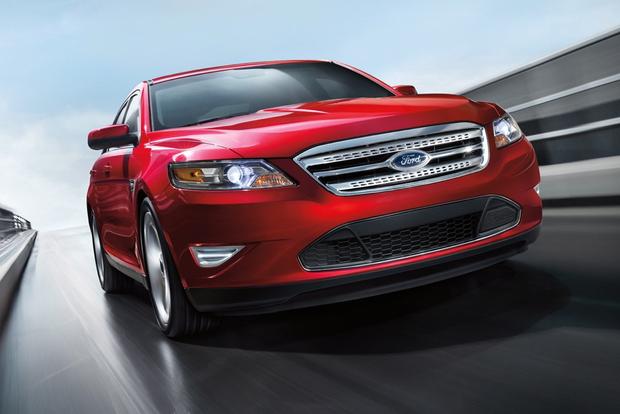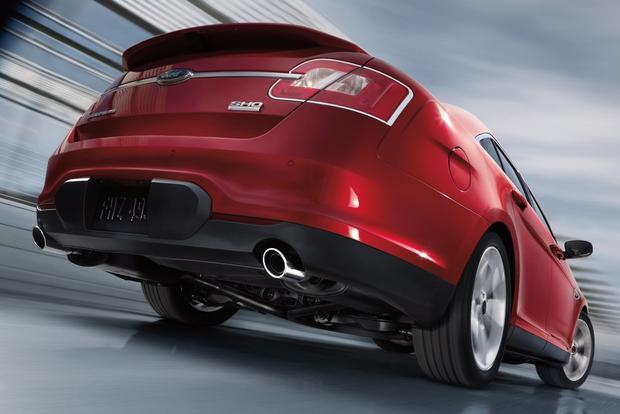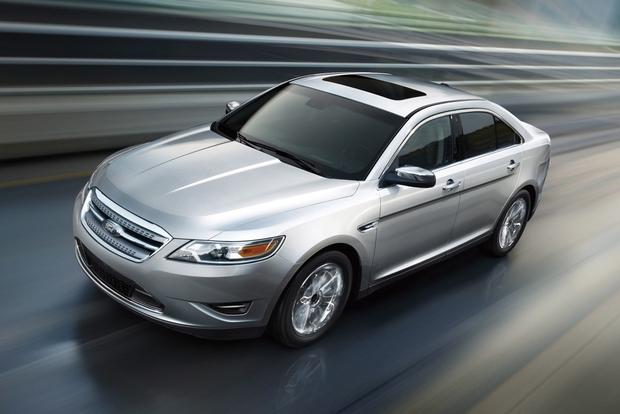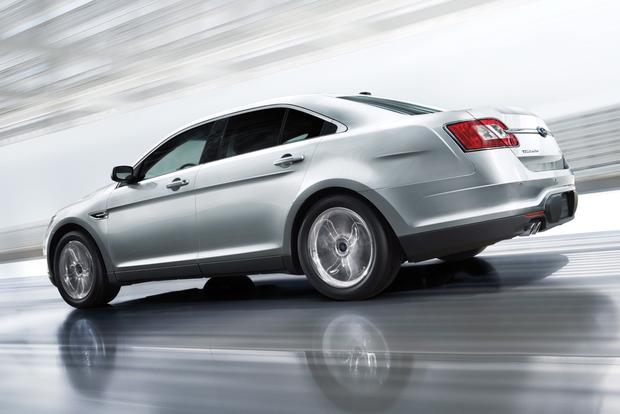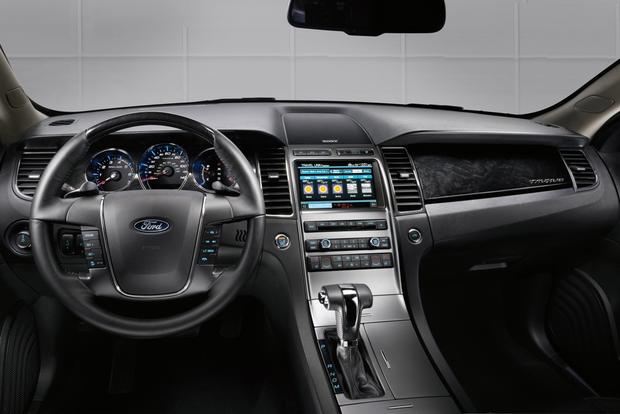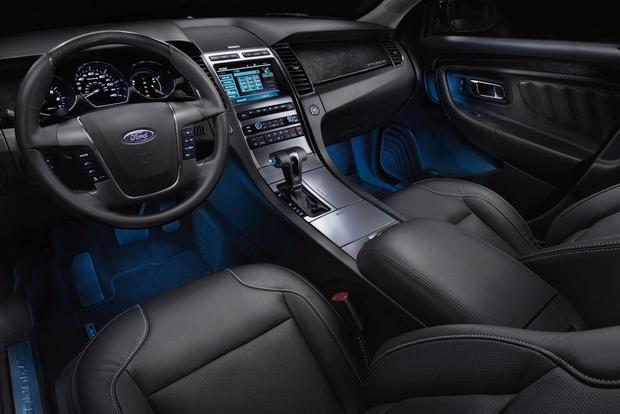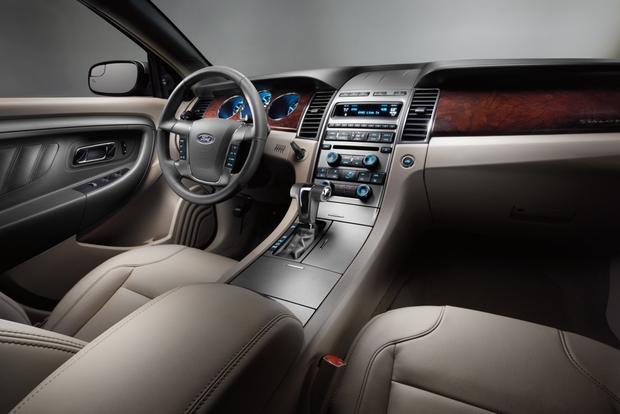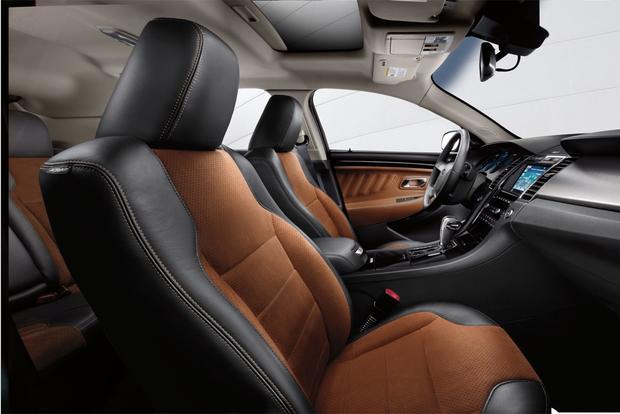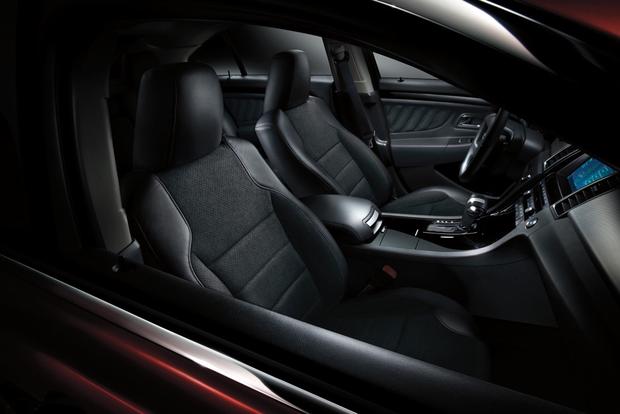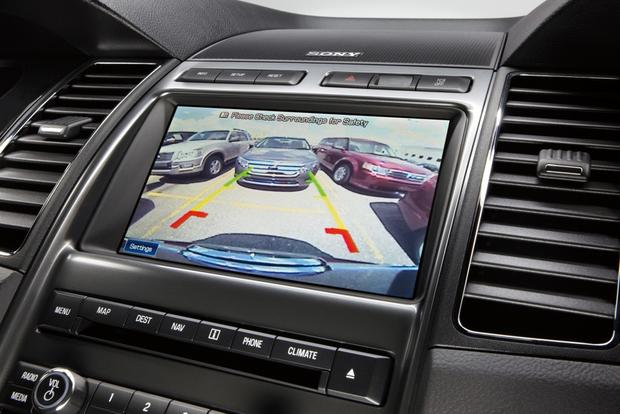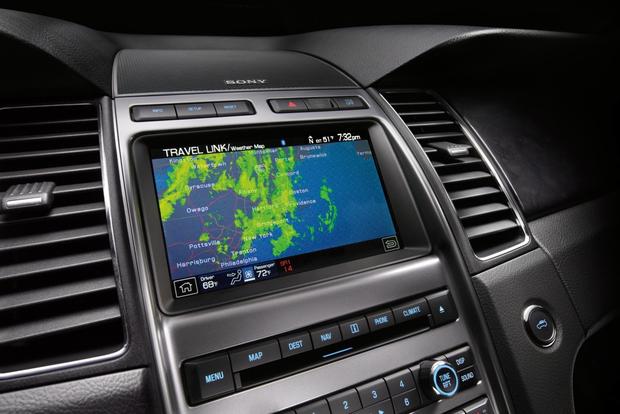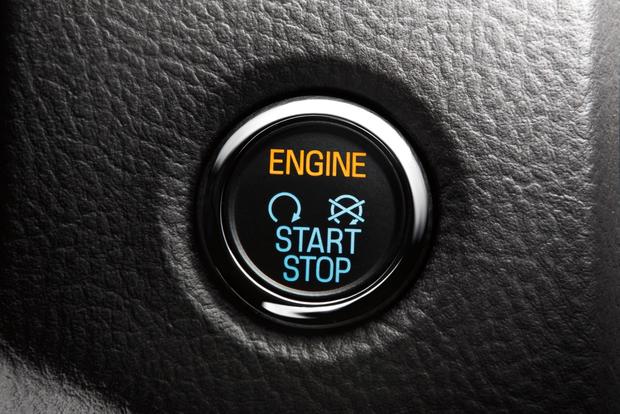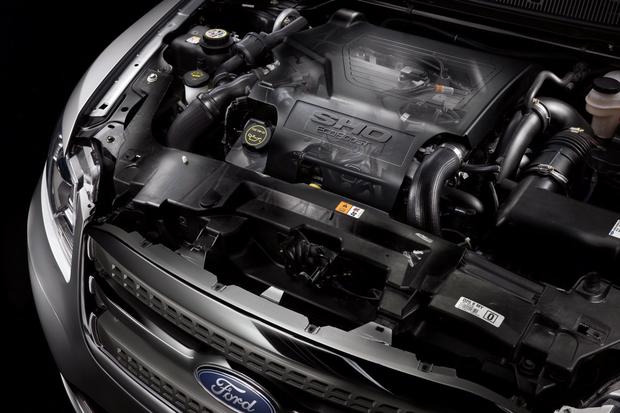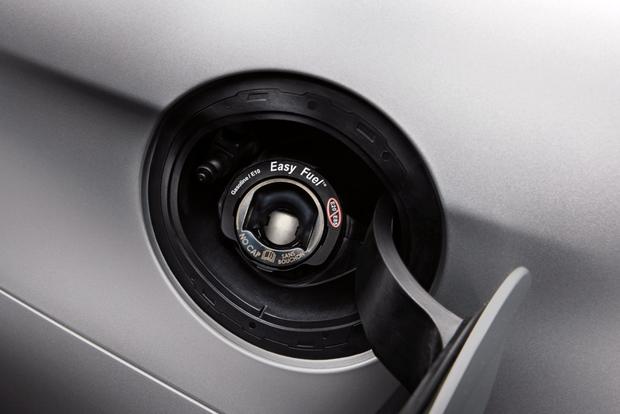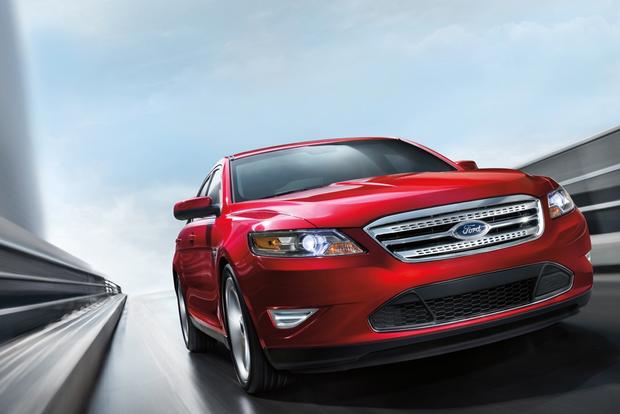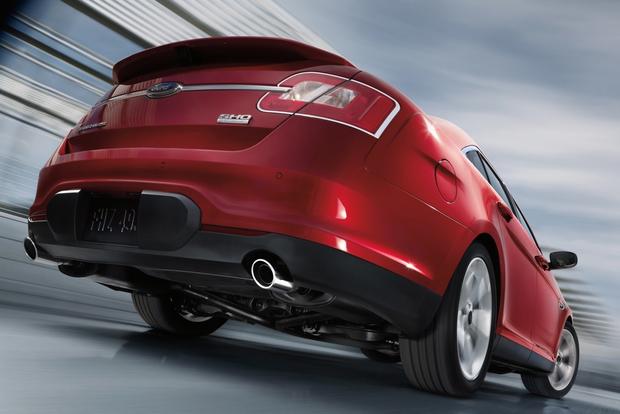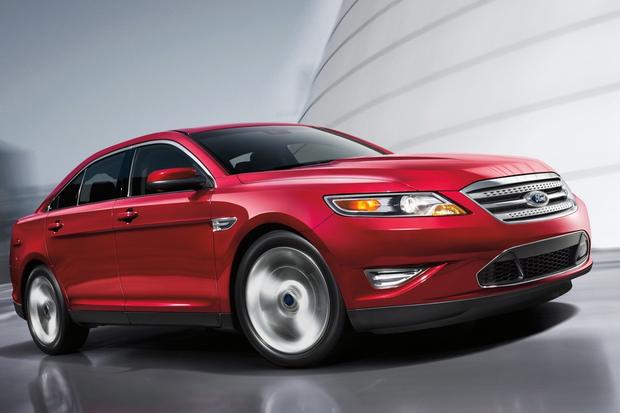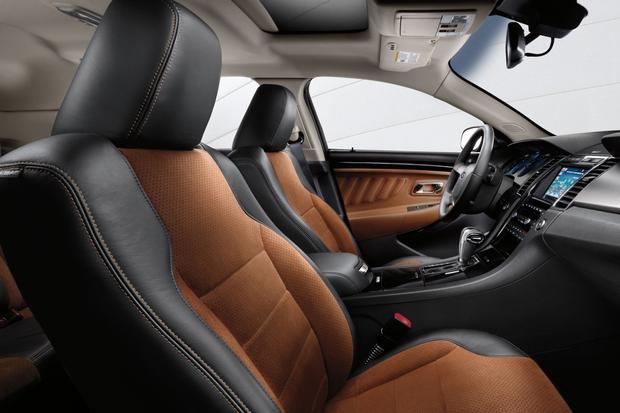 Pros: Muscular styling; available AWD; high-performance SHO model; roomy interior
Cons: So-so city fuel economy; high trunk makes rearward vision difficult; no V8 engine option
If you count yourself among those who require five-passenger comfort in a sedan that is roomy, heavy and powerful, then the Ford Taurus is one of a few cars that can deliver on all points. From the outside, it is clear the Taurus is not a budget-minded family sedan. Its powerful flanks, big wheel-and-tire combo and menacing grille all signal that this is a performance driving machine. But its window sticker still starts around $26,000, making it affordable to most families. No longer a rental-fleet favorite, the 2012 Taurus aims to take on the Honda Accord and the Toyota Avalon by offering more power, more features and - with the high-performance SHO trim - a more aggressive attitude.
Now closer in size and horsepower to the Chrysler 300 and the Dodge Challenger, the 2012 Taurus leaves its foreign competitors in the dust by offering such features as all-wheel drive and a turbocharged 6-cylinder EcoBoost engine (SHO) that deliver V8-like power and V6-like smoothness and fuel economy.
Comfort & Utility
The 2012 Taurus's massive exterior naturally gives birth to a massive interior. There is plenty of room in the front and rear, although not as much rear-seat legroom as in the Chrysler 300 or Toyota Avalon. Power adjustable seats and foot pedals make it easy for the driver to find a comfortable position, but the tall doors, the wide B-pillar (the post next to the driver's head where the seatbelt attaches) and the narrow side glass conspire to create a somewhat claustrophobic feeling, sort of like driving in an armored car.
Up front, the driver and passenger enjoy a comfortable set of seats made more enjoyable by the available Multi-Contour Active setup that uses a series of expanding and contracting air bladders to help alleviate the muscle fatigue that can develop from sitting too long. On the Taurus Limited and the SHO, heated and cooled front seats and a heated rear seat top the options list. In back, the Taurus's cavernous 20-cubic-foot trunk is easily accessible thanks to the low lift-over opening.
Ice blue lighting is used across the instrument cluster, while a large LCD view screen used for navigation doubles as the display for audio and climate readouts. Models not equipped with navigation use a smaller LED readout screen with larger controls for the ventilation and audio.
Technology
The Taurus can be chock full of Ford's latest and greatest technology, including the SYNC voice-activated communications and audio system. SYNC allows voice control of a Bluetooth-enabled cell phone or an external music source such as an iPod or a Zune. With SYNC, you can have incoming text messages read to you, stream popular apps such as Pandora and receive vehicle health reports. Team SYNC with the available navigation, and your options expand to include real-time traffic updates via SiriusXM Traffic (subscription required).
Other options of note include radar-based adaptive cruise control (it keeps a safe distance between vehicles directly ahead), automatic high-beam dimmer, rain-sensing wipers, a MyKey programmable key fob (lets you set top speed and volume limits for when the kids borrow the car) and Intelligent Access keyless entry with push-button start. Music lovers will no doubt opt for the 390-watt, 12-speaker Sony audio system, while those who annually battle snow will enjoy the all-wheel-drive option. One of our favorite features is the SecuriCode keyless entry system, which comes standard on all trims. Hidden behind a blacked-out panel on the door, the system is activated by a swipe of one's finger, at which time a numeric lighted digital keypad appears. Enter the six-digit code, and the doors automatically unlock.
Performance & Fuel Economy
Taurus SE, SEL and Limited trims are all powered by a 3.5-liter V6 producing 263 horsepower and 249 pound-feet of torque. A six-speed automatic transmission is standard, and the SEL and Limited trims are equipped with steering-wheel-mounted paddle shifters. Fuel economy on front-wheel-drive models is rated at 18 mpg city and 27 mpg highway: AWD models get slightly lower estimates of 17/25 mpg.
The high-performance SHO features a twin-turbocharged 3.5-liter engine with output rated at 365 hp and 350 pound-feet of torque. AWD is standard on the SHO, which earns fuel economy figures of 17 mpg city and 25 mpg highway.
Safety
In addition to the standard front side-impact and full-length side curtain airbags, the 2012 Ford Taurus also features Ford's AdvanceTrac electronic traction and stability control. Available safety equipment includes the Blind Spot Information System (BLIS) with rear cross-path detection warning to alert the driver of impending traffic crossing behind the car. The Reverse Sensing System and a rear-view camera also alert drivers to objects out of the rear-view mirror's view.
Driving Impressions
Looking at the 2012 Ford Taurus, one might conclude that it's a big, ponderous car best enjoyed on long, straight asphalt stretches. This conclusion is half right, because the Taurus does deliver a lovely feel on the open highway, smoothing out bumps and blemishes while practically ridding the cabin of pesky outside noise. But venture onto a twisting two lane road, and the Taurus does something unexpected. It comes to life.
Despite its size, the Taurus weaves through winding back roads with a nonchalant attitude, confidently holding the road even as the throttle is pushed ever further downward. When pushed too far (the point where the front wheels say "I give"), the Taurus's traction and stability control come on line to save the day. Add the AWD and the SHO's sport suspension, and the Taurus's limit of adhesion reaches BMW levels.
As for acceleration, the 3.5-liter V6 is a robust engine that delivers its power without complaint or hesitation. We weren't thrilled by the 18-mpg city fuel economy, but on the highway and with the cruise set at 65 mph, we observed nearly 30 mpg. In the SHO, we found the performance exhilarating, especially in cornering and braking. But there is something missing from the twin-turbocharged V6. You don't get the same low-end thrust of torque as when piloting a V8-powered Chrysler 300. Once past the initial off-the-line jump, however, the SHO will pin you to the seat and hold you there until your spouse, or the law, forces you to slow down.
Other Cars to Consider
Chrysler 300 - The 300 offers similar styling, plus it has more rear-seat legroom and offers the option of two potent V8 engines. But the Taurus gets better fuel economy and holds better long-term resale value.
Toyota Avalon - The Avalon has more interior room than the Taurus, but it lacks the Taurus's youthful look and fun-to-drive attitude.
Chevrolet Impala - The Impala is an older design that can't compete with the Taurus on safety, features or resale. It is, however, less expensive and can be equipped with a front bench seat.
AutoTrader Recommends
For the money, we think the SEL trim is the best value in the lineup. Its reasonable entry price fits into most middle-American family budgets, and it offers packages that allow owners to add on desirable features, like the Sony Audio and AWD. If, however, you are all about Ford's high-tech offerings, then a Limited or a SHO is the only choice because, sadly, Ford doesn't offer its SYNC integrated navigation, rear-view camera or BLIS on any other trims. But, to get these features, you'll be looking at price close to $40,000.