Car News
2012 Honda Civic - New Car Review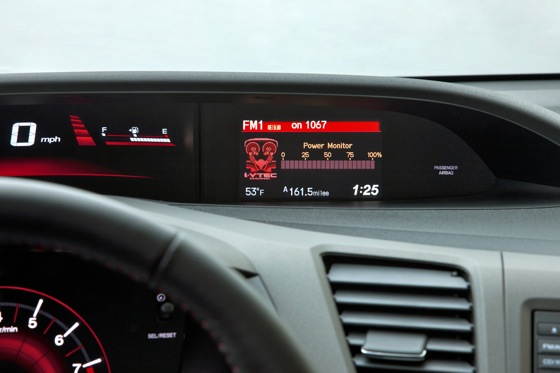 Civics lesson: the compact's neighborhood is gentrifying


When the recession hit in the fall of 2008, Honda Motor Co. reacted as no other carmaker, retrenching at every turn. The company, which forged its reputation for technical prowess on the racetracks of the world immediately cancelled its participation in Formula One car racing and in the US Superbike motorcycle series, among other moves.
The rationale was that by redeploying the top engineers tasked to these racing programs, the company would hone its competitive edge and produce the kind of benchmark products for which Honda has become known.
The two and a half years that have elapsed since may be too short a time to see an impact from those moves, considering the protracted gestation of modern cars. But if not, we can surely see why the company's executives were desperate to bring their biggest guns to bear on Honda's traditional targets.
Honda's perennial best-selling compact model, the Civic, still leads the sales race in that segment. But the segment has been growing faster than Civic sales, so Honda is losing market share to rivals. Meanwhile Ford and Hyundai have introduced new tour-de-force compacts in the Focus and Elantra which will likely make life difficult for the market leader.
Unlike those competitors, though, the Civic "brand" has grown into an expansive family of models, encompassing two-door coupe and four-door sedan body styles, plus an unmatched array of drivetrains. Cars carrying a Civic badge can be had with the base 140-hp 1.8-liter four-cylinder engine, the bigger 201-hp 2.4-liter four in the Si sport model, a 1.5-liter four-cylinder mated to an electric assist motor in the hybrid model and the base engine outfitted to burn super-clean compressed natural gas instead of gasoline in the Natural Gas model.
Civic fuel economy, while excellent at 28 mpg in the city and 39 mpg on the highway for the mainstream models, surprisingly falls short of the 40 mpg benchmark set by the Elantra.


More elbow room
A common complaint of the newly redesigned Volkswagen Jetta, one of the Civic's compact competitors, is the proliferation of hard plastic in its interior compared to the last generation Jetta. Unfortunately Honda seems to have followed VW's lead in this area.
The dashboard layout is at least ambitious, following the previous model's example of a two-level layout with a high-mounted digital speedometer providing the effect of a heads-up display. For 2012 Honda has added a video display screen to its right doling out driver information.
For families thinking harder about stepping down to the compact category to save money on gas, there is a smidge more cabin space even though the exterior dimensions are unchanged from the outgoing model. There are three more inches of shoulder room, and legroom for both the front and rear seats is also slightly improved.


Familiar face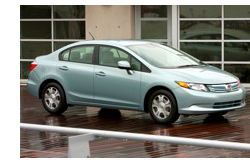 As before, the Civic comes in two flavors; a staid four-door sedan and a two-door coupe with zoomier sheetmetal. Honda has refined that similar-looking metal, using more high-strength steel to increase structural rigidity by 10 percent compared to the old car, and making the chunky A-pillars thinner for an airier appearance and better view forward.
Underneath the Civic rolls on a sophisticated independent rear suspension system at a time when many carmakers are reverting to cheaper, simpler torsion beam rear suspension. This should provide superior road holding and handling over bumpy surfaces, but part of the reason rear torsion beams have made a comeback is that they have been improved to suffer surprisingly little handicap in comparison to independent suspension, even in sporting driving.
As ever, Honda continues to improve its Advanced Compatibility Engineering crash absorption structure, so the Civic protects its occupants while inflicting minimal impact on other vehicles, pedestrians and cyclists.


An embarrassment of alternatives
The Civic's sales lead among compacts is accomplished in part by the broad spread of body styles and powertrain options.
Against this accumulated might, Hyundai fields just the four-door, single-powertrain version of the Elantra, making sales comparisons somewhat misleading. Toyota Corolla, Chevy Cruze and Volkswagen Jetta are also just four-door models (VW has rebadged the Jetta wagon as the Sportwagon).
There's no question that an incrementally improved Civic makes a good car even better. The thing is though, that Ford and Hyundai have made the Focus and Elantra great. Chevrolet's Cruze has some pros and cons that settle it into the top half of the field too, on the strength of its nicely furnished interior.
But the Civic does offer more variety, with nifty advances like a hybrid electric model that uses advanced lithium-ion battery technology like that used by the Nissan Leaf and Chevrolet Volt electric cars rather than the nickel-metal hydride technology used in the previous Civic Hybrid and many other current hybrids. And if you want to take advantage of the complete absence of smog-forming pollution, lower fuel price, domestic fuel source and reduced CO2 emissions of natural gas fuel, the Civic is the only factory-built natural gas car currently on sale in the US.
However, among conventional models (the Hybrid and Natural Gas models use a continuously variable transmission), the Civic comes up short in the transmission department, as its five-speed automatic and manual transmissions (except for the six-speed in the Si) give ground to competitors' six-speeds.


Can it stay fresh until 2017?
The car is roomier, more powerful and more fuel-efficient than its predecessor and its engineers are understandably proud of what they have wrought.
Rising fuel prices and a sterling reputation will probably continue to fuel Civic sales for the foreseeable future. But the compact market is quickly gaining the characteristics of the fiercely contested midsize SUV segment, where many companies have excellent products and it will be increasingly difficult for any brand to dominate.
This is especially true with regard to products that bear a strong resemblance to their predecessors, both in the metal and on the spec sheet. A new model as conservative as the Civic lacks "reach," which is the term for leading the market with something that is a little too daring at the time of introduction with the expectation that it will be in the sweet spot of the market for a longer time during its five- or six-year production run.


Summary
As solid as the new Civic is, and count us as especially big fans of the company's support of factory-built natural gas power, consumers should also consider the surprisingly strong new entries from Ford and Hyundai, as well as Chevrolet's very appealing Cruze. Each of these cars has its strengths and on balance they top the current Civic in many subjective and objective measures.
But those reassigned Honda race engineers are already at work on this car's replacement. When that car comes to market, it is a safe bet that it won't lag competitors' models in specifications such as power and fuel economy, not even by a little bit.