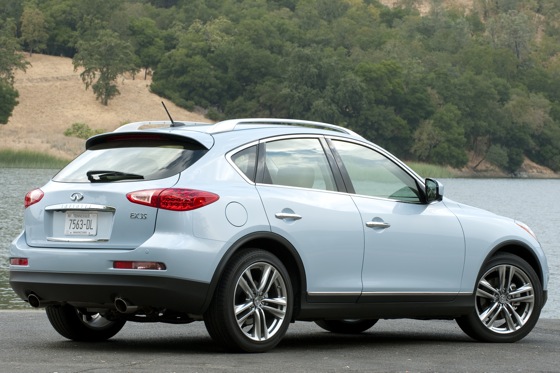 There's a cool little niche that exists, remarkably balanced between the luxury of a well-appointed sedan and a lumbering but functional sport utility vehicle. This relatively new crop of compact luxury SUVs includes vehicles like the Audi Q5, BMW X3 and Acura RDX. Granted, they're not for everyone. But if a small, luxurious SUV with a dash of utility appeals to you, then you might want to take a long, hard look at the 2012 Infiniti EX35.
My initial impression of the EX35 was that it looks like a sport utility vehicle in training. It has that general SUV shape, with the elongated roofline and familiar hatchback. But at 61.9 inches tall, it measures within 6 inches of its Infiniti sedan and coupe counterparts. I didn't have to climb up into it, but rather I could just ease my way in and relax on the leather. The heated, 8-way power driver's seat with adjustable lumbar support felt particularly inviting given the autumn chill.
When I first took the EX35 out on the road, I forgot that I wasn't driving my 304-horsepower Camaro. The sports car revving beside me at the red light quickly backed off when the light turned green. Out of habit I hit the gas and pulled ahead of him decisively, smoothly, and - hold on a minute - quietly. That's when it hit me that I was driving a true luxury sport crossover, one that just happens to come with an intriguing bag of tricks.
The EX35's 297-hp 3.5-liter V6 engine and 7-speed automatic transmission bring to mind descriptive terms like "refined" and "civilized." There's no lurching, lagging, or whining in protest - just ample and immediate acceleration on demand.
Behind the wheel, I felt like I was sitting slightly higher in the EX than in other cars, and yet I still felt very connected to the road. There was none of the swaying sensation or excessive body roll that often accompanies making turns in an SUV.
That sporty demeanor, one could argue, comes at the expense of cargo capacity. I say it depends on what you want to carry. The EX35 has a mere 18.6 cu ft of cargo space. It doesn't look like much. (Compare it to the capacity of its big brother, the Infiniti QX, which scales from 16.6 cu ft. to a whopping 95.1 cu ft, depending on how many seats you fold down.) However, I was able to easily haul a boxed 7-foot artificial Christmas tree and a 27" television (at the same time) to a local donation center. I just couldn't have passengers in back for that trip.
The base EX35 comes loaded with lots of great safety and technology features like advanced airbags, automatic locking retractor seat belts, front seat active head restraints, LATCH restraints for child safety, electronic brakeforce distribution, and zone body construction with front and rear crumple zones.
As for the EX35 Journey at my disposal, my daily drives were punctuated with occasional warning notifications related to blind spot hazards, unintentional lane departure, and potential forward collision (sonar-based, and reassuring to know it's there if you need it). These features only scratch the surface of what's offered in the $2,700 technology package. If you're a technophile and it's within your budget, I say get it.
Speaking of which, the premium package, at $2,700, adds an Around View monitor with front and rear sonar system, 7-inch VGA color touchscreen display, XM Nav Traffic and XM Nav Weather, the latter of which surprised me when it interrupted my favorite music channel with a somber warning of tornadoes in the vicinity - scary, but very cool.
So what's all this luxury, power and technology going to cost you? The MSRP for a base model EX35 is $37,900, which includes luxury, technology and safety features too numerous to list here. The base also includes Infiniti's Total Ownership Experience, which entails warranties, roadside assistance and a loaner car.
As for fuel consumption, the EPA estimates are 17 mpg city/24 mpg highway. Despite my putting the EX35 through its paces pretty intensely, my actual mileage was consistently within that range. The viability of owning and fueling this vehicle comes back again to individual needs and budget. It must be said, though, that the gentlemanly engine seems to gulp rather than sip its fuel.
As equipped, the EX35 Journey I drove totals $46,395, including the $895 destination charge. There was a momentary observation of the interior that made me think, $46K and a hard plastic console? It's a bit disappointing to touch soft, leather and then encounter hard plastic at its edges.
But that factor notwithstanding, the EX35 is, overall, a really well-engineered and beautifully crafted vehicle.
Here's what you think:
"...you will love it and never want to stop driving." -Nurse in California via KBB.com
"The engineers at Infiniti did an outstanding job designing this car! My EX35 rides like a dream. Beautiful craftsmanship in the interior." -The Borg in Washington, D.C. via KBB.com