Car Review
2012 Lexus GS 350 and 450h: First Drive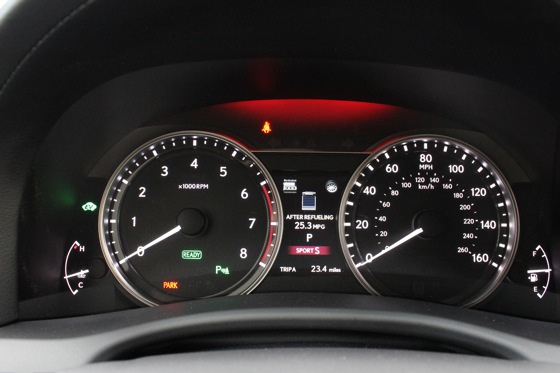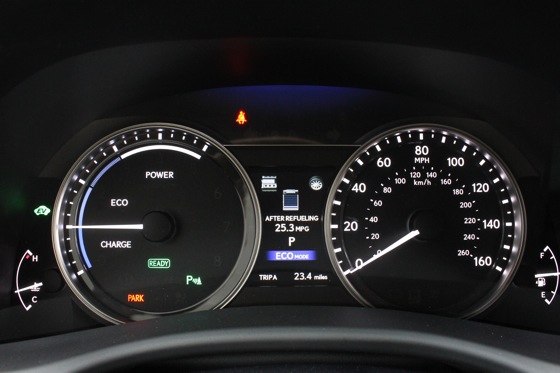 When it was introduced in 1993, the GS was hailed as the first Japanese import able to truly compete with the German luxury performance brands. And while that claim held up for a period of time, over the last decade the GS-and Lexus in general-had lost its edge, producing an increasingly frumpy and bland lineup. Audi's A6, BMW's 5 Series and Mercedes' E-Class quickly outpaced the ailing GS in every category that matters: performance, precision, and looks.
Things did not look good for the venerable Japanese luxury brand. Perhaps the clearest indication of how far Lexus had fallen behind lay in the fact that the last new car to be equipped with a factory-installed cassette deck rolled off the line just last year-and it was a Lexus.
Enter the 2013 Lexus GS. During our short day with it on both the Las Vegas Speedway and some open roads it was amply evident that the frumpiness has completely disappeared. Blandness? Not a trace left. Rumor even has it that cassette tapes will spontaneously combust if brought within 10 feet of it.
If last year's GS was a glass of milk, this year's is a Flaming Sambuca infused with the juice of a Naga Viper. Not only is the 2013 GS the first non-German brand to truly compete with the Germans in years, in many ways it is the best choice available in the mid-size luxury performance category.
Precise and Measured Performance With a Dose of Good Fuel Economy
The rear-drive GS 350 base model carries an only slightly updated version of the 306 HP, 3.5-liter V6 from the previous generation. From here buyers can add either the Luxury package or an F-Sport package with upgraded trim level equipment and performance enhancing options. While many may view a hybrid option as a step down in this category, Lexus views the rear-drive GS 450h as rounding out top-end of the lineup. All-wheel drive can also be added to every trim and package except the 450h.
Even in its base configuration, the rear-wheel drive GS 350 delivers precise and balanced steering, exuding confidence in the corners and reacting to driver input without hesitation. A drive mode control knob allows drivers to switch between ECO and SPORT modes. ECO mode reduces throttle response and HVAC temperature range sensitivity for a bit of increased mileage. SPORT mode stiffens up the suspension and increases throttle response.
The F-Sport package adds a SPORT+ mode that uses the upgraded handling components to sample road conditions incredibly quickly and make adjustments faster than any human could even comprehend. The result in the F-Sport is an exhilarating race experience on par with-if not better than-the best stock BMW 5-Series out there. In our comparison testing between the F-Sport and a BMW 535i with Sport Package provided by Lexus on the Las Vegas Speedway, the Beemer easily outpaced the GS on the straighaways, but the GS had the clear advantage in the corners.
While the exclusion of a V8 in this generation means slightly slower acceleration, we found the pairing of the 306 HP V6 with the 6-speed transmission and excellent suspension components led to what felt like a triumph of handling over raw power. According to Lexus representatives, this was by design as Akio Toyoda, Toyota's CEO, felt that true driving pleasure comes from a nimble feel and planted footing.
Even in the hybrid, which has a combined 338 horsepower, the handling never felt mushy or less fun because of the traditionally sloppy CVT-which in the GS 450h has been tuned for fun instead of economy. Even so, the hybrid returns a rather stellar 29 city/34 hwy/31 combined miles per gallon-when not being flogged around the track that is.
On paper, both the 350 and 450h, regardless of package, can scoot from 0-60 mph in just about 5.6 seconds. In unofficial tests on the track, our 0-60 time clocked in around six seconds. Official estimates for fuel economy for the base 350 come in at 19 city/28 highway mpg, and adding all wheel drive drops the highway number down to 26 mpg.
Luxury Comes Standard; Kingly Available for a Price
Although the GS lineup has been scaled back a bit for 2013, it still provides enough customizability to satisfy even the most demanding of customers in this category.
Fit and finish throughout all trims and packages is superb with impeccable stitching and attention to detail. Wood grain accents-especially the 450h's signature matte-finish light brown bamboo-are almost distractingly beautiful. The opulent and optional parking lot-sized 12.3-inch widescreen LCD is well-executed and the second generation of Lexus's mouse-like interface is much easier to use even when navigating across what feels like multiple time zones on the gigantic LCD.
Even so, it's unfortunate that Lexus is still resistant to touchscreens and insists on including the mouse interface; the 12.3-inch widescreen would benefit greatly from touch capability.
Standard equipment on the base GS 350 includes 17" alloy wheels, bi-xenon headlights, LED running lights, smart key with push-button start, moonroof, 10-way adjustable front seats, perforated leather seating, a 12-speaker 5.1 channel surround audio system, Bluetooth, satellite radio, and an integrated performance management system (known as VDIM) that ensures all braking, suspension and steering systems are working in harmony for precise handling.
The Luxury package includes 18" split-spoke wheels, an adaptive front lighting system that curves with the road, adaptive variable suspension, semi-aniline leather seats, wood trim and wood steering wheel accents, incredibly luxurious 18-way power front seats with shoulder adjustments and long leg extensions, 3 zone air conditioning, and sun shades in the rear.
The F-Sport package includes more aggressive exterior appearance elements, 19" staggered width wheels, larger brake rotors and calipers, a 16-way adjustable sport driver seat, aluminum interior trim and pedals, and an upgraded variable suspension system combined with a dynamic handling package and variable gear ratio steering-which is almost flawless in its execution.
The GS 450h hybrid mates the same 3.5-liter V6 to a dual electric motor hybrid system and a continuously variable transmission. While it maintains most of the same features as the base 350, it adds LED headlights for both the high and low beams.
Other options available on all trims include heated/ventilated front seats, a power rear sunshade, rain-sensing wipers, an excellent 17 speaker Mark Levinson audio system, a navigation system with the monstrous 12.3 inch widescreen LCD, a dynamic handling system with rear steering, blind spot monitor, heads up display, heated rear seats, park assist, lane keep assist, night vision, and a pre-collision warning/braking system.
Along with the navigation system, Lexus includes the Enform suite of apps that connect to your smartphone and allow you to play internet radio, make dinner reservations, search the internet and buy movie tickets.
If there is a luxury or equipment option in there that Lexus has missed you'd be hard pressed to find it. Lexus has not yet released final pricing numbers for the different trims and packages, but hinted that a base price close to the current generation's $47,000 would be likely, with the base price for the 450h topping out at about $10,000 more.
If this fourth generation of Lexus GS is indeed a sign of what's to come from a reinvigorated and newly inspired Lexus-as the group of assembled journalists was told on multiple occasions-it's a promising development for a brand that had lost its edge.
The 2013 GS is as much a refined, luxurious and reliable Lexus as it is a screaming performance machine. We're betting that winning combination will deliver a significant amount of conquest customers from the German brands into Lexus's hands.