Car News
2012 Mercedes-Benz CLS63 AMG - New Car Review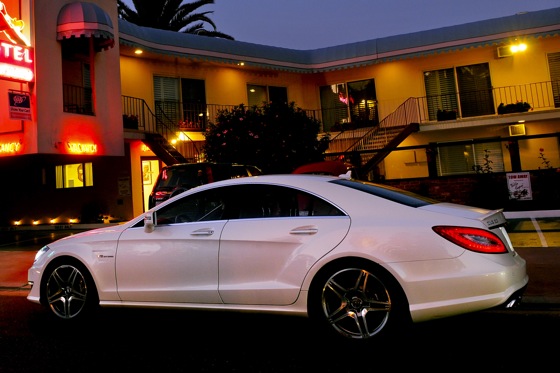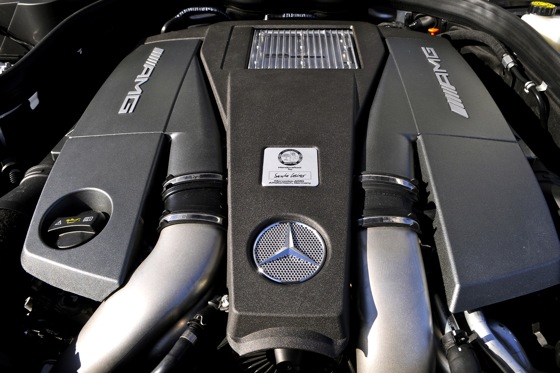 The world wasn't quite ready for Mercedes-Benz's CLS when it debuted in 2005. The arc-shaped four-door looked like nothing else on the road, and its rakish roofline defied the more conventional silhouettes of competitors. Pundits deigned its elegant lines more a design exercise than a mainstream shape, and sales expectations for the stylish sedan were accordingly low.
Fast-forward to the 2012 model year, and Mercedes-Benz's CLS has been trailed by countless "four door coupe" imitators–from affable entries like the Hyundai Sonata to far pricier options like the Porsche Panamera and Aston Martin Rapide. On the heels of a surprisingly strong first generation sales run (with 63,160 units sold through December, 2010), the CLS gets a thorough re-working for 2012, offering a fresh take on the formula that spawned the so-called four-door coupe trend.
The top-line CLS model hails from AMG, the Mercedes-owned speed shop known for turning Benzes into Porsche-slaying beasts. This time around, the 2012 CLS63 takes an entirely different design direction than its predecessor, with a re-sculpted body and re-worked mechanical underpinnings that offer a more aggressive alternative to the base, 402 horsepower CLS550 model.
Built on a modified Mercedes E-Class chassis, the new CLS63 AMG boasts brawnier performance, better fuel economy, and a more imposing visual presence.
Pricing hasn't yet been announced, but expect the 2012 Mercedes-Benz CLS63 AMG to start at around $100,000, with an available performance package that boosts horsepower and torque.
Snug and Purposeful, Yet Roomier Than You Might Guess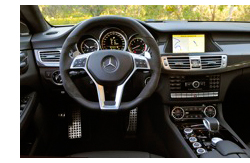 Though based on the more mainstream E-Class sedan, the CLS model's interior feels miles apart from the one-size-fits-all sense of utility exhibited by its donor vehicle. For starters, the beltline is taller and the roofline lower, creating a snugger cabin for four passengers. More upscale materials come standard on the CLS63 AMG: 14-way adjustable sports seats are finished in nappa leather, piano black finishes trim the center console and dash, and the headliner is a buttery soft Alcantara material.
Rear shoulder room increases by almost an inch; while the CLS63 AMG's interior is by no means as roomy as cars with similar footprints, the rear seats comfortably accommodate my 5 foot, 11 inch frame. Though ingress and egress can be awkward because of the low roofline, the sacrifices for the car's sleek appearance are not as extreme as one might expect.
Standard equipment includes traditional burl walnut in gloss or matte, a 14-speaker Harman/Kardon LOGIC7 surround sound system with Dolby Digital 5.1, and a COMAND 40GB hard drive navigation system. The performance package adds an Alcantara and leather-wrapped sport steering wheel, and options include carbon fiber dashboard trim.
Aggressive Poise, Muscular Haunches, and Speed-Inspired Styling Cues

While the first generation CLS was a graceful exercise in flow, elegance, and restraint, the second generation takes a more freehanded approach to exterior styling. The 2012 CLS has a more active, ready-to-pounce stance (especially with the AMG version); 71 LEDs are housed in the headlamps, deeper wheel wells are chiseled out of the front end, and a pronounced rear haunch resolves into a trunk with a longer overhang.
Add the performance package, and the CLS63 gains an even more aggressive appearance, thanks to red brake calipers and a carbon fiber spoiler and side mirrors. Meaty 19 inch, 5-spoke forged aluminum wheels are staggered, with 255mm, 35-series tires up front, and 285mm 30-series rubber at the rear.
Among the CLS63's available options is a premium 1 package, whose exterior-related features include active headlamps, adaptive highbeam assist, and an electronic trunk closer.
Awesome Power, Unexpected Efficiency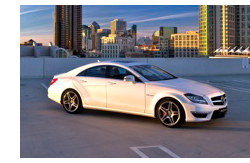 The standard-issue CLS550 is no slouch, with a 402 horsepower V8 that yields 0-60 mph jaunts in 5.1 seconds. But the CLS63 AMG delves into supercar territory, with a 5.5 liter V8 that produces 518 horsepower and 516 ft-lbs of torque, helping launch this four-passenger sedan to 60 mph in a mere 4.4 seconds; even more mental is the performance package, which boosts output to 550 horsepower and 590 lb-ft of torque.
The CLS63's direct-injected, twin-turbocharged powerplant is not only more powerful than its predecessor, it yields a 32 percent improvement in fuel economy for an estimated 16 mpg city, 21 mpg highway. The efficiency gains are due mostly to reduced displacement, but also aided by a stop/start system which shuts off the engine when the car is at a standstill. Four modes control throttle response and shift patterns: C (Comfort), S (Sport), S+ (Sport Plus), and M (Manual.) The stop/start feature is active only in C mode, and is more agreeable with gentle takeoffs; stab the throttle off the line, and there's a brief lurch as the engine kicks in to move the car forward.
Sampling the four driving modes offers a noticeable difference in personality. "C" has slower, smoother gearshifts with lower shift points; by 37 mph in "C" mode, the transmission has already shifted to 6th gear. "S" and "S+" feature sharper and later shifts, and an uncanny ability to crisply downshift when necessary. Press the center console-mounted "AMG" button, and everything from engine and transmission to suspension automatically switch to their most aggressive modes.
Power from the twin-turbocharged V8 is awesome, pressing passengers deep into their sport seats at will, and the ride–though stiff–enables sharp handling and body control that would make many sports cars envious. While the standard brakes are certainly capable, the optional carbon ceramic stoppers (known by their yellow calipers) produce neck-snappingly strong stops.
On the mountain roads connecting North San Diego County's Rancho Santa Fe and Julian, the CLS63 felt smaller and more athletic than its proportions might suggest; its four corners changed direction easily, and while hustling through canyons the V8 offered relatively quiet operation, save the occasional burbles and bellows that became apparent with the windows rolled down.

Who's the Sleekest of Them All?
The typical Mercedes-Benz CLS63 AMG buyer isn't looking for the most practical, space efficient, or value-packed way to transport four people from A to B, nor is he or she overly concerned with issues like resale value. Rather, most shoppers considering the CLS63 are more interested in the sedan's curb appeal, gotta-have-it factor, and performance.
Though it's tempting to compare the CLS63 against the $62,165 CTS-V, Cadillac's 556 horsepower, four-door muscle car bargain, the CLS63 is more likely to be cross-shopped against low volume, high-priced sedans like the Jaguar XJ Supersport ($113,200), Maserati Quattroporte ($121,500), or the upcoming BMW M5 (price TBD.)
The Mercedes-Benz CLS63 AMG occupies a rare space where coupe-like lines meet extreme levels of performance–and under those terms, its estimated price of around $100,000 makes it either an out-of-reach exotic, or a relative bargain compared to its peers, depending on your financial perspective.
While a vast portion of sedan shoppers could easily find satisfaction in more pedestrian (and practical) four door alternatives, the CLS63 AMG delivers a triple punch of striking style, high-end luxury, and blistering performance that sets it apart from the competition. Nobody needs more than 500 horsepower–especially in a four-passenger sedan–but the CLS63 AMG is more about satisfying wants, not needs.
Are there quibbles with this six-figure sedan? No car is without its faults, and considering the CLS63's rarified price tag we were surprised to find that it didn't come standard with features available in the premium 1 package (rearview camera, heated and ventilated seats, keyless go), the lane-tracking package (blind spot assist, lane keeping assist), or standalone options like rear side airbags. On the other hand, the available AMG performance package reminded us of everything that is right with the CLS63, especially the ability to take the extraordinary, and add yet another layer of excess on top of that.
Shoppers in search of exquisite luxury and outright performance will be hard pressed to find a more striking four-door option than the Mercedes-Benz CLS63 AMG.