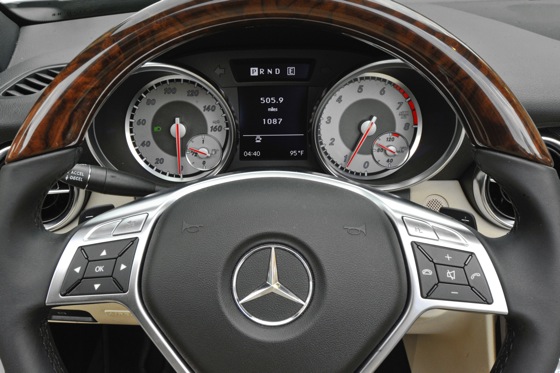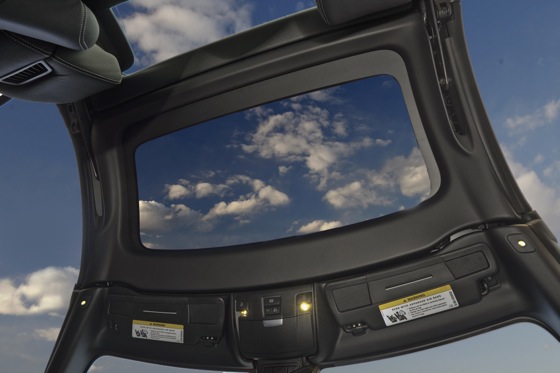 Since its concept car debut in 1994, Mercedes-Benz's SLK has toyed with the cutting edge of roadster technology: the first-gen production model flaunted a novel folding hardtop, and the sophomore effort debuted the neck-warming Airscarf feature. Continuing the trend of innovative gizmos, the new-for-2012 SLK boasts an available glass roof that switches from transparent to opaque at the touch of a button. But how does the updated SLK fit within the microcosm of sporty two-seat convertibles?
Mercedes-Benz imbued a host of engineering improvements and sharper performance into the 2012 SLK350, lending it a personality that's a tad less spongy, a touch more driver-focused. A lengthier standard equipment list is loaded into the SLK, including a new direct-injected V6 or turbocharged four-cylinder on the SLK250; the V6 offers greater power and better fuel economy compared to the model it replaces, and is linked to an advanced seven-speed dual-clutch automatic gearbox. A "sound generator" diverts engine intake noise to the cabin for what Mercedes calls a "classic sports car soundscape." And if you're pining for a V8, look no further than the hot-rodded SLK55 AMG spinoff.
More items are now standard: Attention Assist-which safeguards against drowsiness by monitoring the driver's level of attentiveness-is offered out of the box, as is a new 5.8 inch color screen with Bluetooth audio streaming, 8 airbags, rain sensing wipers, and a tire pressure sensor.
In order to mitigate the inevitable weight gain from all that extra stuff, Mercedes-Benz engineers trimmed poundage through aluminum body panels and various other weight savings methods. Suspension has been stiffened and lowered for more aggressive cornering, and an available Dynamic Handling package offers continuously adjustable damping. The SLK's new skin isn't as flashy as its predecessor, but despite a larger footprint the new model is more aerodynamically slippery. The 2012 Mercedes-Benz SLK350 starts at $54,800.
Upscale Details in an Otherwise Serious Space
It takes less than 20 seconds for the SLK to transform from hardtop to convertible, revealing a buttoned-down cabin that's functional, efficient, and nicely finished. But fans of sleek, wraparound cockpits might find the SLK a bit stern on the inside; there's a distinctly blockier sense to this interior, with more vertical surfaces and abrupt intersections, rather than smooth, streamlined shapes. Driver and passenger sit deep inside this space, nestled well within the rather tall doorsills.
Bundled interior options include the Premium 1 Package with heated seats, Sirius radio, a 10-speaker sound system, and Airscarf for $2,590. The Multimedia Package offers navigation, a larger 7-inch display, and a 10-gig music hard drive for $2,150. The presto-chango Magic Sky Control roof adds a hefty $2,500 premium; at least the price is a fraction of the staggering $15,500 originally demanded for the switchable roof on Mercedes-Benz's ultraluxury Maybach.
Passenger and driver are treated to supportive-yet-comfy seats covered in sun-reflecting leather, which reduces surface temperature by more than 18 degrees. The interior's look and feel conveys a sense of quality, with real aluminum surfaces, supple dashboard textures, and metallic air vents that beg to be touched thanks to their pleasantly rounded corners. Emphasizing the SLK's sporty leanings, the paddle shifter-equipped steering wheel is thick and flat-bottomed. Burl walnut finishes on the steering wheel and shift knob are also available, at a $990 premium.
Do These Straight Lines Make Me Look Manlier?
Park an SLK side-by-side with a $189,600 SLS AMG, and you'll see more than a passing resemblance, especially at the snout. The second-gen SLK looked like a mini-me of its big brother McLaren SLR, and the newest iteration inherits six-figure DNA from the considerably more exotic SLS. The look here is blocky with a higher-nosed front end, streak-like engine venting, and tapered LED rear lights. The new rear lamps not only last longer, they also illuminate .15 seconds faster than traditional bulbs. An optional Lighting Package offers active headlights to adapt to curving roads, and a Sport Package adds spoilers and AMG-sourced 18-inch wheels.
Despite its chunkier looks, the new SLK produces less aerodynamic drag than its predecessor, thanks to revised side mirrors, a resurfaced A-pillar, and underbody panels. Top-down dynamics are also improved with the Airguide system, clear pivoting shields which attach to the roll bars and swivel to block turbulence from entering the cabin.
More Power, Better Fuel Economy, and a Grippier Grasp of the Road
Though relatively quiet at idle, the SLK350's new 302 horsepower V6 sings with a refined, slightly sharp exhaust note in its mid and upper ranges, as power surges through the 7-speed transmission. Floor the accelerator, and this compact roadster can launch to 60 mph in 5.4 seconds, a respectable sprint that's capable of entertaining most leadfooted drivers. Top speed is electronically limited to 155 mph, not that you'd want to go there on public roads, and perhaps even more impressive than the new mill's power is its economy. The SLK350 is rated at 20 miles per gallon city, 29 highway.
We tested the SLK350 in two locales featuring similarly serpentine roads: the volcanic island of Tenerife (off the African coast), and U.S. Route 129-aka, "Deal's Gap," aka "Tail of the Dragon," a stretch of road in Tennessee that packs 318 tight turns into 11 miles of tarmac. Equipped with lower and stiffer suspension, the SLK350 clung tenaciously to both challenging routes, exhibiting excellent body control and an impressive ability to handle the curves, especially when equipped with the sportier wheel/tire combo.
The engine squirts this convertible ahead with pleasing urgency, though the ultimate performance option will be the 415 horsepower AMG spinoff, which is due in early 2012. And speaking of performance, the SLK350 has noticeably sharper road manners than its predecessor, though the transmission is a glaring weak spot in the drivetrain's chain of command. It swaps cogs with Teflon smoothness and shifts more aggressively in "Sport" mode, but the 7-speed gearbox doesn't obey driver requests particularly well; those paddle shifters may look cool on the steering wheel, but require too long to transfer the neural signal to the transmission. The tranny will shift crisply enough at redline when the throttle is mashed, but at-will gear changes require patience. And forget about rev-matched downshifts, because the SLK won't give 'em to you.
While the automatic transmission hampers some of the fun in the canyons, the tight chassis and torquey V6 go a long way towards redeeming that shortcoming. Fans of traditional three-pedal setups will be pleased to know that when the four-cylinder SLK250 debuts, it will be available with a manual gearbox.
How Sporty Do You Want to Go?
Benz's baby roadster is most frequently cross-shopped against two formidable competitors: the BMW Z4 ($47,450-$62,500) and Porsche Boxster ($48,100-65,200.)
The most comparable Bimmer is the $53,350 Z4 sDrive35i, which is powered by a turbocharged, 300 horsepower inline-6 that offers quicker acceleration (60 mph is reached in five seconds, flat), with a roughly 150 lb curb weight penalty and lower MPGs (17 city/24 highway.)
Porsche's Boxster ragtop is available in four variants: base ($48,100), S ($58,600), Spyder ($61,800), and Black Edition ($65,200.) The spread covers a broad range; the entry model is an involving driver with a 255 hp engine capable of 0-60 mph in 5.6 seconds, while the Spyder is a virtual track toy with license plates, offering stunningly sharp handling and equally brutal ride quality.
If you're wondering where the SLK350 fits into this roadster matrix, consider everything you typically associate with the Mercedes-Benz brand, plus a heightened sense of sportiness: the SLK isn't the most unrelenting sports car of the bunch, but it holds its own in terms of road manners, creature comforts, and value, coming across with a slightly more pronounced bias towards everyday usability.
The Mercedes-Benz SLK has struggled over the years to overcome the "cute convertible" stigma, and the latest iteration takes a decidedly more masculine direction in contrast to its predecessors. Not only does it wear huskier styling, the 2012 SLK offers a brawnier powerplant and stickier handling-more of the qualities that draw enthusiasts to the roadster genre.
The SLK's technological highlights are also attractive, with a slew of safety features, Bluetooth audio streaming, and of course that Magic Sky Control roof-though at $2,500, it will cost you dearly.
But at the end of the day, buyers in the premium compact roadster segment are more concerned about image and performance than a laundry list of standard items, and in that regard, the SLK350 is more focused, but still less sporting than BMW's Z4 and Porsche's Boxster, due in part to its smooth but reluctant gearbox.
Though the SLK350's price can swell considerably when equipped with optional items and equipment packages, there are also certain Mercedes-Benz intangibles that shine through, among them a sense of solidity in engineering, and reassuring safety features. And if the SLK350's price tag is too rich for your droptop tastes, the thriftier SLK250 should be a tempting proposition when it hits showrooms in February 2012.