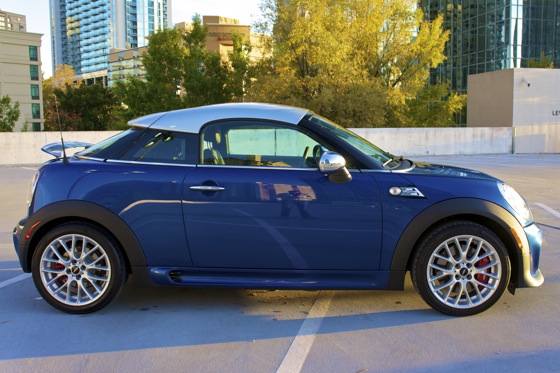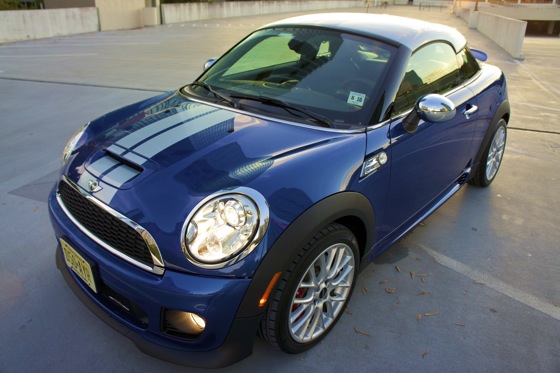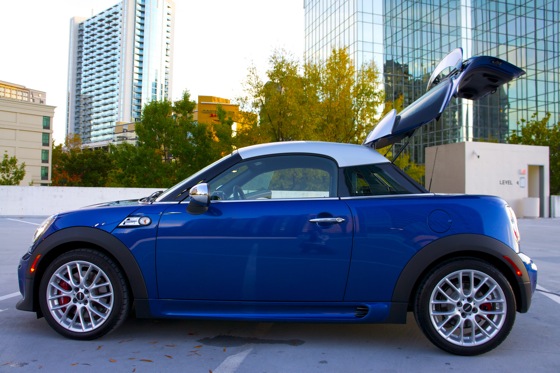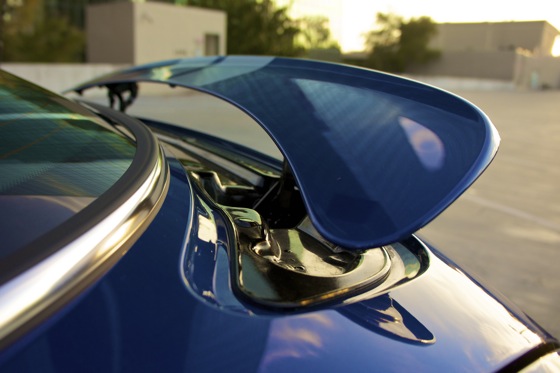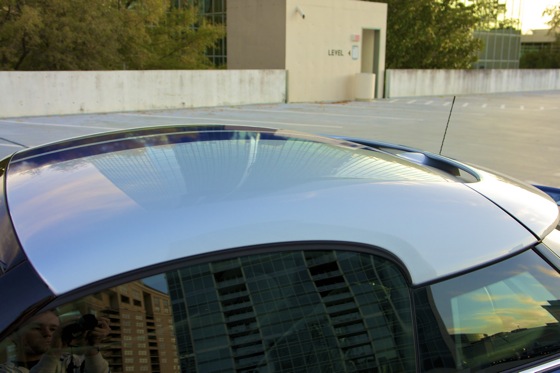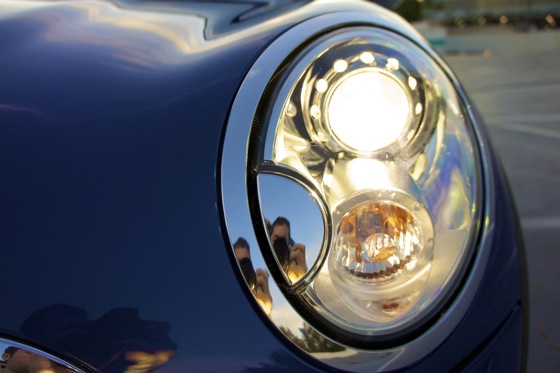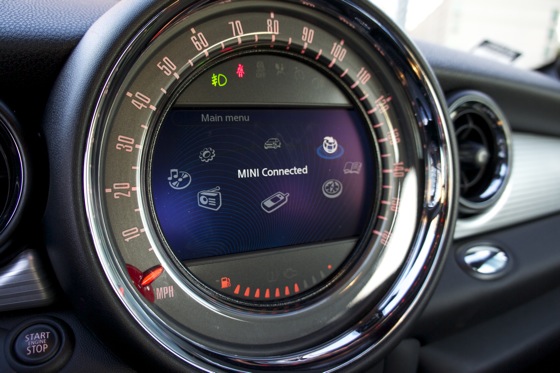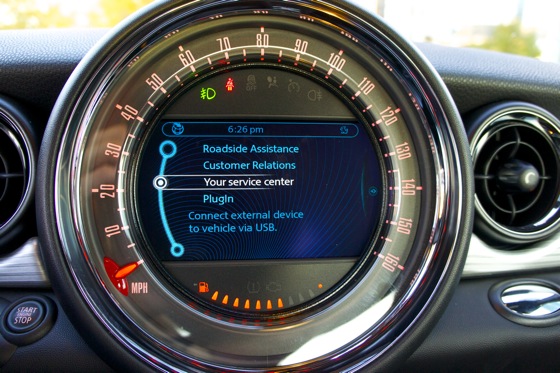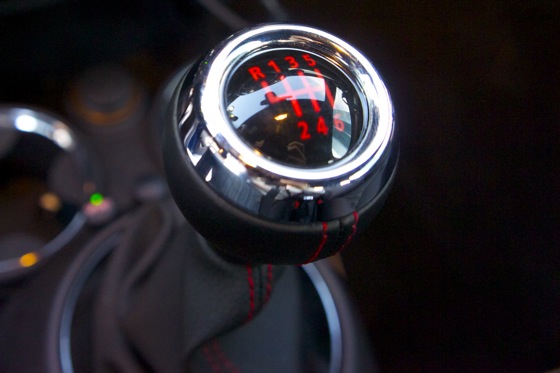 The Situation: I was handed the keys to the Mini Coupe with a mission. My wife has the new minivan, and I'm driving her old one. (C'mon, it's paid for, it hauls most anything and it has a nice ride height that eases my daily commute!) That being said, I'm a car guy and I feel a little part of myself die every time I drive a country road or hear someone shifting gears.
The Plan: Convince my wife that we can find something fun to drive that can be used as a functional part of the family fleet.
Me in the Mini
Age: Early 40s
Height: 6'1"
Frame: Large to extra large
Knowing that the Coupe had been dubbed the "mini-Mini,'' I was haunted by images of having to shoehorn my body into the driver's seat. So, when the door swung open and revealed ample space for entry, it became evident that while it was compact in many areas, the passenger compartment was surprisingly generous. After closing the door, I did notice it was a little awkward reaching the seat belt and getting things from my pockets, but having been in other cars that required rolling down the window just to fit my left arm, I was pleased.
After fighting unusually heavy traffic on the way home (always happens when I get a sporty car--it would have been raining had it been a convertible), I finally hit a stretch of open road and found that the Coupe was more of a performance car than I expected. The shifting was tight and intuitive; the 1.6-liter turbo maintained exciting horsepower through the RPMs; the throatiness of the exhaust balanced with the moderate engine noise was engaging; and the handling was practically point and shoot, with hardly any body roll and great traction. The Coupe quickly proved it was going to meet my needs for fun. Now I just needed to check off family and function.
After a week of commuting (70+ miles a day), I found I still enjoyed driving regardless of traffic volume. Usually, a stick shift can be a workout in stop-and-go situations, but the gears have a nice ratio that allows for second gear to work the slow-and-go (5 to 35 mph) and top gears are good for cruising without having to downshift for quick passing. From the first day to the last, it fit like a comfortable glove. Despite my size, I never felt cramped or claustrophobic. It was an enjoyable ride both under normal and performance driving. And while not necessarily efficient, it did give a lot of bang for the buck when it came to performance and fuel economy.
Mom in the Mini
Age: She still hasn't told me
Height: 5'1"
Frame: Petite
My wife instantly liked the design and immediately wanted to drive the car: "It is adorable! It is so unique that I'm having trouble describing it. But definitely cute, and it looks fast." She took the Mini on her weekly grocery run and another time for a girls' day out with a friend (coffee shop, salon, sushi, target shooting, etc.). My wife said her friend hit the nail on the head when she said it was like two cars, "...one that is unique and fun to be (seen) in, and the other that is a sports car that's fun to ride in, kind of like a rollercoaster rush." They both got a kick out of people staring and asking about the car in parking lots.
From a practical point of view, she appreciated how easily she could navigate traffic and parking lots. It made jumping in and out at several different stops so much easier. Not having a backseat did have a few limitations, especially with purses, purchases and a passenger. But with an easy-to-open trunk, it did not take long for putting things in the trunk to feel as normal as putting things in the backseat.
Her final opinion: It was fun. She did not feel especially vulnerable being lower than in her minivan, and she did not think it would be uncomfortable as a regular driver or for long trips. She also added a few points from her unique point of view: Getting in and out was "skirt friendly;" the trunk held a full cart's worth of groceries; all the controls were well within her reach; and the mirrors, front visibility, and rear visibility didn't require excessive stretching or sitting up to see.
Minis in a Mini
Daughter and Son
Ages: 6 and 8
Heights: 3'8" and 4'6"
Frames: Average
I was greeted in the driveway by the kids, who were blown away by how "cute" and "awesome" the Mini Coupe was. After the expected immediate fighting over who got to ride first, and the most serious game of Rock, Paper, Scissors you have ever seen, the rides were ready to begin.
When it comes to kids and cars, our two main concerns are safety and convenience (in that order). Safety started with the passenger airbag. Mini was smart enough to include an automatic, weight-sensing airbag shut-off function visible through an illuminated notification in the upper console. We tested the system, and it detected (and correctly turned the system off) both of my children, the six-year-old weighing 40 lb with a 10-lb car seat and the eight-year-old weighing 70 lb with a 3-lb booster seat. This feature is available in other vehicles, but it's important to test the kids in each car to check the weight range of the sensors to ensure deactivation.
My son won the first ride but deferred to his sister. She immediately enjoyed the unique layout of the cockpit-styled switches and gauges, and the ability to change the color of the backlighting through a spectrum of colors. My son loved opening all the compartments, which really showed me how many ingenious places Mini had incorporated storage. Both were able to see well enough through the windshield and side window. They were able to get in and get their seat belts on by themselves, and they loved the performance.
Throughout the week, we were able to toggle easily between the vehicles as various situations called for two or more seats. It made trips with each child more of a special and involved experience. The biggest problem was deciding who got to drive the Mini when my wife and I each were taking a child somewhere at the same time.
So, the overall takeaway is that a family of four can have a 2-seater as a functional part of the family fleet. The Mini does have the right safety and design to meet virtually all their needs, and the JCW Coupe can make a normally mundane commute more enjoyable and thrilling.