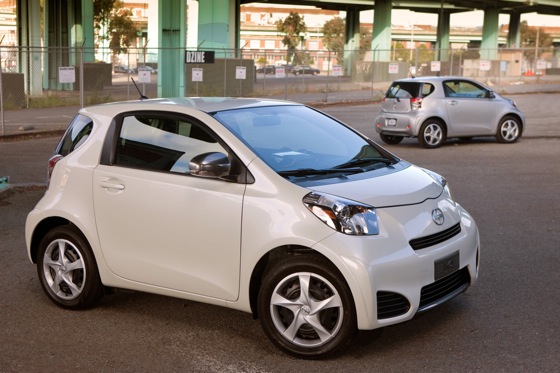 The last time Scion announced a new model was in 2004 with the release of the Scion tC. Eight years later, the Scion iQ is here to usher in what Scion calls a "New Urbanism" made up of buyers with "changing needs and expectations." The tiny ten-foot iQ enters the fray of sub-compact micro cars, like the Mini Cooper, Fiat 500 and Smart fortwo, but packs a concentrated punch by offering premium features and engineering - all for a miniscule price.
Micro Concentrated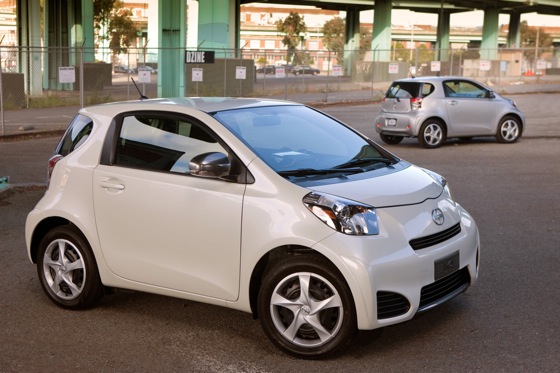 It's easy to immediately compare the Scion iQ to the Smart ForTwo since both iconic micro cars are designed in a more futuristic than retro motif. But the iQ is far more refined than the Smart car in several ways - and it is a full 14 inches longer. In both cases, these are tiny, almost toy like vehicles, not designed for sporty performance as much as maneuvering in tight spots. By comparison, the seemingly tiny Fiat 500 is nearly 20 inches longer than the iQ, but it delivers a sportier driving experience.
The real reasons a buyer would want the iQ is more about price and fuel efficiency as a trade off for space and the car is attractive on both fronts. The iQ has a 36-city/37-highway mile per gallon rating, which is at parity with its competition, but it's certainly not record breaking. A quick price comparison puts the iQ in a higher range than Smart, but with much more value. Also, the clever placement of the engine and differential up front along with a fuel tank under the seat, make the most of the tiny cargo space and with seats folded in the back, a trip to Costco won't be completely daunting.
Surprise bragging points for the iQ include a microscopic turning radius of only 12.9 feet - a full 15 feet smaller than the Smart. -
Interior
Tiny doesn't necessarily equate to cheap materials anymore. Scion benefits from the fact that Toyota frequently refines its entire product line with the features and engineering created by its highest-level brand, Lexus.
Generally, the trims and finishes are just higher quality than you'd expect in such a tiny car. The curvy interior arm rests look like a miniature version of a luxury sedan and three-tiered dashboard with navigation screen and cascaded center provide a high-tech backdrop for the stylishly chunky leather-wrapped steering wheel. Another cool detail is a pivoting LED dome light that can manually be pointed anywhere in the car.
When looking at the small size of the iQ, it's amazing how roomy and attractive the interior feels. Scion has also gone to great lengths to provide space for at least one backseat passenger, with what it calls 2 + 1 seating. By creating an asymmetrical dashboard, the front passenger is situated further front than the driver, creating space in back for one seat. The final seat, however, is only usable for a baby or a package - nothing with long legs.
Design
On the outside, the cartoon-like shape of the iQ is a love-it-or-hate-it design that certainly gets attention - both for its size and its extreme cuteness. Of the many funky colors is an orange flavor called "Hot Lava," but only the "Blizzard Pearl" adds a cost of $220 MSRP and it's deep luster is no doubt the reason.
For the modern young buyer living in a big city, technology is a must. The iQ passes the test with what would be considered the minimum for a Smartphone toting young professional. The audio system is fit with AM/FM/CD, HD Radio and USB ports and it's backed up by a 160-watt Pioneer sound system. The hands-free Bluetooth connectivity and streaming audio allows compatible phone or personal media devices to come through the system. There's an optional system when Navigation is added that allows iTunes tagging, Pandora internet radio and six RCA outputs to add external amplifiers.
Driving Impressions
The Japanese know how to master small spaces and to drive the iQ is to experience that for yourself. The front stacked placement of the 92 hp 4-cylinder engine and the differential box allow room for the wheels to reach the furthest possible corners of the car, creating a solid grounded feel. Even at 80 mph, the car doesn't shake or complain and feels plenty capable. Don't expect to pass fast cars and leave them in your tiny dust trail, but on a winding road, the quickness of the CTV automatic transmission in Sport mode will give you plenty of maneuverability.
However, the iQ lacks the nimble power of tiny performance cars like the Mini Cooper or the Fiat 500. Although the iQ is a solid performer for its size, its characteristics are more like a Toyota than a BMW, as would be expected from a Toyota product.
Value
You can be a youthful trendsetter at any age, but Scion purposely goes after a younger buyer and prices its cars for that market. But the challenge is that pricing for micro cars can be equal or more than cars with more cargo space.
The Scion iQ comes in only one trim, a 2-door base CVT Automatic with an MSRP of $15,995, but with bells and whistles can get up near $20,000. The Smart fortwo sells for thousands less as a base starting price, but can barely compete in terms of quality - in both drivability and content - plus it doesn't have back seats.
Compared to the higher performance micro cars like Fiat 500 and Mini Cooper, the Scion is deal - nearly $5000 less.
FIAT's base price starts at $18,000 and moves up from there and Mini Cooper at its cheapest starts at around $20,000. It's when you compare the tiny iQ to the lower priced compact cars like the Hyundai Accent and Kia Rio - both starting at around the same price as the iQ - that you wonder if accepting a larger car for the same money is a better idea. But the decision rests on your sense of style, and belief that smaller is truly better. This idea has been quite popular in other countries, where small spaces, minimal parking and crowded urban spaces are common, but here in the states, it's not for everyone. Scion, however, has never been about selling large quantities of cars, so the niche urban market will be enough to drive the exclusivity of this car.
What it Means to You
If you live in a densely populated urban area or want a reliable car that just looks different, the Scion iQ is probably a great choice. It offers Toyota quality and lots of expected amenities for a modest price. However, if a tiny footprint isn't important to you, cars like the Toyota Yaris, Honda Fit and Fiat 500 might be better choices.