Car Video
2012 Scion iQ: New Car Review - Video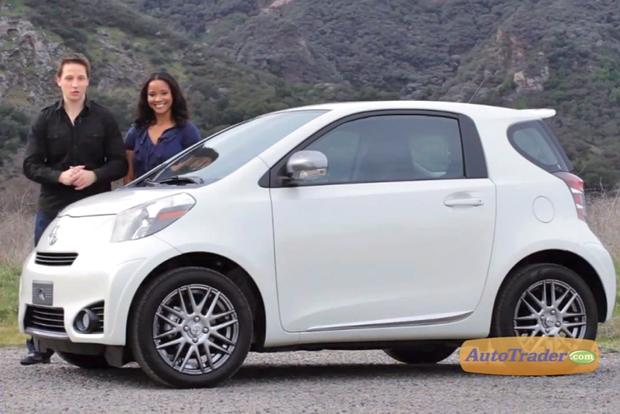 Jonny Loquasto: Scion has entered the growing ranks of small cars that are big on features with the all-new 2012 Scion iQ, a subcompact that delivers more than meets the eye.
Shauntay Hinton: Now, at first glance, you might compare it to the Smart Fortwo, but the Scion iQ can do a lot more, has more room and is just more usable in the real world.
Jonny: The iQ more closely competes with the FIAT 500, Hyundai Accent and Kia Rio, all which come in at similar price points.
Shauntay: The iQ's styling doesn't go with the retro theme like the 500. It's more futuristic -what Scion styling has always been about.
Jonny: Inside, the iQ's offset seating layout makes the most of its limited space. Now the front passenger sits a little ahead of the driver, so there's a usable rear seat on the passenger's side.
Shauntay: Now, technically, the iQ is listed as a four-passenger car, but the back seat behind the driver really can't be used for anything except storage, or maybe a small child.
Jonny: But for two or three occupants, the iQ is a reasonable ride, and it has plenty of technology that today's drivers are looking for. For instance, the Pioneer audio system has USB ports so you can connect a smartphone or a portable audio device.
Shauntay: And if you opt for the navigation package, it also comes with iTunes tagging and Pandora Internet radio, so you can play your favorite online streaming music.
Jonny: Up under that tiny hood is a 94-horsepower 4-cylinder, sending power to the front wheels through a continuously variable transmission.
Shauntay: It provides decent power to get around town, but don't expect to blow by any cars on the highway.
Jonny: On the other hand, the iQ's wheels are pushed way out to the corners, so navigating the curves on a windy road is sure-footed and fun!
Shauntay: The iQ is in the middle of the pack when it comes to fuel economy, getting 36 miles per gallon city, and 37 on the highway.
Jonny: Now if you want to do even better, check out the Kia Rio and Hyundai Accent. They both get a solid 40 miles per gallon highway. But let's talk price.
Shauntay: Right. In its lone trim, the iQ starts at a little over $15,000. Add all the options, and you'll barely break $20,000.
Jonny: Along with good value for the dollar, the one thing you can be fairly certain of with the 2012 Scion iQ is that it delivers the same impressive reliability that its parent company, Toyota, is known for.
Shauntay: All wrapped up in futuristic styling that makes it a worthy competitor to the growing number of attractive urban runabouts.