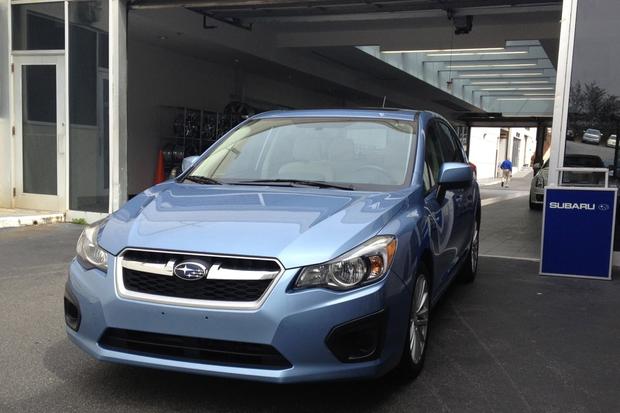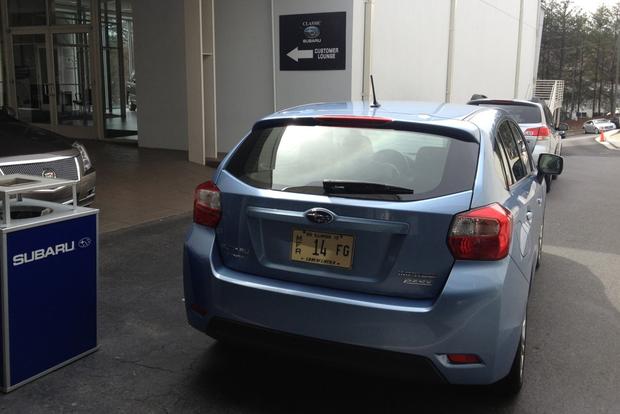 Our 2012 Subaru Impreza was due for its 15,000-mile service, so we took it to Classic Subaru in Atlanta to get the work done. Actually, it was overdue. To be honest we don't really know when the car was last serviced because we lost track. Given that the car has 19,000 miles, we fully expected an oil change, tire rotation, check and top off fluid-levels, plus a simple inspection of major parts like the exhaust and safety items.
Our Subaru dealer is connected to a Cadillac dealership, but the Subaru showroom is just as nice as the Cadillac side of the business. The staff was very helpful, courteous and answered every question, the car was even done sooner than promised.
Costly Service
While our 15,000-mile service was everything we expected, the service cost us $244.70, including tax. That surprised us considering our 2012 Impreza's compact car status and $24,000 price. One reason for the high service cost was Subaru's recommendation of synthetic oil, which totaled nearly $50. Many rivals use non-synthetic, which is less expensive. We don't doubt the value of synthetic oil so the extra $50 is probably worth it.
But the main reason our for our Impreza's expensive dealer trip was a dealer recommended throttle body cleaning, which our dealer insisted was necessary. This brought our service bill to nearly $150 in labor alone. The total cost added the oil, oil filter, engine air filter and a new cabin air filter.
Alternatives
Service costs are an item more drivers should consider while they're shopping for a car. Also, when taking your car in for service, be sure to ask if you're getting the dealer recommended service or the manufacturer's recommended service; there may be a difference. Recently, our long-term MINI Cooper JCW Coupe went in for regular maintenance. Because the MINI features three years of free maintenance, we had its oil changed, its brake fluid flushed and its spark plugs replaced and had a new clutch installed all at no charge. Base price for Mini Cooper Hardtop is about $20,000, a wagon like Mini Clubman is just over $21,000 which is easily in the Subaru's shoppers range.
If you're cynical about the real value of a free maintenance, we don't blame you. A fairly shrewd person could conclude that the cost of the "free" service is baked into the price of the car. But don't dismiss it prematurely, it might be worth adding to the "Pros" column when shopping for a new car.