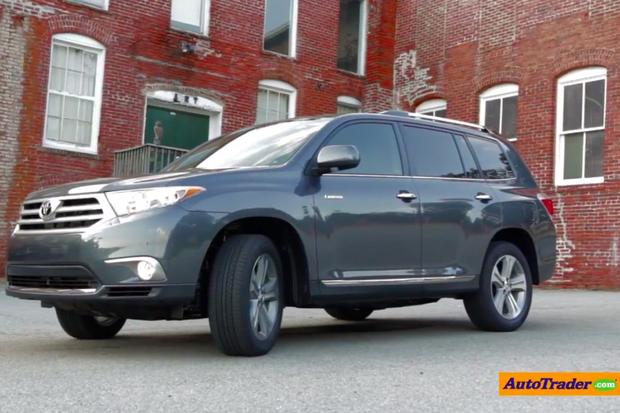 The 2012 Toyota Highlander is a car-based, crossover SUV. That means it has the best features of a large, truck based SUV along with more car-like driving dynamics. In fact, the Highlander shares many mechanical components with the Toyota Camry so it kind of feels like a big, tall Camry wagon.
Options
Our test car is a 2012 Toyota Highlander Limited with several options. We're a bit disappointed that the base Highlander, which starts at over $28,000, doesn't have standard iPod/USB or Bluetooth integration. However, it's easy to add via an available package, and it comes standard on all but the lowest priced, base vehicle. Our Limited has the optional JBL Audio system with Bluetooth. That includes the ability to stream music via your mobile device. The 440-watt JBL sound system has 9-speakers including a subwoofer. Satellite radio is part of the package too. These features are included in the navigation package that adds $2,650 to the Highlander Limited's price. The audio system and Bluetooth are available separately for $650 if you don't want the touch-screen, DVD based navigation.
We also added a few extras we think any family would want. All-weather floor mats, roof rails, cargo net and a first-aid kit all add a little extra to the price. Still, the as-tested price of the Highlander Limited with options is under $40,000. However, we're guessing a typical Highlander will be priced closer to $35,000.
Interior Space
As we packed a family of 6 into the Highlander, we realized what a necessity the third row of seats are - if you have more than two kids, it's a feature you might want to consider no matter what SUV you're looking for. Even with the third row of seats in place, there's still some storage space. We had enough space for a family picnic, but a longer trip would have required us to use the roof rack for storage.
Fold all those seats down and there's plenty of space for pretty much anything you'd want to haul.
Off-Road Ability?
Although our Toyota Highlander is front-wheel drive, you can also get all-wheel drive. Fire roads and packed gravel should be no problem for the Highlander, but you'll likely not be able to tackle serious off-road duty. The Toyota Highlander has 8 inches of ground clearance. By comparison, the 2013 Subaru Outback has 8.7 inches of ground clearance and the truck-based Chevy Tahoe has 9.1 inches; the Tahoe also has a base price that's about $10,000 more than the Highlander and the base model Subaru Outback is roughly $5,000 less than the Highlander.
There are plenty of other crossover SUVs to choose from - the Honda Pilot is a direct competitor. It feels more substantial than the Highlander but the Honda's interior isn't as nice. The Mazda CX-9 feels sportier and has a more youthful feel overall. The Chevrolet Traverse feels much larger and has a more useful third row seat. The Kia Sorento and Nissan Pathfinder are decent alternatives too.
In the end, our Highlander handled family duty quite well. It's flexible, comfortable and good-looking. The Highlander is popular for a reason, many need a 7-passenger vehicle but want the reliability and high resale value they associate with Toyota.