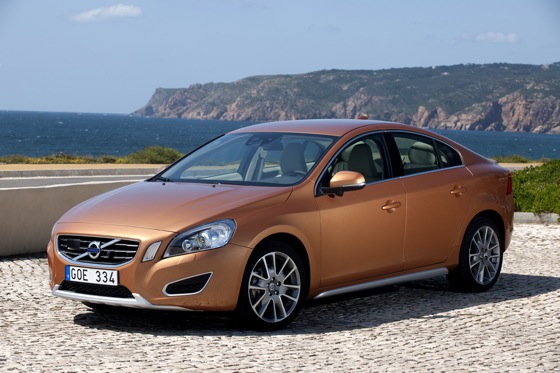 When Volvo's head of design, Peter Horbury, unveiled the first S60, you'd have thought Richard Nixon had just shown up in Armani. Although the public had been prepared - via the earlier intro of the S80 - for some departure from Volvo's classic three-box silhouette, no one quite suspected that the venerable S70 would be morphed into a 4-door coupe. And this was long before Mercedes had purportedly invented the category (with the CLS), and it preceded Volkswagen cribbing same for the profile of its Passat CC. Loyalists were aghast, threatening to run Horbury out of Gothenburg on a smorgasbord; which, in a manner of speaking, they did. Mr. Horbury subsequently took on more responsibilities at Volvo's then-parent, Ford.
The initial S60 was, regrettably, caught between its oh-so-expressive sheetmetal and a handling dynamic better suited to your favorite aunt. Too practical - and maybe approachable - for those wanting a BMW 3 Series, and too swoopy for those older Volvo loyalists who insist on wearing a hat while driving. The S60R variant, with high boost turbo and all-wheel drive, went a long way toward converting a few enthusiasts, but long-time loyalists weren't ready for out-of-the-box thinking then, and probably remain less-than-ready today.
Happily, for those needing cubic capacity Volvo provides an array of sport utilities in XC60, XC70 and XC90 guise. And for those wanting the largest dose of Swedish sensuality this side of Mamma Mia!, Volvo supplies an all-new S60, introduced in concept form at the Detroit show in January, 2009, and formally launched in the 2010 model year.
As a highly stylized concept, the S60 bowed to rave reviews. And in that its production offshoot shared many of the same design cues, it has also been well received. The kudos extend well beyond the sheetmetal, as noted at the time of its launch by Volvo Cars President and CEO Stephen Odell. "The all-new S60 will be one of the strongest players in a segment where the competition is razor-sharp."
Mr. Odell's argument was supported by an overachieving inline six-cylinder engine boasting 300 horsepower, and connected to an all-wheel drive chassis tuned to balance precise handling with customary comfort. That car, with a base price of over $38,000 can quickly approach $50,000 when fully equipped. And while many cars in the near-luxury segment brush what has historically been luxury territory, Fifty large remains a lot to pay for a car without a readily recognizable hood emblem.
For 2012 Volvo supplements the uber-aggressive T6 AWD with a still-healthy T5. Positioned - to quote Volvo - as the "most attainable S60," the front-wheel drive only T5 receives a new 2.5-liter turbocharged five-cylinder engine with its own unique mix of standard equipment. And rather than playing in the $40,000-plus territory of the T6 AWD, the T5 starts at just over $31,000, and will most certainly stay under $40,000. In what remain tight economic times, this could be a winning economic formula.
Our first drive was in and around a rain-soaked Elkhart Lake, Wisconsin, where Volvo's front-wheel drive chassis and refined throttle made the less-than-ideal weather seem like just another day in rural Scandinavia. Later, on the drier - and hotter - pavement in North Texas, we found the lighter weight - and better balance - of the turbocharged five fully appropriate to what we think of as a 'sporty' Volvo. It may lack the full-blown rapture of the T6's inline six, but the T5 seemed both more approachable behind the wheel and attainable within the showroom.
The turbocharged five delivers 250 horsepower and 266 lb-ft of torque, and that torque is delivered at just 1,800 rpm. The power is delivered to the ground via a 6-speed automatic, which can be shifted manually via its console-mounted lever or simply left in 'Drive'. We found 'D' slightly dull, but when selecting 'S,' the 'sport' in sport sedan is more immediately recognizable.
All S60 models benefit from an all-independent suspension, offered in both 'Touring' and 'Dynamic' specification. The 'Dynamic' underpinnings, standard on the T6 and available on the T5, tighten the calibration for a more spirited capability. Our 'Touring' T5 was obviously biased toward comfort, especially on rough surfaces. To that end, the responsiveness was more muted, but certainly precise - and certainly capable of generating a fun factor with the appropriate amount of throttle.
Beyond what's under the hood, most of the good stuff introduced in the T6 can be duplicated in its less powerful sibling. And all of the design sophistication of the new S60 remains, with thoughtful attention to interior detailing, updated technology and - of course - leading edge safety.
If you're prepared to think Volvo - and think out-of-the-box - this newest S60 might just be your shot of aquavit. And when compared to the MSRP of the T6, you'll have money left over for the really good aquavit…