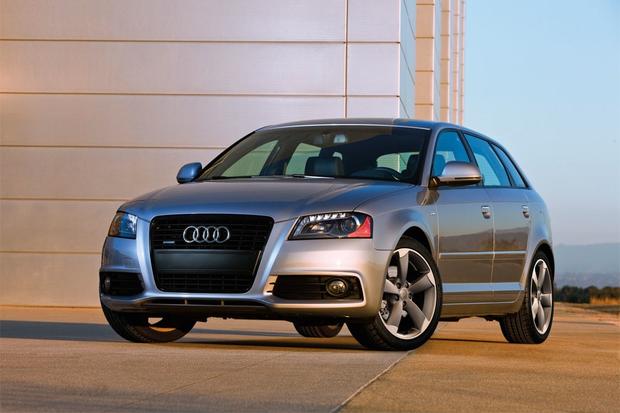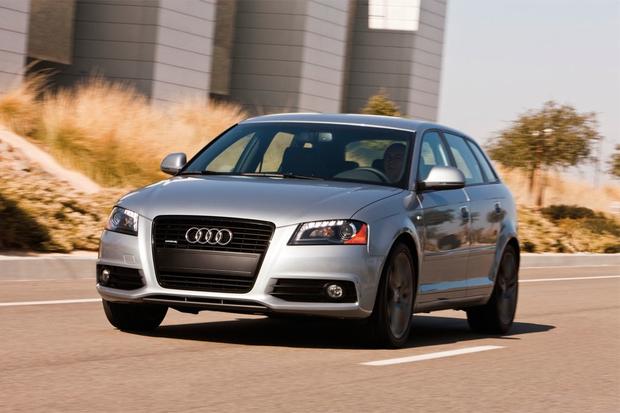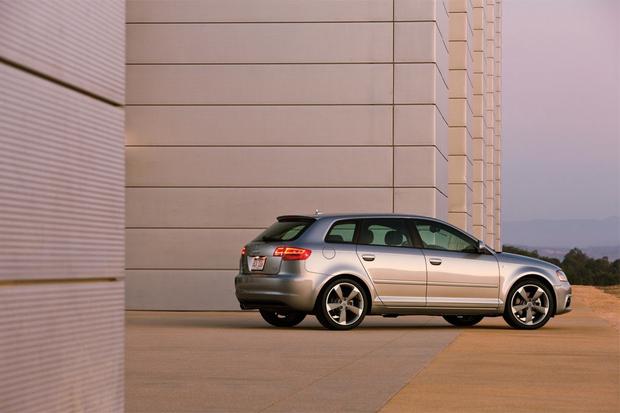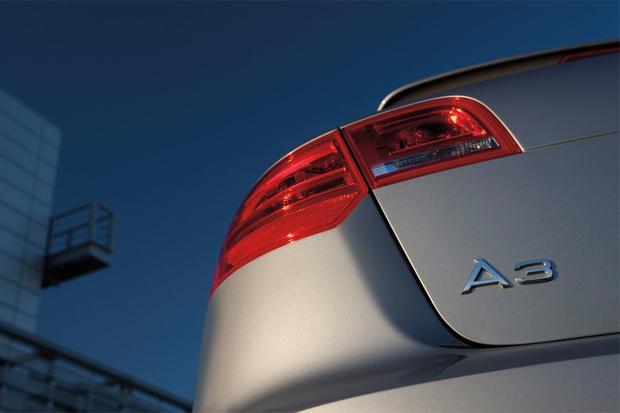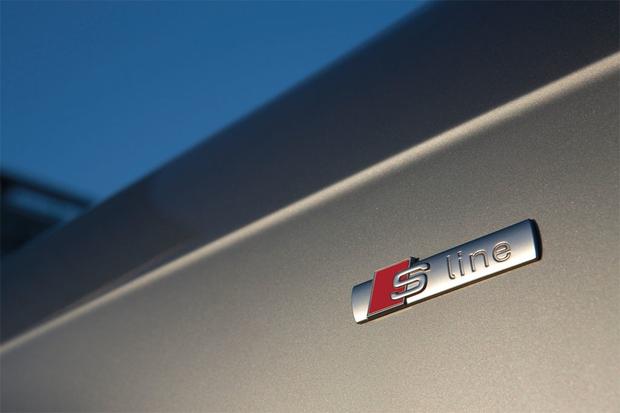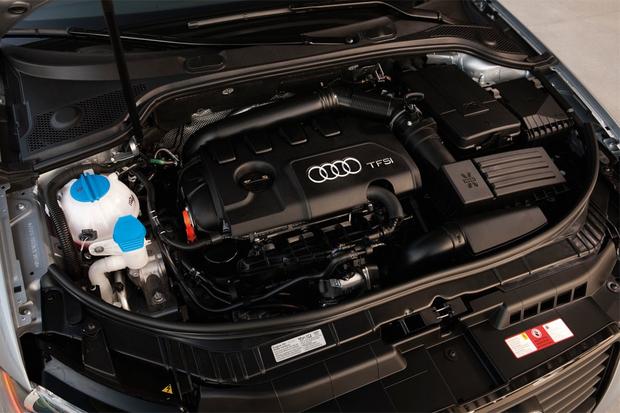 Pros: Two excellent engines, great fuel economy with the TDI diesel, fancy vibe inside and out, refined driving character.
Cons: The Volkswagen Golf five-door hatch is similar, newer and cheaper.
What's New: The A3 is unchanged for 2013.
Introduction
The 2013 Audi A3 is a rare thing in the world of luxury cars: a small hatchback that's not jacked up to look like a tough SUV. In fact, it's the only compact German luxury hatchback you can buy on American soil. From the driver's standpoint, that's excellent news, because the A3 has a lower center of gravity than luxury crossovers like the BMW X3 and Audi's own Q5. Throw in the A3's impeccable German road manners, and you've got a recipe for driving satisfaction.
But on the other hand, the A3 uses an older version of the Volkswagen Golf's platform, whereas the Golf itself uses newer hardware and is far more affordable. Additionally, the VW's interior is so nice that it could almost pass for luxury-grade itself, and both of the A3's engines are also offered in the Golf/GTI range, with minor changes in the gasoline engine's case. The only real Audi exclusive is Quattro all-wheel drive.
Still, leaving aside in-house competition from Volkswagen, we have to admit that the A3 remains an appealing package. A base A3 2.0T with the manual transmission can be yours for under $30,000, and the A3 TDI is the most cost-effective way to get diesel power from a European luxury marque. So if you're looking for a practical luxury car that won't empty your wallet, take the 2013 A3 for a spin. In today's crossover-happy marketplace, there's really nothing else like it.
Comfort & Utility
The Audi A3 keeps it simple with just two trim levels: Premium and Premium Plus. Each is available with both the gasoline and diesel engines.
The Premium comes standard with 17-inch alloy wheels, fog lamps, the "S line" exterior styling package, leather upholstery, manual front seats with adjustable height, dual-zone automatic climate control and a 140-watt audio system with both an auxiliary input and an SD card reader.
The Premium Plus adds different 17-inch alloys, xenon headlamps, a multifunction steering wheel with available shift paddles (automatic transmission only), a power driver's seat with adjustable lumbar and Bluetooth connectivity.
A Bluetooth Value package adds Bluetooth, the multifunction wheel and the power driver's seat to the Premium trim. Additional options include a dual-pane sunroof, a Sport package (featuring 18-inch wheels, a sport-tuned suspension and sport front seats), a Convenience package (Bose audio, rear parking sensors and other niceties) and Audi's Multi-Media Interface (MMI) with navigation and either a six-CD changer or an iPod input.
The A3's standard front seats provide firm support on the highway, but they're surprisingly low on lateral support for cornering. If you plan to drive your A3 with any kind of enthusiasm, we strongly recommend anteing up for the Sport package, which contributes better-bolstered seats.
Happily, drivers of all sizes should be able to find an agreeable position thanks to the tilt-telescopic steering wheel and standard height adjustment. The gauges behind that wheel are of the classic analog variety, with Audi's distinctive font employed for the numerals. Materials quality throughout the cabin is very good, particularly given the A3's sub-$30,000 starting price, but there's an older, mid-2000s feel inside the A3 that you don't get in newer models like the A4.
The A3's back seat doesn't want for headroom, but a combination of limited legroom and a low bottom cushion gives the rear quarters a somewhat claustrophobic feel. That's not unexpected in a compact hatchback, though it's worth noting that we've found the newer Golf's back seat to be somewhat more accommodating.
Cargo space is about average for a hatchback of this size, measuring 19.5 cubic feet behind the rear seatbacks and 39 cubic with the seatbacks flipped forward.
Technology
The aging A3 has managed to stay current in many ways, but it's missing a USB port, and it only offers iPod connectivity with the expensive navigation system. Also, we're surprised that Bluetooth is an extra-cost option. But if you're willing to pony up for the MMI infotainment system, you'll have one of the highest-tech little hatchbacks around. Notably, this version of MMI features a dash-mounted control knob; if you want a console-mounted knob that falls readily to hand, you'll have to step up to at least the A4 (or wait for the next A3). But we've come to appreciate MMI's relatively intuitive operation, no matter where the knob resides.
Performance & Fuel Economy
The A3 2.0T is powered by a turbocharged 2.0-liter inline-4 that runs on gasoline, while the 2.0 TDI gets a turbodiesel 2.0-liter inline-4. The former is rated at 200 horsepower and 207 pound-feet of torque, while the latter gets 140 hp and 236 lb-ft of torque.
The gas engine has more options, featuring either a 6-speed manual transmission or a 6-speed dual-clutch automated manual—and your choice of front-wheel drive or Quattro all-wheel drive (the latter offered only with the automatic). The diesel engine comes standard with front-wheel drive and the automatic.
In brief, you can't go wrong with either motor. The venerable 2.0T provides sprightly acceleration even in a larger vehicle like the Volkswagen Tiguan, so it's no surprise that the A3 2.0T moves out smartly when prodded, surfing on a wave of smooth turbocharged torque. The standard stick shift wins nostalgia points, but the automatic is one of the best of its breed, so you can't go wrong on transmissions, either. As for the diesel, it packs a serious low-rpm punch thanks to its high torque rating, and although the A3 TDI ultimately isn't a fast car, it feels plenty energetic around town.
On the fuel-economy front, the TDI easily takes the crown with its EPA rating of 30 mpg city/42 mpg highway. The 2.0T gets as high as 21/30 mpg with the 6-speed manual, but drops to 22/28 mpg with the automatic, and 21/28 mpg with all-wheel drive.
Safety
The A3 comes with standard stability control, four-wheel antilock disc brakes, and eight airbags (front, front-side, rear-side, full-length side-curtain).
The government has not crash-tested the A3 lately, but the independent Insurance Institute for Highway Safety gave the A3 its highest rating of "Good" in every crashworthiness category.
Driving Impressions
The 2013 Audi A3 feels identifiably older than Audi's latest products from behind the wheel, but that's not necessarily a bad thing. Although the A3's steering has electric power-assist like most new luxury cars, there's an endearing mechanical honesty to the way this Audi goes about its business. The car's handling limits are high, especially with all-wheel drive and the Sport package, yet the ride remains supple and reasonably quiet. The A3 may be based on the previous-generation VW Golf, but that's really not a bad place to start.
Other Cars to Consider
Volkswagen Golf TDI and GTI: If you want the same engine choices in an updated product, look no further than the cheaper Golf TDI and GTI. Note, however, that all-wheel drive is available only in the expensive, performance-oriented Golf R.
Lexus CT 200h: Don't look to the Lexus for competitive performance, but do check it out if fuel economy is high on your list. As a small luxury hatchback with great fuel economy, the CT 200h makes for an interesting alternative to the A3 TDI.
Mazdaspeed3: If you want to stimulate your adrenal glands, the Mazdaspeed3 hatchback will leave any A3 in the dust with its serious turbocharged power and focused suspension tuning.
AutoTrader Recommends
We think the A3 looks best when its value quotient is highest, so we recommend looking at the entry-level A3 2.0T with the 6-speed manual. It'll be hard to find a nicer all-around vehicle for under $30,000, even at the A3's advanced age.